Calculations Based On Motor Horse Power HP and Specified Current
Input data: Motor voltage (V L-L), Motor horsepower, Cable Temperature Rating (°C), Ambient Temperature (°C), Cable Length (ft) and Acceptable Voltage Drop (%).
Calculated Values: Operating Current (A), 125% Current per NEC (A), "Zero Length" Cable Size, Acceptable Voltage Drop (V), Actual Voltage Drop (V) and Actual Voltage Drop (%).
Note:
Conductor ampacities are based on NEC 2008, Table 310.16 (Not more than 3 current carrying conductors in racewary).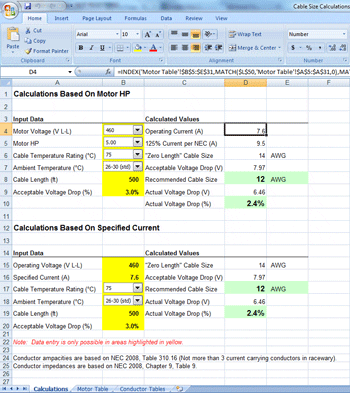 Recommended EE articles
Weekly Download Updates
Get EEP's updates without having to keep checking up on the portal to see if there is anything new.
Page edited by E.C. (Google).