Electrical load calculation of panelboard
This MS Excel spreadsheet has possibilities to calculate following:
Calculate Voltage / Voltage Difference of Each Phase
Calculate Unbalanced Load in Neutral Wire.
Calculate Expected Temperature rise in Each Phase.
Calculate Load in Each Phase and Outgoing Feeders.
Calculate Starting/Full Load/Continuous/Non Continuous Load
Calculate Size of Cables for Each Outgoing Feeder.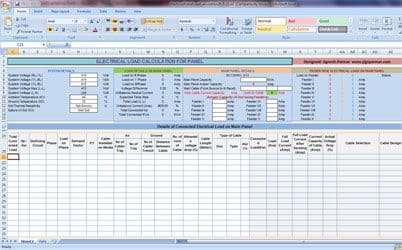 Recommended EE articles
Weekly Download Updates
Get EEP's updates without having to keep checking up on the portal to see if there is anything new.
Page edited by E.C. (Google).