Design of solar panel / battery bank and inverter
This MS Excel spreadsheet has possibilities to calculate following:
Calculate Total Demand Load
Calculate Size of Solar Panel
Select Type of Connection of Solar Panel
Select Rating of Each Solar Panel
Calculate Energy from Solar Panel as per Daily Sun lights
Calculate Size Battery Bank
Select Type of connection of Batteries in Battery Bank
Calculate size of Inverter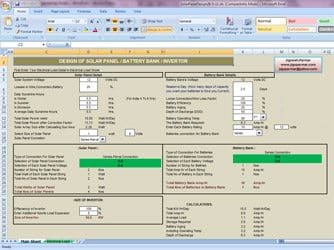 Recommended EE articles
Weekly Download Updates
Get EEP's updates without having to keep checking up on the portal to see if there is anything new.
Page edited by E.C. (Google).