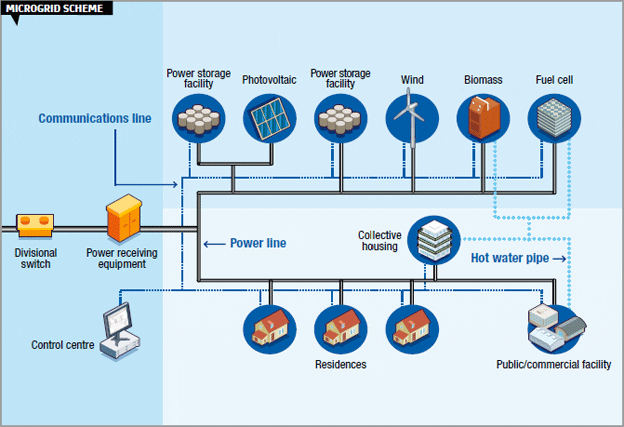 Consumer demands
In recent years, all eyes in the energy business have been turning to microgrids, smaller versions of centralised systems that can connect to the main grid or act alone as an island. Researchers are looking to microgrids for answers to changing consumer demands and a need for increased reliability.
Take the example of Japan. There, energy sources are in short supply, and researchers are paying particular attention to renewable energy, focusing on microgrid energy control and storage. In Europe, power sources and loads are much closer to each other, and researchers are looking closely at interconnecting microgrids into smart grids. There is also research on microgrids in Canada, Australia, China and many other countries,  for different power grid situations and different demands.
But why, exactly, are people so interested in them? Clearly, a system based on distributed energy could improve reliability and provide service differentiation. However, connecting distributed energy sources to the existing networks does not magically provide the benefits promised and can even have an adverse impact on power quality with, for example, power fluctuations associated with renewable energy sources.
Microgrids offer an efficient energy delivery and supply system.
Microgrids, however, offer an efficient energy delivery and supply system – based on collocating distributed energy sources and loads – that can operate independently in case of outages or energy crises. According to Dr Zhiqian Bo, China Research Manager, "The concept of microgrids actually varies from country to country, but theyall share some common eleme nts.
They have distributed energy sources (DER), renewable generation, bi-directional power flow, energy control, and power electronic devices. They offer a number of benefits, making them very 'smart grids'. They do, however, raise a number of challenges, among them the issue of protection."
New protection requirements
A number of questions arise when you connect microgrids to conventional grids. When exactly, in view of the huge number of abnormalities a utility can experience, should you island a microgrid? How then, when the microgrid is operating separately from the utility, can you provide it with enough coordinated fault protection? Once you create multiple islands, how do you ensure the right selectivity to avoid unnecessary tripping?
How do you ensure the right sensitivity to avoid undetected faults or delayed
tripping
?
"One of the major challenges," says Dr Bo, "is finding a protection system that responds to both main grid and microgrid faults.
In general, microgrids can operate in both grid-connected mode and islanding mode. So protection functions are expected to detect all types of fault in the microgrid for both operation modes." A fast semiconductor switch, called static switch, is used to connect the microgrid to the main power grid, and the basic approach to protection is to disconnect the static switch for all types of fault, including main grid faults and microgrid faults.
Most conventional feeder protections are based on short circuit current sensing.
Over-current protection devices detect faults on the main power grid, but power electronic- controlled micro-sources cannot provide high enough levels of fault current. So, new algorithms will be needed to detect microgrid faults.
Furthermore, once you add sources, energy can flow in either direction through protection system sensing devices, making it more like a transmission line than a feeder. Also, there are no bi-directional flows on most radial systems. Harmonics generated by power electronic devices and uncontrollable energy sources like wind and solar create further challenges.
To resolve these issues, Dr Bo, says, "microgrid protection should be independent of high-fault current, power-flow direction, unbalanced load and plug-and-play generators. Relays should adapt to the energy source (wind, solar, etc.) change, and controls should limit harmonics. Microgrid protection in the future will very likely have more cross-content
with grid control, to achieve both flexibility and reliability. It will depend on the latest communications technology and will follow the development of microgrids, meaning we should see reliable schemes in the next five to 10 years.
"There may still be many solutions to find, but one thing is sure: microgrids will play an increasingly important role in the power supply industry."
Microgrids: the wave of the future
"The concept of microgrids stems from distributed energy resources (DER)," says Dr. Bo. "Since the late 1970s, intensive efforts have been made to utilise renewable energy sources, such as wind, hydro, solar and tidal. However, the application of individual distributed generators can cause as many problems as it may solve. A better way to realise
the emerging potential of distributed generation is to take a system approach that views generation and associated loads as a subsystem or a microgrid." Microgrids are, in fact, modern, small-scale versions of the centralised electricity system.
They use distributed energy, which shortens the distance between power source and load, reducing transmission loss. They use renewable energy sources, greatly decreasing carbon emissions. They use energy storage, increasing power supply reliability.
They are controlled by power electronic devices, so power sources can vary supply according to demand. Plug-and-play power sources and loads make for a more user-friendly grid. And thanks to real-time monitoring and control technology,
every disturbance on a microgrid can be detected and adjusted.
In fact, generation and loads can be isolated, keeping a high level of service without harming the grid's integrity.
SOURCE: Alstom Grid – Spring-Summer 2011