Carelessness on top
The most common cause of Arc Flash and other electrical accidents is carelessness. No matter how well a person may be trained, distractions, weariness, pressure to restore power, or overconfidence can cause an electrical worker to bypass safety procedures, work unprotected, drop a tool or make contact between energized conductors.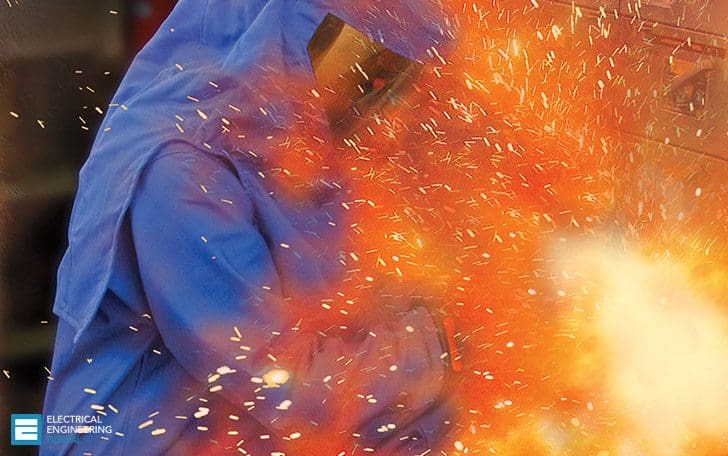 Faulty electrical equipment can also produce a hazard while being operated. Electrical safety hazards such as exposure to shock and Arc-Flash can be caused by:
Carelessness
Worn or brok­en conductor insulation
Exposed live parts
Loose wire connections
Improperly maintained switches and circuit break­ers
Obstructed disconnect panels
Water or liquid near electrical equipment
High voltage cables
Static electricity
Damaged tools and equipment
The severity and causes of electrical hazards are varied, but the best protection is to deenergize equipment before working on it.
No one has ever been killed or injured from an Arc-Flash while working on deenergized equipment. If equipment cannot be deenergized, electrical workers must be "qualified", trained, wear appropriate personal protective equipment (PPE), and follow all applicable OSHA and NFPA standards.
It is important to remember that proper selection and application of overcurrent protective devices (OCPD) will also substantially reduce the hazards.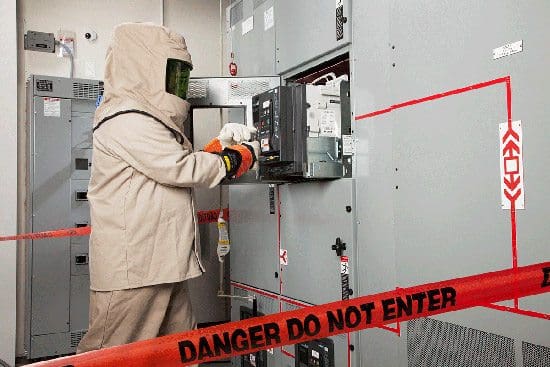 Both OSHA and NFPA 70E require an Electrical Hazard Analysis prior to beginning work on or near electrical conductors that are or may become energized.
The analysis must include all electrical hazards:

Shock,
Arc-Flash,
Arc-Blast, and
Burns.
NFPA 70E Article 110.8(B)(1) specifically requires Electrical Hazard Analysis within all areas of the electrical system that operate at 50 volts or greater. The results of the Electrical Hazard Analysis will determine the work practices, protection boundaries, personal protective equipment, and other procedures required to protect employees from Arc-Flash or contact with energized conductors.
What determines the severity of an Arc Flash?
Several groups and organizations have developed formulas to determine the incident energy available at various working distances from an Arc-Flash.
In all cases, the severity of the Arc-Flash depends on one or more of the following criteria:
Available short circuit current
System voltage
Arc gap
Distance from the arc
Opening time of overcurrent protective device (OCPD)
Example of Slow Motion Arc Flash 100A Disconnect showing the impact of body position in arc flash. In the video, the door comes off in less than 2 cycles showing that Personal Protective Equipment (PPE) isn't the only thing to consider when it comes to arc flash. Body position at the point of contact is also important.
When a severe enough Arc-Flash occurs, the overcurrent protective device (fuse or circuit breaker) upstream of the fault interrupts the current.
The amount of incident energy a worker may be exposed to during an Arc-Flash is directly proportional to the total clearing ampere-squared seconds (I2t) of the overcurrent protective device during the fault.
High current and longer exposure time produces greater incident energy. The only variable that can be positively and effectively controlled is the time it takes for the overcurrent protective device to extinguish the arc. A practical and significant way to reduce the duration of an Arc-Flash and thereby the incident energy is to use the most current-limiting OCPD's throughout the electrical system.
Arc Blast Effect
During an Arc-Flash, the rapidly expanding gases and heated air may cause blasts, pressure waves, or explosions rivaling that of TNT. The gases expelled from the blast also carry the products of the arc with them including droplets of molten metal similar to buckshot.
For example, the high temperatures will vaporize copper, which expands at the rate of 67,000 times its mass when it changes from solid to vapor. Even large objects such as switchboard doors, bus bars, or other components can be propelled several feet at extremely high velocities.
In some cases, bus bars have been expelled from switchboard enclosures entirely through walls (can you believe it??).

Blast pressures may exceed 2000 pounds per square foot, knocking workers off ladders or collapsing workers' lungs. These events occur very rapidly with speeds exceeding 700 miles per hour making it impossible for a worker to get out of the way.
Light and Sound Effects
The intense light generated by the Arc-Flash emits dangerous ultraviolet frequencies, which may cause temporary or permanent blindness unless proper protection is provided. The sound energy from blasts and pressure waves can reach 160 dB, exceeding the sound of an airplane taking off, easily rupturing eardrums and causing permanent hearing loss.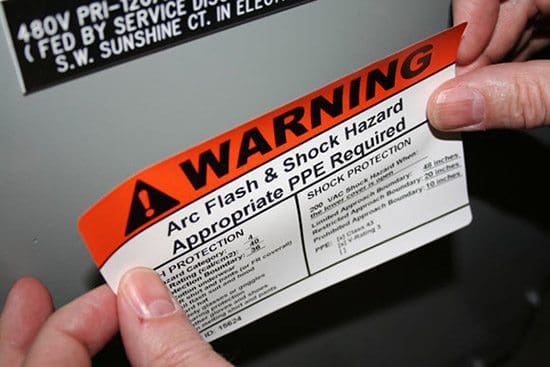 For comparison, OSHA states that decibel levels exceeding 85 dB require hearing protection.
Reference // Electrical Safety Hazards Handbook – Littelfuse