Efficient joints in copper busbar conductors
Efficient joints in copper busbar conductors can be made very simply by: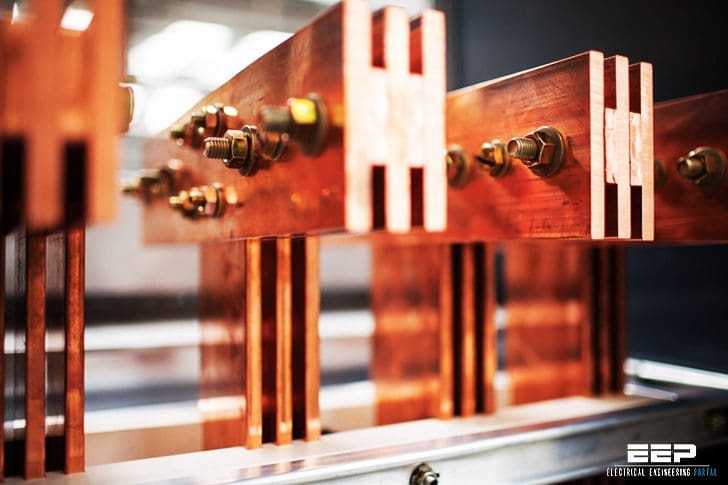 Bolting and clamping are used extensively on-site. Shaped busbars may be prefabricated by using friction stir welding.
1. Bolted joints (most common)
Bolted joints are formed by overlapping the bars and bolting through the overlap area. They are compact, reliable and versatile but have the disadvantage that holes must be drilled or punched through the conductors, causing some distortion of the current flow in the bar.
Bolted joints also tend to have a less uniform contact pressure than those made by clamping but, despite these issues, bolted joints are very commonly used and have proven to be reliable.
They can be assembled on-site without difficulty.


2. Clamped joints (most common)
Clamped joints are formed by overlapping the bars and applying an external clamp around the overlap. Since there are no bolt holes, the current flow is not disturbed resulting in lower joint resistance. The extra mass at the joint helps to reduce temperature excursions under cyclic loads.
Well-designed clamps give an even contact pressure and are easy to assemble, but take up more space than a bolted joint and are more expensive to manufacture.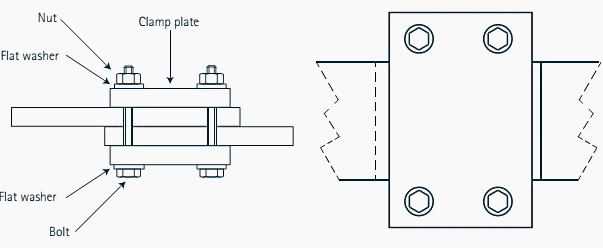 3. Riveted joints (difficult, but…)
Riveted joints are similar to bolted joints. They can be efficient if well made. It is difficult to control the contact pressure. They cannot easily be dismantled or tightened in service and they are difficult to install.


4. Soldered or brazed joints (rare)
Soldered or brazed joints are rarely used for busbars unless they are reinforced with bolts or clamps since heating under short-circuit conditions can make them both mechanically and electrically unsound.


5. Welded joints (not very safe…)
Welded joints are made by butting the ends of the bars and welding. They are compact and have the advantage that the current-carrying capacity is unimpaired, as the joint is effectively a continuous copper conductor. However, it may not be safe or desirable to make welded joints in situ.
Welding of copper is discussed in Copper Development Association Publication 98, Cost-Effective Manufacturing: Joining of Copper and Copper Alloys (Download here).


Joint Resistance Calculation
In principle, a clamped or bolted joint is made by bringing together two flat surfaces under controlled (and maintained) pressure, as shown in Figure 6.


The resistance of a joint is mainly dependent on two factors:
The streamline effect or spreading resistance, Rs, due to the diversion of the current flow through the joint
The contact resistance or interface resistance of the joint, Ri.
The total joint resistance, Rj, is given by:
Rj = Rs+ Ri
This applies specifically to direct current applications. Where alternating currents are flowing, the changes in resistance due to skin and proximity effects in the joint zone must also be taken into account.

Reference // Copper for Busbars – Guidance for Design and Installation – Copper Development Association (Download guidance)