Poor power quality because of…
Power quality concerns have traditionally focused on harmonics, which are generated by nonlinear loads, although there are many other concerns regarding isolating sensitive loads from transient disturbances, uneven ground potentials, or phase imbalances.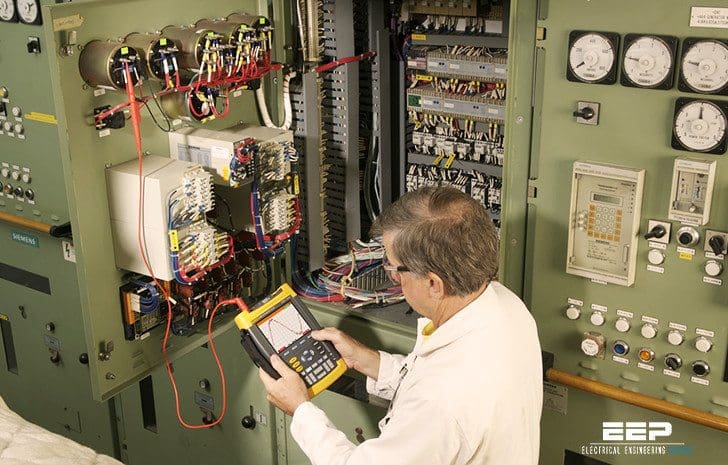 Poor power quality affects the reliable operation of computers and computer-based equipment, which are now ubiquitous, plus standard equipment such as motors.
Sometimes poor power quality can be a safety issue. Nonlinear loads are those wherein the current waveform is not in proportion to the operating voltage waveform, with or without a shift in phase angle.
Nonlinear loads are typically created by electronic switching power supplies, such as those found in computers, copiers, printers, electronic lighting ballasts, uninterruptible power supplies, adjustable speed drives, medical equipment, telecommunications equipment, entertainment equipment, etc.
Many times, the equipment that causes poor power quality is also susceptible to malfunction from poor power quality. Nonlinear loads can cause elevated operating temperatures in phase and neutral conductors.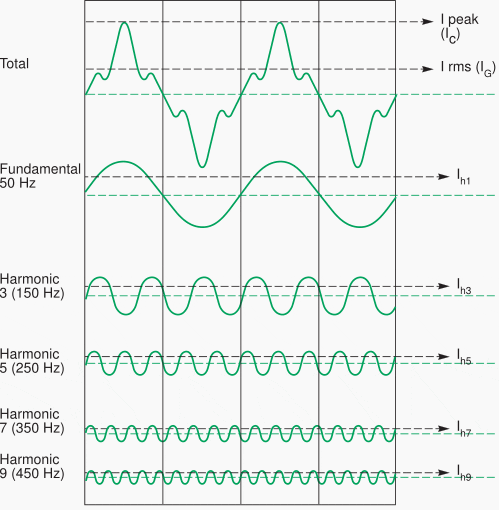 Overloaded conductors overheat which degrades their insulation and shortens their life expectancy. Shared or downsized neutral conductors are particularly susceptible to overheating from triplen harmonics. Triplen harmonics are harmonics that are odd integer multiples of the third harmonic of the 60 Hz fundamental frequency, including the third harmonic itself (180 Hz), the ninth harmonic (540 Hz), the fifteenth harmonic (900 Hz), etc.
In Wye-connected three-phase systems, triplen harmonic waveforms are in phase, do not cancel in the neutral conductor, and are arithmetically additive.
In cases where the effects of poor power quality are encountered in an existing facility, a careful study is recommended to determine the best course of action. Implementing the recommended building wiring practices of this publication at the time of installation can minimize the effect of poor power quality on equipment operation.
Let's see the six recommended practices for improving the power quality:
1. Dedicated Branch Circuits
Install individual branch circuits for sensitive electronic loads, such as laser printers, photocopiers, facsimile machines, individual computer workstations, etc. Individual branch circuits help shield sensitive equipment from harmonics, noise, and transients generated in other circuits, and prevent the malfunction of other equipment on the same branch circuit.
2. Dedicated Panelboards
In addition to individual branch circuits, supply sensitive electronic equipment from dedicated panelboards separate from other loads such as motors and lighting. Install separate, dedicated panelboards and feeders from the service entrance to supply the segregated loads.
Segregating loads shields equipment from voltage disturbances such as those resulting from starting large electric motors. By segregating sensitive electronic loads, harmonics can be trapped at or near the dedicated panel by use of appropriate filtering transformers or harmonic filters.
3. Feeder and Branch Circuit Conductors
In locations where power quality is or could be critical, install larger phase conductors than would otherwise be necessary in order to safely handle harmonic loads, to minimize voltage drop, to minimize heating from the skin effect when supplying higher frequency nonlinear loads, and to improve efficiency.
Do not reduce the size of the neutral conductors even when permitted by the NEC. For Wye-connected three-phase, fourwire feeder circuits, install larger neutral conductors than Code-minimum, preferably with 200% of the ampacity of the phase conductors.
Do not install multi-wire branch circuits with a common neutral conductor. Install a separate, full-sized neutral conductor for each phase conductor.
4. Number of Receptacles per Circuit
Although the NEC allows up to 13 general-purpose receptacles supplying non-continuous loads on a 20-ampere branch circuit in nonresidential construction, and an unlimited number of general-purpose receptacles on a branch circuit in residential construction, this is not a prudent practice.
Installation of not more than three to six receptacles per branch circuit and in some cases fewer, depending upon the types of loads served, is recommended.
Limiting the number of receptacles installed on a single circuit will restrict the number and variety of sensitive electronic equipment sharing circuit conductors, reduce the possibility that harmonics will accumulate to damaging levels, minimize voltage drop, minimize the chance of interaction, and provide for future load growth.
5. Electromagnetic Interference
Properly grounded metal-clad cables, shielded cables, or metal conduits provide electromagnetic shielding and minimize interference for circuits that serve sensitive electronic equipment. Many other design techniques can be employed to minimize electromagnetic interference.
6. Non-Linear Panelboards
Install panelboards that are suitable for non-linear loads to supply sensitive electronic loads. Such panelboards typically have double-capacity neutral buses to allow for individual neutral conductors for each phase conductor and double-capacity neutral lugs for the panelboard feeder.
Reference // Recommended Practices for Designing and Installing Copper Building Wire Systems – Copper Development Association Inc.