Electrically safe work and NFPA 70E
Equipment that has been deenergized and verified as such is said to be in an electrically safe work condition. Article 120.1 of NFPA 70E outlines six steps that must be followed to insure that employees are working in an electrically safe work condition.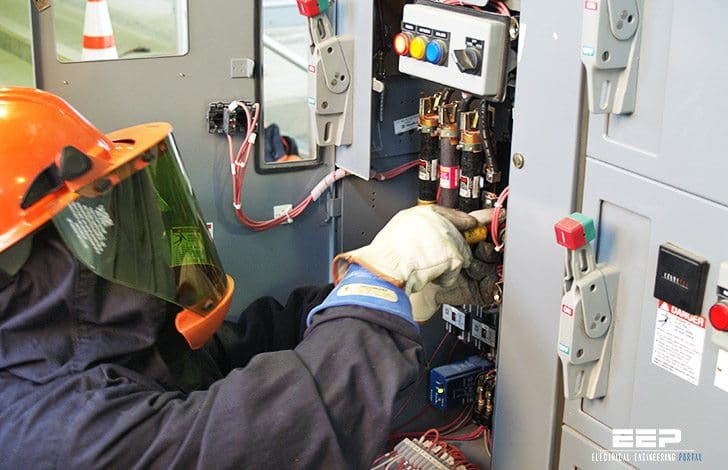 Six safety steps to become a safeaholic electrician:
Step 1 //

– Check, check and check

Determine all possible sources of electrical supply to the specific equipment. Check applicable up-to-date drawings, diagrams, and identification tags.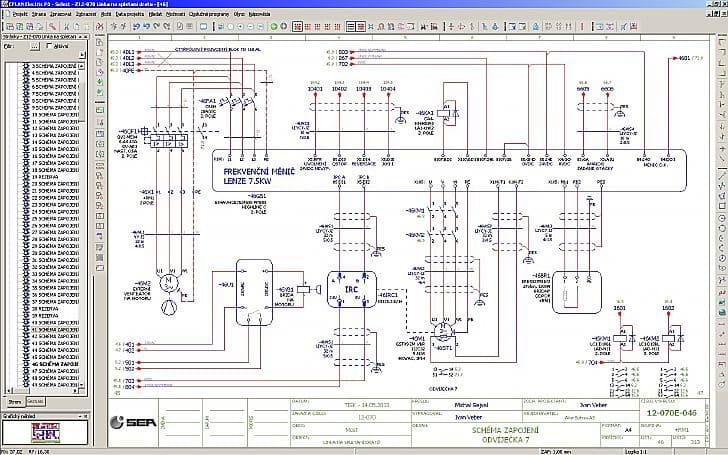 Step 2 //

– Open disconnect devices

After properly interrupting the load current, open the disconnecting device(s) for each source.
Step 3 //

– Visual verify

Wherever possible, visually verify that all blades of the disconnecting devices are fully open or that drawout-type circuit breakers are withdrawn to the fully disconnected position.
Step 4 //

– LOTO

Apply Lockout / tagout (LOTO) devices in accordance with a documented and established policy.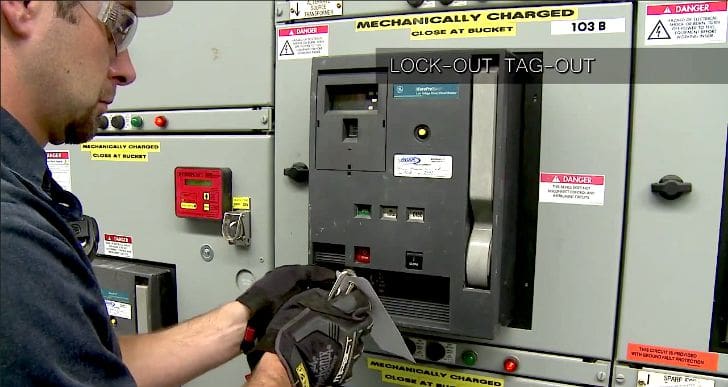 Step 5 //

– Make sure is deenergized

Use an adequately rated voltage detector to test each phase conductor or circuit part to verify they are deenergized. Test each phase conductor or circuit part both phase-to-phase and phase-to-ground.
Before and after each test, determine that the voltage detector is operating satisfactorily.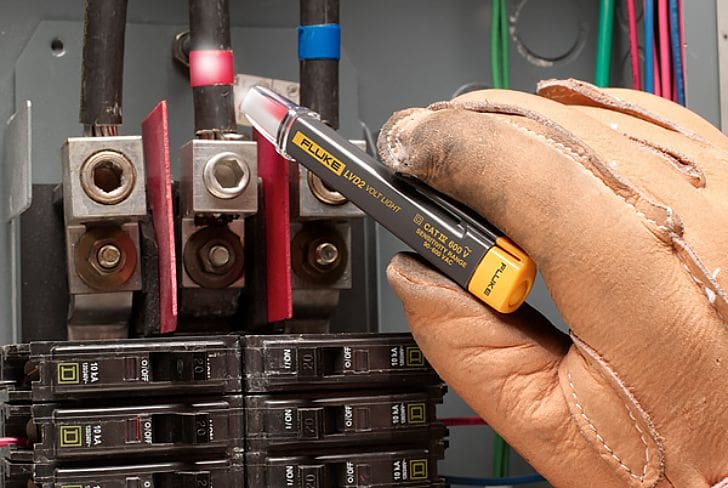 Step 6 //

– Check unthinkable and ground!

Where the possibility of induced voltages or stored electrical energy exists, ground the phase conductors or circuit parts before touching them. Where it could be reasonably anticipated that the conductors or circuit parts being deenergized could contact other exposed energized or circuit parts, apply ground connecting devices rated for the available fault duty.
It is important to note that a safe work condition does not exist until all 6 steps are complete. During the process of creating the electrically safe work condition, the appropriate PPE must also be utilized.
Working on energized equipment Although the best practice is to always work on deenergized equipment, OSHA and NFPA do recognize that in some circumstances it may create an additional hazard or be infeasible to deenergize.
OSHA 2CFR 110.333 (a)(2) states:
Energized parts.
If the exposed live parts are not deenergized (i.e., for reasons of increased or additional hazards or infeasibility), other safety-related work practices shall be used to protect employees who may be exposed to the electrical hazards involved. Such work practices shall protect employees against contact with energized circuit parts directly with any part of their body or indirectly through some other conductive object…
Electrical tasks such as troubleshooting and testing for the presence of voltage, current, etc., can only be done while equipment is energized. In these instances, work on energized equipment is allowed, but workers must follow safe work practices and use the appropriate personal protective equipment (PPE).
Other exceptions that allow work on energized equipment include:
Life-support equipment
Emergency alarm systems
Hazardous area ventilation equipment
Deenergizing these types of equipment could increase or create additional hazards. A mistake often made is confusing infeasibility with inconvenience. For example, meeting a manufacturing production schedule does not qualify as infeasible. It may be very inconvenient but it still does not authorize working on energized equipment.
OSHA 2 CFR 110.331-335 outlines the conditions for working on energized circuits in much greater detail. When work is to be performed on energized equipment, extra care must be used and all applicable OSHA and NFPA codes and standards followed.
Electrical workers must also be trained and specially "qualified" to work on energized equipment, and the specific equipment to be serviced.
As a worker, you may be qualified for some tasks and unqualified for other. Knowing the difference between the two can save your life.
Reference // Electrical Safety Hazards Handbook – Littelfuse (Download)