Station services switchgear in power plants
In a power plant, the electrical station services (abbreviated to SS in the following) consist of all the DC facilities from 24 to 220 V and AC facilities up to about 20 kV for controlling and supplying power to the equipment needed to keep the plant running. Hence, these auxiliary services clearly play a vital role in assuring the plant's reliable operation.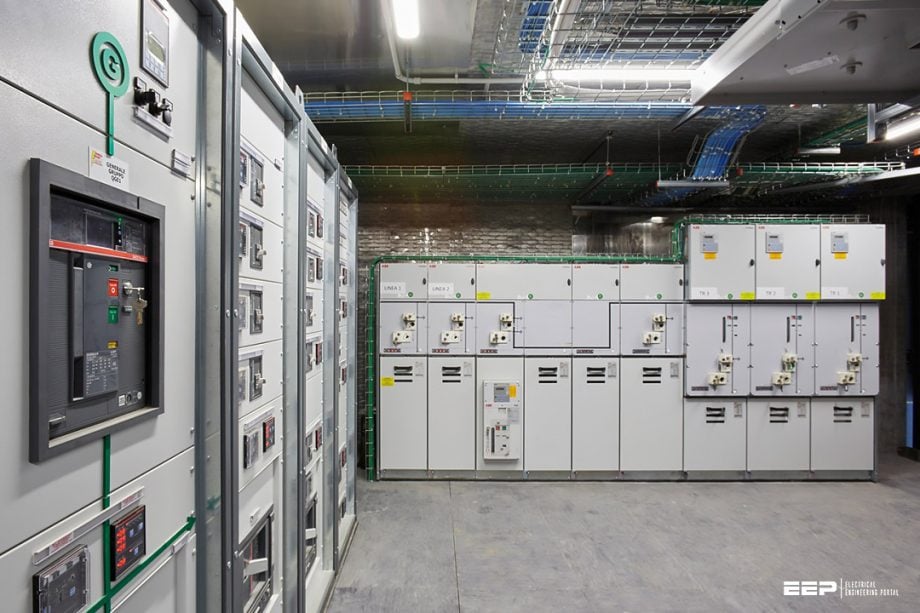 Close attention must therefore be paid to requirements affecting the particular plant and the safety considerations, such as the provision of backup systems.
1. Alternating current (AC) station services
The AC services for a generating plant unit consist essentially of the station service power transformer, in most cases a medium voltage distribution network, and low voltage distribution facilities. They may include a power transformer and the necessary distribution gear fed from a separate MV network for supplying general loads, i.e. not directly related to the generating unit, and possibly for starting the units and shutting them down.
Standby power supplies are dealt with in the below technical article.
Generators applicable to high reliability requirements of healthcare and other facilities
The basic SS arrangement in a so-called unit-type system for a power plant composed of separate units is shown in Figure 1, and the corresponding layout for a bus-type system in Figure 2.
The advantages of the unit-type configuration are that the ratings for the SS distribution facilities are lower, making it easier to cope with short-circuit currents and that the units are self-contained, so enhanced availability.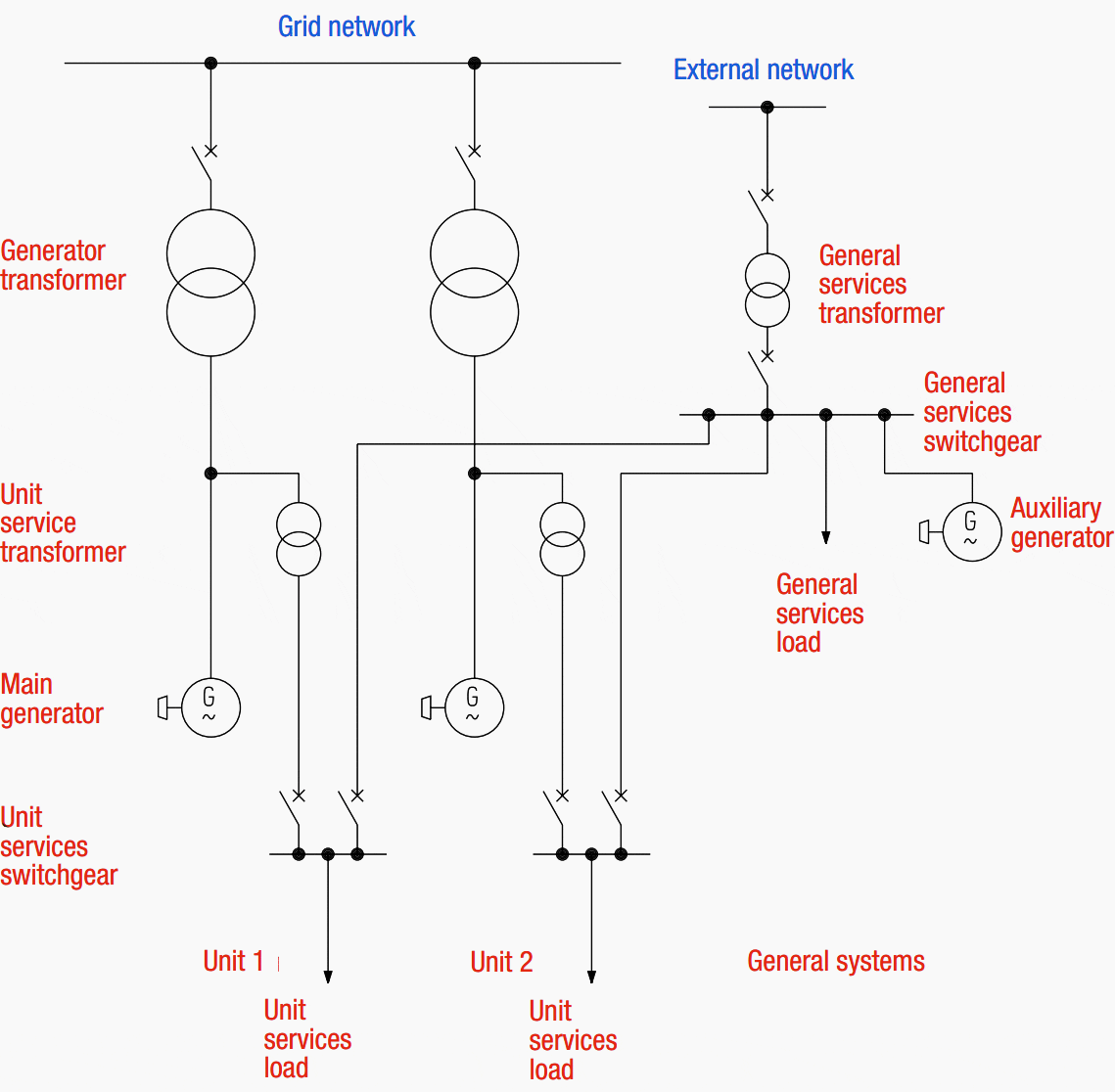 Bus-type system configurations are employed in plants with smaller generators and hence reduced SS power requirements, and have the advantage of lower capital cost. The station services of all power plants are based on these two principal arrangements.
Redundancy
in the form of double busbars, cross-links between generating units, etc are possible, giving rise to a gnat many alternative layouts.
Special requirements of auxiliary systems for different types of power plants are described in the following paragraphs.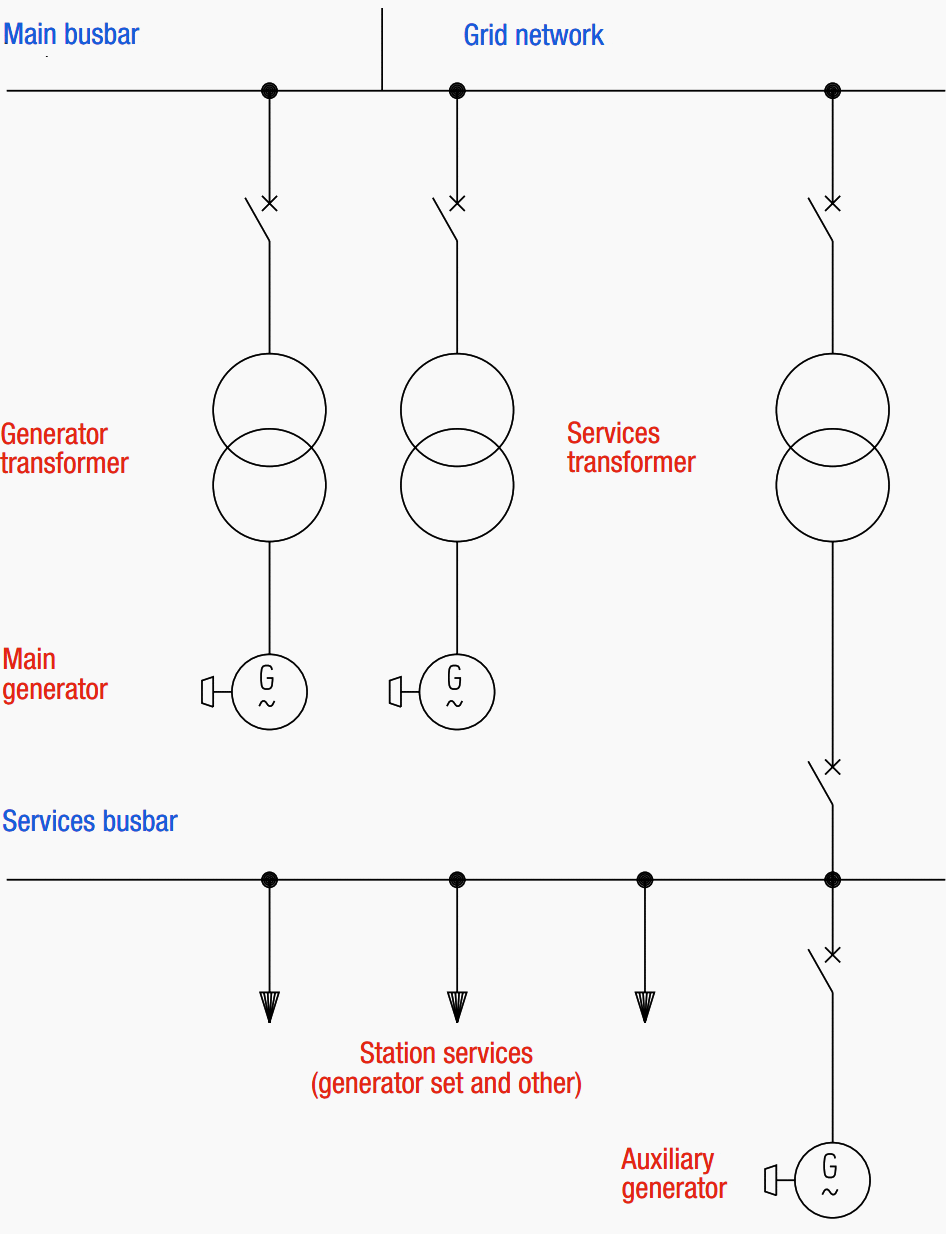 Go back to Table of Contents ↑
2. Direct current (DC) station services
Direct current (DC) systems are used for control and monitoring purposes, but also for supplying power to DC drives and, as part of an emergency (UPS) system, via inverters to alternating-current drives. The required energy is stored in batteries, with conversion by means of rectifiers and inverters.
In normal operations, the DC loads are fed via the rectifiers. The batteries some only as a buffer in the event of shortlived high load currents or to brief interruptions in the AC supply, particularly to ensure that the generating units are shut down safely.