Fire Detection
Active fire protection measures are automatic fire protection measures that warn occupants of the existence of fire, and extinguish or control the fire. These measures are designed to automatically extinguish or control a fire at its earliest stage, without risking life or sacrificing property and personel.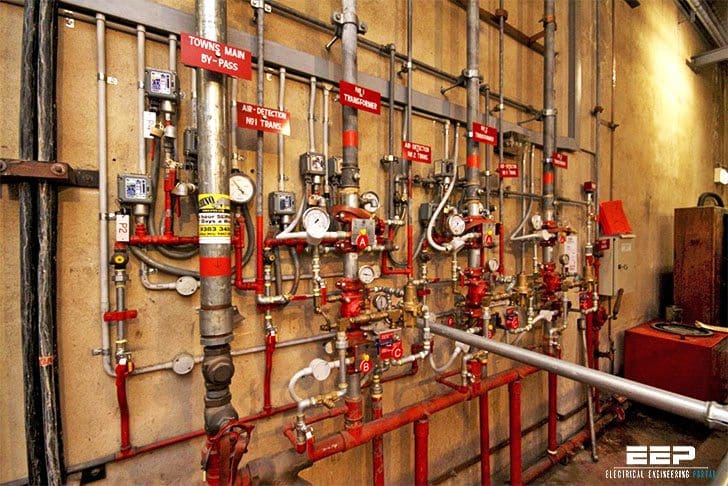 The benefits of these systems have been universally identified and accepted by building and insurance authorities. Insurance companies have found significant reduction in losses when automatic suppression systems have been installed.
An automatic suppression system consists of:
Extinguishing agent supply,
Control valves,
Delivery system, and
Fire detection and control equipment.
The agent supply may be virtually unlimited (such as with a city water supply for a sprinkler system) or of limited quantity (such as with water tank supply for a sprinkler system).
Typical examples of agent control valves are deluge valves, sprinkler valves, and Halon control valves.
The agent delivery systems are a configuration of piping, nozzles, or generators that apply the agent in a suitable form and quantity to the hazard area (e.g., sprinkler piping and heads).
Fire detection and control equipment may be either mechanical or electrical in operation.
These systems may incorporate a fire detection means such as sprinkler heads or they use a separate fire and detection system as part of their operation. These detection systems detect a fire condition, signal its occurrence, and activate the system.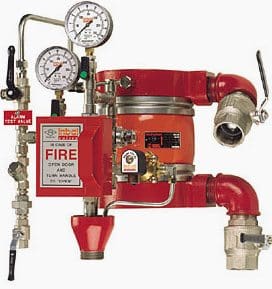 Active systems include wet, dry and pre-action sprinklers, deluge systems, foam systems, and gaseous systems. Detailed descriptions of each of these systems, code references and recommendations on application are covered in IEEE 979.
Fire fighting test – Sulaibiya Z substation (VIDEO)
Resource: Substation Engineering Design – L. Grigsby