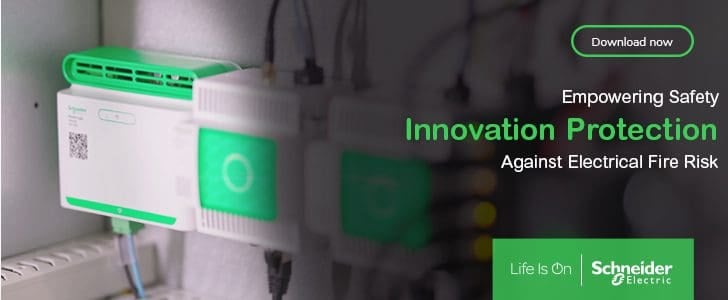 Tailored to customers' specifications
An LPT (Large Power Transformer) is a large, custom-built piece of equipment that is a critical component of the bulk transmission grid. Because LPTs are very expensive and tailored to customers' specifications, they are usually neither interchangeable with each other nor produced for extensive spare inventories.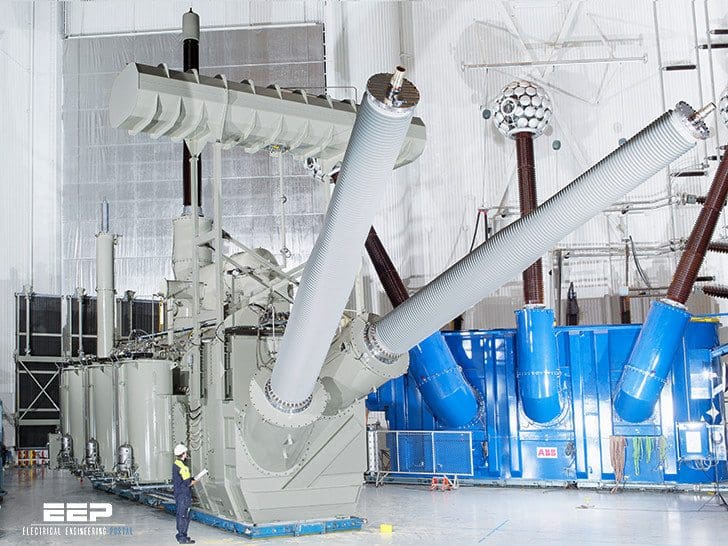 According to an industry source, approximately 1.3 transformers are produced for each transformer design.
Figure 1 illustrates a standard core-type LPT and its major internal components. Although LPTs come in a wide variety of sizes and configurations, they consist of two main active parts:
The core, which is made of high-permeability, grain-oriented, silicon electrical steel, layered in pieces; and
Windings, which are made of copper conductors wound around the core, providing electrical input and output.
Two basic configurations of core and windings exist: the core form and the shell form.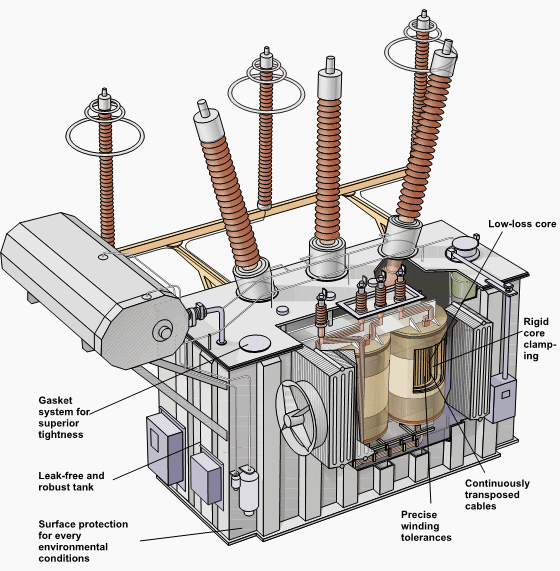 In the usual shell-type power transformer, both primary and secondary are on one leg and are surrounded by the core, whereas in a core-type power transformer, cylindrical windings cover the core legs. Shell form LPTs typically use more electrical steel for the core and are more resilient to short-circuit in the transmission systems and are frequently used in industrial applications.
The core and windings are contained in a rectangular, mechanical frame called the "tank."
Other parts include transformer bushings, which connect LPTs to transmission lines, as well as tap changers, power cable connectors, gas-operated relays, thermometers, relief devices, dehydrating breathers, oil level indicators, and other controls.
Power transformer costs and pricing vary by manufacturer, by market condition, and by location of the manufacturing facility.
In 2010, the approximate cost of an LPT with an MVA rating between 75 MVA and 500 MVA was estimated to range from $2 to $7.5 million in the United States. However, these estimates were Free on Board (FOB) factory costs, exclusive of transportation, installation, and other associated expenses, which generally add 25 to 30 percent to the total cost (see Table 1 below).
Raw materials, particularly copper and electrical steel, are a significant factor in power transformer prices.
Transportation is also an important element of the total LPT cost, because an LPT can weigh as much as 410 tons (820,000 lb) and often requires long-distance transport.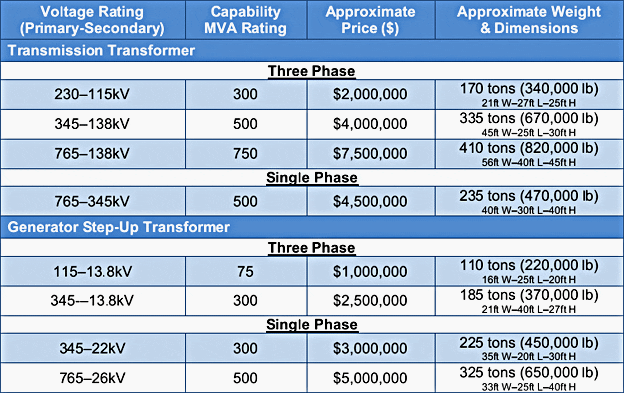 Note: Prices are FOB factory and do not include taxes, transportation, special features and accessories, special testing (short-circuit, etc.), insulating oil, field installation, and/or optional services. The total installed cost is estimated to be about 25–30 percent higher.
Source: NERC Special Report: Spare Equipment Database System, 2011
LPTs require substantial capital and a long-lead time (in excess of six months) to manufacture, and its production requires large crane capacities, ample floor space, and adequate testing and drying equipment.
Large Power transformers and shunt reactors (VIDEO)
Cant see this video? Click here to watch it on Youtube.
*|YOUTUBE:d0BmOaOP7JU|*
Reference: Large power transformers and the U.S. Electric Grid – Infrastructure Security and Energy Restoration Office of Electricity Delivery and Energy Reliability U.S. Department of Energy
Related electrical guides & articles
Premium Membership
Get access to premium HV/MV/LV technical articles, electrical engineering guides, research studies and much more! It helps you to shape up your technical skills in your everyday life as an electrical engineer.
More Information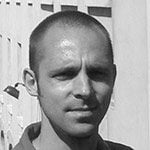 Electrical engineer, programmer and founder of EEP. Highly specialized for design of LV/MV switchgears and LV high power busbar trunking (<6300A) in power substations, commercial buildings and industry facilities. Professional in AutoCAD programming.