Introduction to Drawing Reading
The capability of reading different types of drawings is an essential skill to perform almost all of the engineering tasks. The engineering drawings form the building blocks of industry method to convey detailed information to implement, gather, troubleshoot, maintain, and run a system. Basically, the very first step to learning how to read such drawings is to become acquainted with standard procedures and basic symbols that are utilized in these drawings.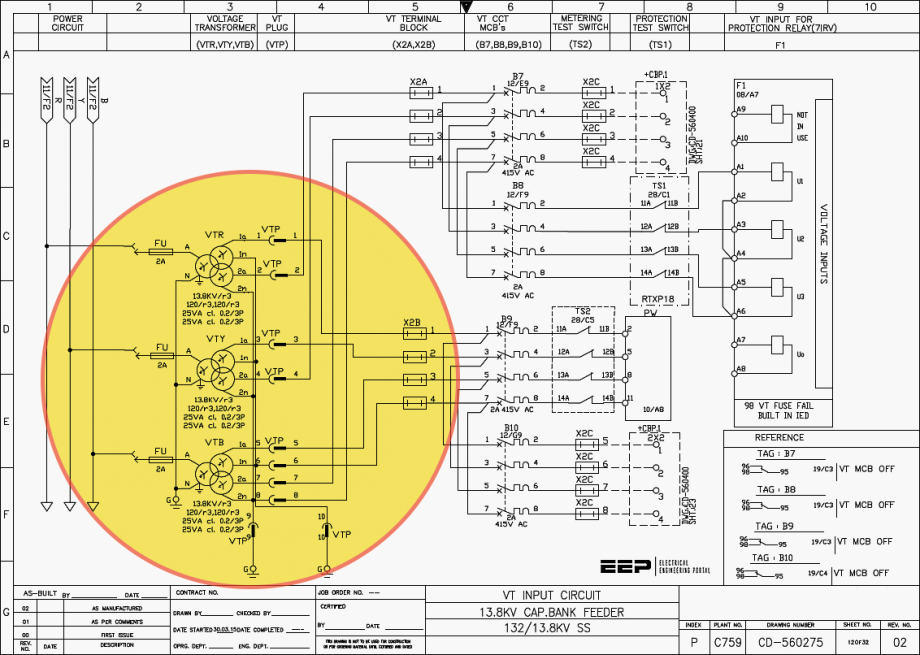 The information contained outside the drawing areas in a print is essential to comprehend the given information in the drawing areas. The title block, revision block, grid system, notes, and legend are all examples of the non-drawing areas in the print.
Usually, the terms print, diagram, and drawing are used interchangeably to indicate the full drawing package.
Generally, engineering drawings are classified into five main areas:
Title,
Grid,
Revision,
Notes and legend, and
Graphic
A schematic diagram is a graphical representation of system components functional formation rather than the physical formation. The schematics are categorized into three types: Single-line diagram, AC schematic diagram, and DC schematic diagram.
Basically, the schematic is intended to facilitate following the measuring and protection circuits without considering the actual location, physical size, and shape of the depicted electrical system components. Drawing types vary in the level of details they communicate the required information. Typically, the drawing types include a single-line diagram, AC schematics, DC schematics, logic diagram, panel layout diagram, wiring diagram, and other different types.
The detail level of these drawings falls in a spectrum in which the single-line drawing is at one end holding the least detailed and most simplified drawing type while the wiring drawing is located at the opposite end that is the most detailed and complicated type.
Substation system complexity level differs according to several factors, such as busbar arrangement, protection functions, CT/PT configurations, number of incomer/feeder circuits, and otherwise. Moreover, the CT and PT tracing and troubleshooting can be burdensome, especially for those who do not master drawing reading skills.
Thus, in this article, the focus is to present some tips aid analyzing MV switchgear single-line diagram and wiring diagram of measurement and protection circuits (i.e. CT & PT).
1. Single-Line Diagram
A complete single-line diagram along with the physical installment layout should be sufficient to properly plan and assess power systems. Broadly, there are two types of the single-line diagram: the system single-line diagram and the equipment single-line diagram.
The former is a general system layout that does not usually provide much detailed information, while the latter is more descriptive in terms of system capacity, control, protection, etc. The equipment single-line diagram could be for transformers, motors, busbars, feeders, or any subsystem of interest.