To contact utility personel
Power substations contain transformers, large quantities of oil, energized electrical equipment and, in some cases, cylinders of compressed gas. Some of the oil may contain polychlorinated biphenyls (PCBs).
On arriving at a substation fire, normally you should first call for firefighters and they should hook up and stand ready to protect adjacent properties. Utility personnel will tell firefighters when the substation has been made electrically safe. Firefighters can then proceed to put out the fire with conventional firefighting equipment.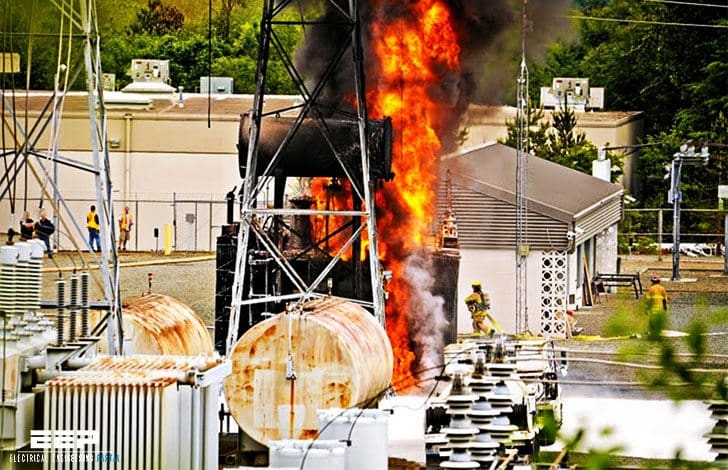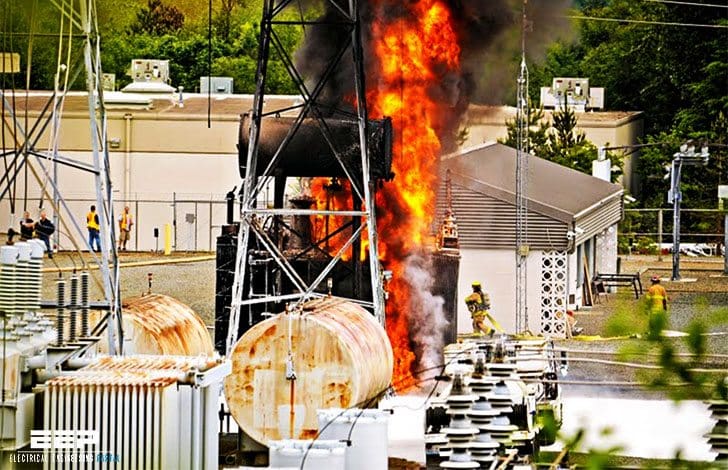 Most substations are unattended, although an automatic signal system should summon a utility representative when an emergency develops. If a utility representative is not present when the firefighters arrive, the utility must be contacted to make sure one has been dispatched.
Most utility personnel are familiar with the substations they service. They are trained in the use of the specialized station firefighting apparatus and can identify the areas that are electrically safe.
Equipment in substation susceptible to fire:
Let's go through the most common electrical equipment susceptible to the fire and see what happens:
1. Transformers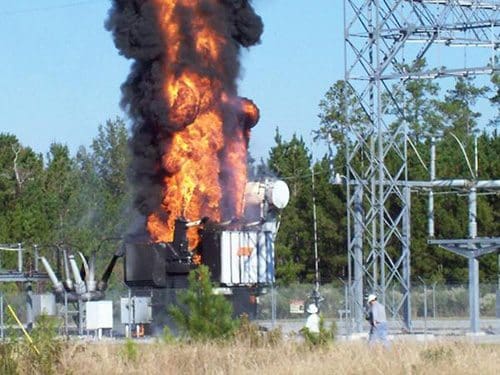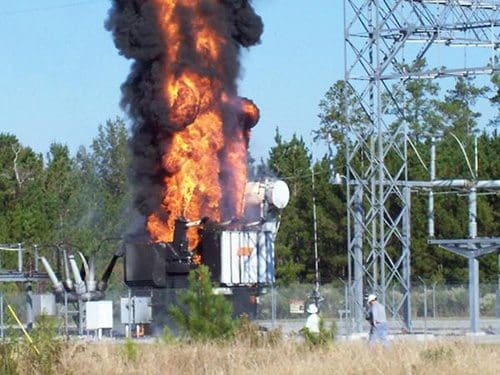 There are several hazards to be aware of when fighting transformer fires. As you already know, transformers are devices used to step-up or step-down voltages. They usually contain large volumes of insulating oil which, of course, is combustible and has a flash point of 145°C. Some of this oil may contain PCBs.
A transformer consists of an iron core on which are placed two or three coils of conductors. By varying the number of turns on the coils, the voltage can be changed. The turns on the coils need to be insulated from each other to withstand the voltages. This insulation may be combustible.
For both cooling and insulating purposes, transformers are placed in large metal tanks. Further refinements can include pumps, fans, radiators or a large tank called a conservator, at the top of the main transformer tank which also contains oil.
Usually it is possible to extinguish transformer fires before all the oil has been consumed, thereby saving adjacent equipment from damage.
2. Conservators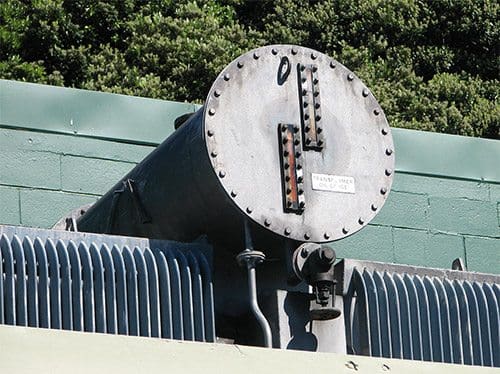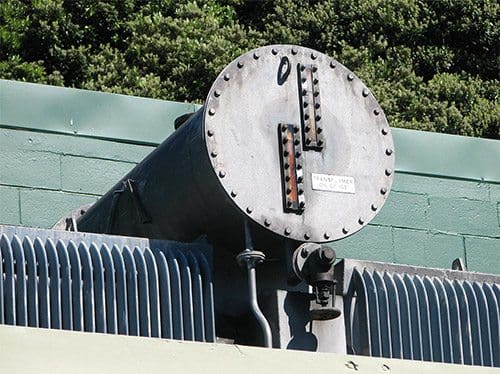 These are simply large tanks located at the top of transformers to allow for expansion and contraction of oil when the transformer is carrying electricity. There will be no large build up of pressure, but if one of these tanks were ruptured, it could release a large supply of fuel.
3. Explosion Vents
These are large vertical pipes with rupturable discs fitted to the transformer tops which are intended to vent pressure in the event of an internal transformer fault. They are unlikely to be a hazard to the people fighting a fire.
4. Porcelain Bushings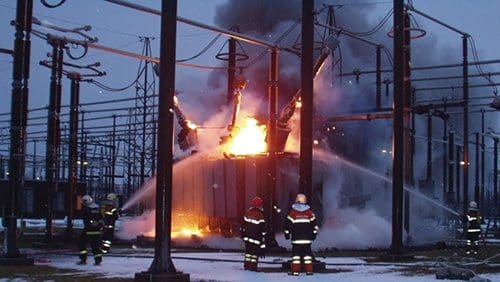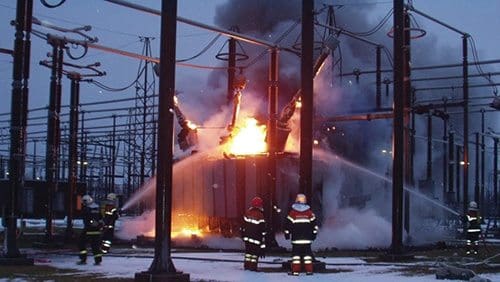 The function of these bushings is to let the high-voltage transformer connection pass through the grounded metal tank without energizing it. Typically they contain the same insulating material found in transformers – paper and oil.
When subjected to high temperatures, the porcelain material can explode. This could result in flying projectiles and more oil as fuel for the fire. Be alert!
5. Overhead Structures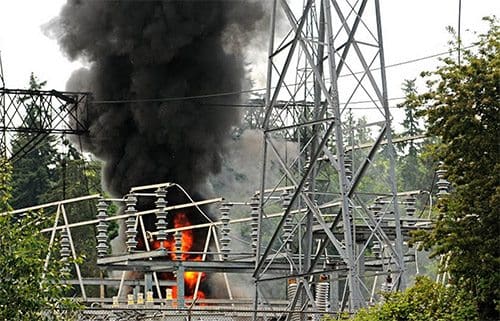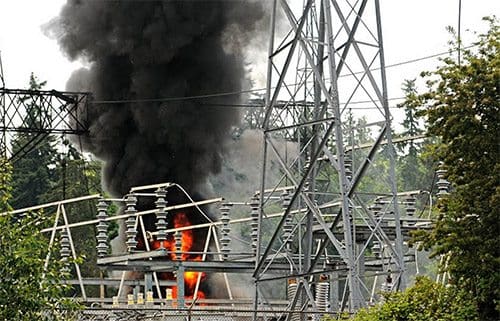 Metal structures are often built over the top of electrical equipment to support insulators and high-voltage conductors. These structures will sag and eventually collapse when subjected to high temperatures.
Apart from the obvious hazards, such collapses could also result in breaking the transformer bushings with the consequences described above.
6. Control Cables
Control cables attached to large power transformers carry low voltage electricity for controlling cooling fans, pumps and motors. They usually become isolated if faulted.
7. Cable Trenches
Cable trenches carry the control cables mentioned above. In the event of a substation fire, cable trenches can carry transformer oil that may have leaked from a burning transformer or a broken porcelain bushing. Thus, a fire can be carried to adjacent equipment fairly readily.
8. Circuit Breakers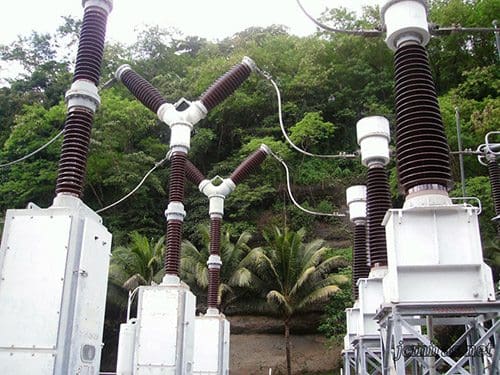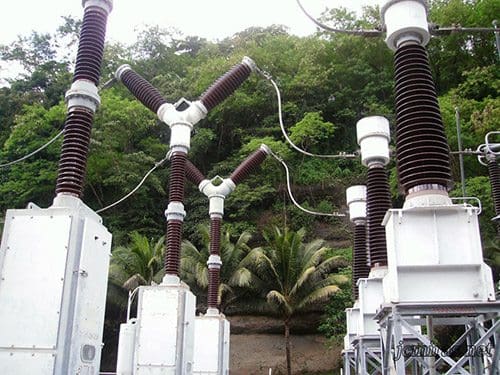 These are large switches. Some types of circuit breakers are equipped with porcelain bushings and combustible oil whose hazards are described above.
9. Capacitors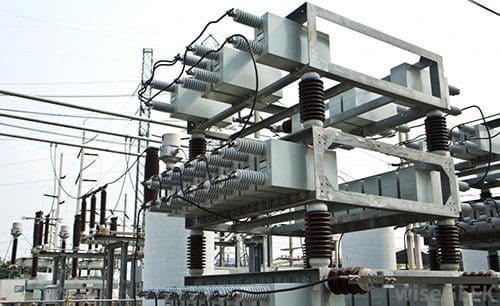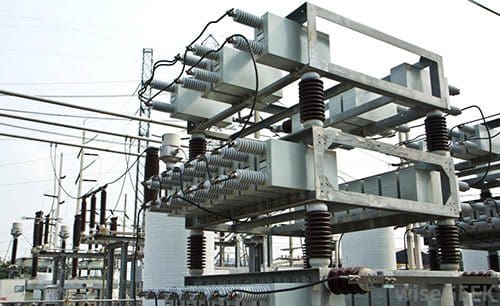 Capacitors are located in some, but not all substations. A capacitor bank is comprised of a number of small units measuring approximately 25 cm x 45 cm x 60 cm (10 inches x 18 inches x 24 inches).
There are three main hazards that firefighters should be aware of:
The individual capacitors are sealed units which could explode when heated.
Some of the capacitors contain polychlorinated biphenyls (PCBs) which can be hazardous to your health and the environment. In the event of a spill, extreme caution should be exercised. Provincial environmental guidelines must be followed.
Capacitors can store lethal amounts of electricity even with the power off. In the event of a fire, utility personnel would, as soon as practicable, make them safe to handle.
Firefighters in such a situation must take every precaution necessary to protect themselves and all members of the public present. Again, all provincial environmental guidelines must be adhered to.
10. Substation Ground Grids
An extensive grounding grid system is located under the gravel in all utility substations. Its function is to protect personnel from high-voltage levels during fault conditions on the transmission lines outside the substations.
For example, should lightning strike one of the utility's lines, it could cause an insulator flashover at the station which would raise the ground voltage several thousand volts. Under normal circumstances, personnel would not be exposed to any danger because the grounding grid would distribute the voltage over a wide area.
Metal ladders must not be placed against a substation fence or otherwise used in fighting substation fires. Metal tap rules, extension cords and other metal objects can also create a hazard and are not permitted in utility substations.
The gravel covering substation property serves two vital functions:
It insulates people from the grounding grid.
In a fire,it cools down oil which may flow from transformers or other electrical equipment.
Reference: Electrical Safety Handbook for Emergency Personnel – NB Power Health and Safety Department