Why is motor protection necessary?
In order to avoid unexpected breakdowns, costly repairs and subsequent losses due to motor downtime, it is important that the motor is fitted with some sort of protective device. This article will deal with built-in motor protection with thermal overload protection to avoid damage and breakdown of motor.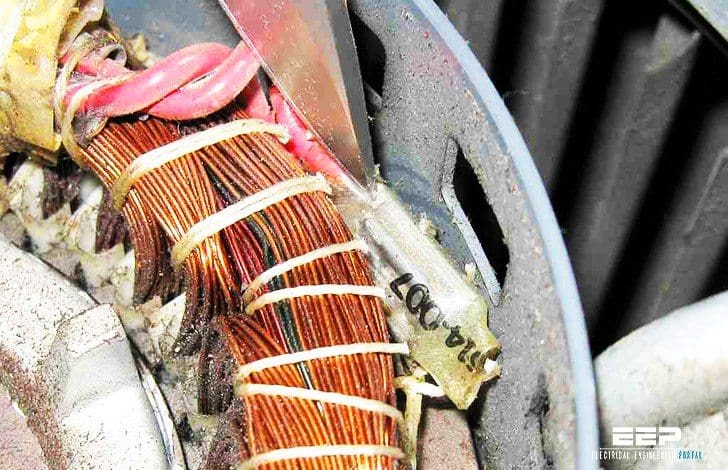 The built-in protector always require an external circuit breaker while some built-in motor protection types even require an overload relay.
Internal protection / Built into the motor
Why have built-in motor protection, when the motor is already fitted with overload relays and fuses? Sometimes the overload relay does not register a motor overload.
Here are a couple examples of this:
If the motor is covered and is slowly warmed up to a high damaging temperature.
In general, high ambient temperature.
If the external motor protection is set at a too high trip current or is installed in a wrong way.
If a motor, within a short period of time, is restarted several times, the locked rotor current warms up the motor and eventually damages it.
The degree of protection that an internal protection device provides is classified in the IEC 60034-11 standard.
TP designation
TP is the abbreviation for thermal protection. Different types of thermal protection exist and are identified by a TP-code (TPxxx) which indicates:
The type of thermal overload for which the 

thermal protection is designed (1 digit)

The numbers of levels and type of action 

(2 digit)

The category of the built-in thermal protection (3 digit)
When it comes to pump motors, the most common TP designations are:
TP 111 – Protection against slow overload
TP 211 – protection against both rapid and slow overload.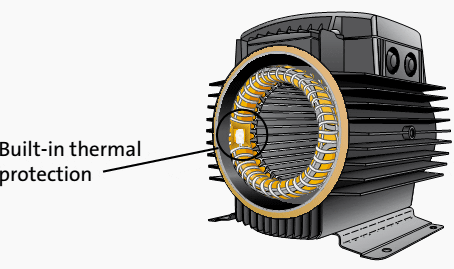 Indication of the permissible temperature level when the motor is exposed to thermal overload. Category 2 allows higher temperatures than category 1 does.
Symbol
(TP)
Technical overload with variation
(1 digit)

Number of levels and function area (2 digits)

Category
(3 digits)
TP 111
Only slow (i.e. constant overload)
1 level at cutoff
1
TP 112
2
TP 121
2 levels at emergency signal and cutoff
1
TP 122
2
TP 211
Slow and fast (i.e. constant overload and blocked condition)
1 level at cutoff
1
TP 212
2
TP 221
2 levels at emergency signal and cutoff
1
TP 222
2
TP 311
Only fast (i.e. blocked condition)
1 level at cutoff
1
TP 312
2
Information about which type of protection has been applied to a motor can be found on the nameplate using a TP (thermal protection) designation according to IEC 60034-11.
In general, internal protection can be implemented using two types of protectors:
Thermal protectors – built into the terminal box
Thermal protectors or thermostats use a snapaction, bi-metallic, disc type switch to open or to close the circuit when it reaches a certain temperature. Thermal protectors are also referred to as Klixons, (trade name from Texas Instruments).
When the bi-metal disc reaches a predetermined temperature, it opens or closes a set of contacts in an energized control circuit. Thermostats are available with contacts for normally open or normally closed operation, but the same device cannot be used for both.
Thermostats are precalibrated by the manufacturer and cannot be adjusted. The discs are hermetically sealed and are placed on the terminal board.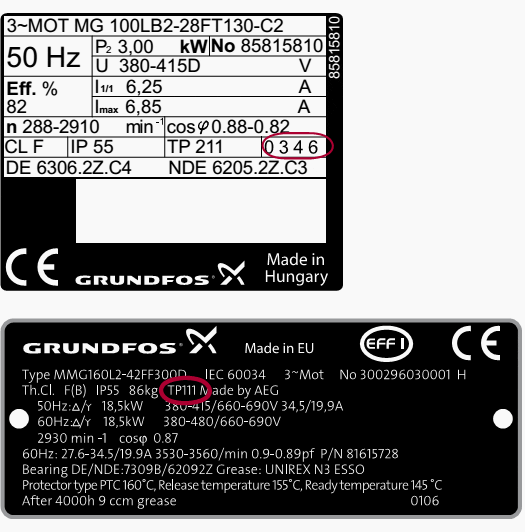 Symbols (left to right):
Thermal switch without heater
Thermal switch with heater
Thermal switch without heater for three-phase motors (star-point protector)
A thermostat can either energize an alarm circuit, if normally open, or de-energize the motor contactor, if normally closed and in series with the contactor.
Since thermostats are located on the outer surface of the coil ends, they sense the temperature at that location. In connection with three-phase motors, thermostats are considered unstable protection against stall or other rapidly changing temperature conditions.
In single phase motors thermostats do protect against locked-rotor conditions.
Thermal switch – built into the windings
Thermal protectors can also be built into the windings, see the illustration below. They operate as a sensitive power cut-out for both single and three-phase motors. In single-phase motors, up to a given motor size around 1.1 kW it can be mounted directly in the main circuit to serve as an on-winding protector.


Thermal protection to be connected in series with the winding or to a control circuit in the motor.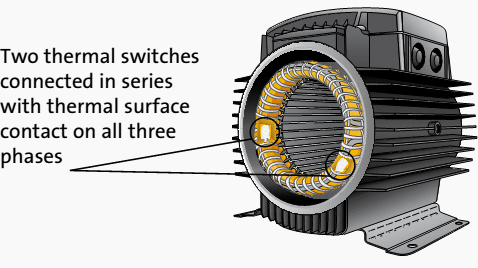 Klixon and Thermik are examples of thermal switch These devices are also called PTO (Protection Thermique à Ouverture).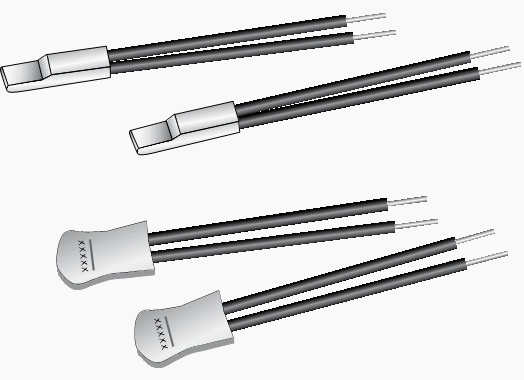 Internal fitting
In single-phase motors one single thermal switch is used. In three-phase motors 2 thermal switches connected in series are placed between the phases of the motor. In that way all three phases are in contact with a thermal switch.
Thermal switches can be retrofitted on the coil end, but the result is an increased reaction time. The switches have to be connected to an external monitoring system. In that way the motor is protected against a slow overload. The thermal switches do not require an amplifier relay.
Thermal switches CANNOT protect against locked- rotor conditions.
How does a thermal switch function?
The curve on your right-hand side shows the resistance as a function of the temperature for a typical thermal switch. Depending on the thermal switch manufacturer, the curve changes.
TN is typically around 150 – 160°C.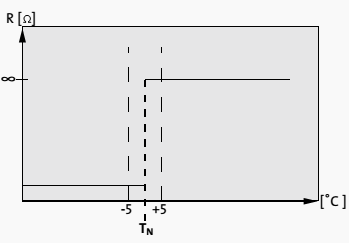 Connection
Connection of a three-phase motor with built-in thermal switch and overload relay.
TP designation for the diagram
Protection according to the IEC 60034-11 standard: TP 111 (slow overload). In order to handle a locked-rotor, the motor has to be fitted with an overload relay.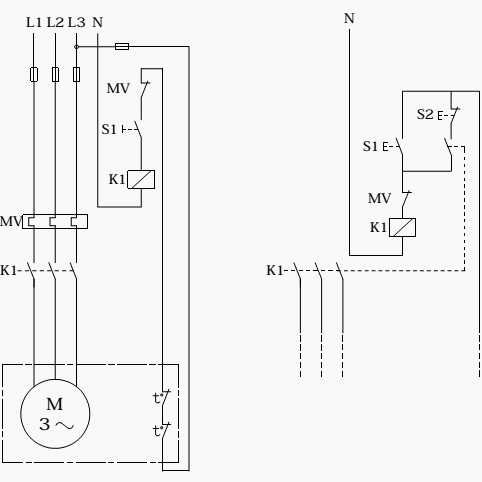 Where:
S1 – On/off switch
S2 – Off switch
K1 – Contactor
t – Thermal switch in motor
M – Motor
MV – Overload relay
Thermal switches can be loaded as followed:
Umax = 250 V AC
IN = 1.5 A
Imax = 5.0 A (cut-in and cut-out current)
Thermistors – also built into the windings
The second type of internal protection is the thermistors or Positive Temperature Coefficient sensors (PTC). The thermistors are built into the motor windings and protect the motor against locked-rotor conditions, continuous overload and high ambient temperature.
Thermal protection is then achieved by monitoring the temperature of the motor windings with PTC sensors. If the windings exceed the rated trip temperature, the sensor undergoes a rapid change in resistance relative to the change in temperature.
As a result of this change, the internal relays de-energize the control coil of the external line break contactor. As the motor cools and an acceptable motor winding temperature has been restored, the sensor resistance decreases to the reset level.
At this point, the module resets itself automatically, unless it was set up for manual reset. When the thermistors are retrofitted on the coil ends, the thermistors can only be classified as TP 111. The reason is that the thermistors do not have complete contact with the coil ends, and therefore, it cannot react as quickly as it would if they were fitted into the winding originally.


The thermistor temperature sensing system consists of positive temperature coefficient sensors (PTC) embedded in series of three – one between each phase – and a matched solid-state electronic switch in an enclosed control module. A set of sensors consists of three sensors, one per phase.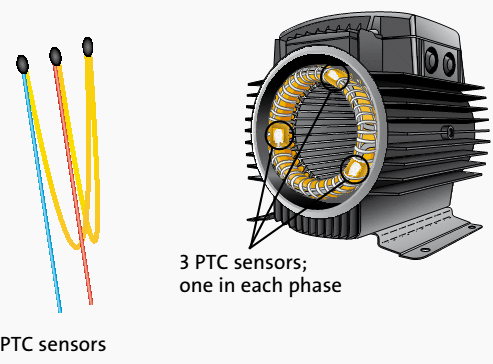 Only temperature sensitive. The thermistor has to be connected to a control circuit, which can convert the resistance signal, which again has to disconnect the motor. Used in three-phase motors.
The resistance in the sensor remains relatively low and constant over a wide temperature band and increases abruptly at a pre-determined temperature or trip point.
When this occurs, the sensor acts as a solid-state thermal switch and de-energizes a pilot relay.
The relay opens the machine's control circuit to shut down the protected equipment. When the winding temperature returns to a safe value, the module permits manual reset.
Reference // Grundfos – Motor Book (Download here)