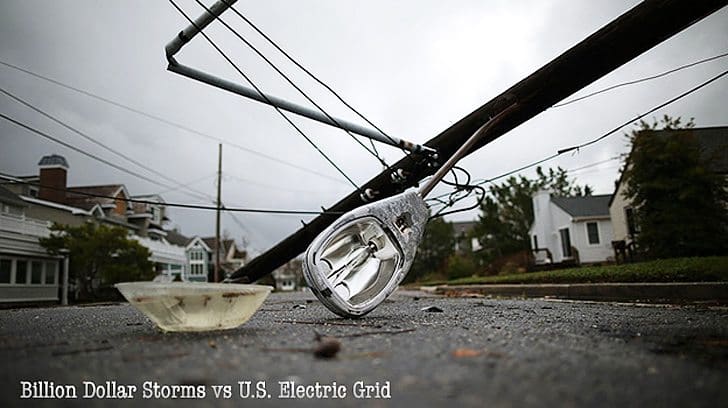 Severe weather is increasing
Severe weather is the single leading cause of power outages in the United States. Outages caused by severe weather such as thunderstorms, hurricanes and blizzards account for 58 percent of outages observed since 2002 and 87 percent of outages affecting 50,000 or more customers.
In all, 679 widespread outages occurred between 2003 and 2012 due to severe weather.
Furthermore, the incidence of both major power outages and severe weather is increasing. Data from the U.S. Energy Information Administration show that weather-related outages have increased significantly since 1992.

Other causes of power outages include: operational failures, equipment malfunctions, circuit overloads, vehicle accidents, fuel supply deficiencies and load shedding – which occurs when the grid is intentionally shut down to contain the spread of an ongoing power outage.
Since 1980, the United States has sustained 144 weather disasters whose damage cost reached or exceeded $1 billion. The total cost of these 144 events exceeds $1 trillion (U.S. Department of Commerce 2013). Moreover, seven of the ten costliest storms in U.S. history occurred between 2004 and 2012 (U.S. DOC 2012).
These "billion dollar storms" have rendered a devastating toll on the U.S. economy and the lives of millions of Americans.

According to the National Climate Assessment, the incidence and severity of extreme weather will continue to increase due to climate change.
The 2009 assessment of the U.S. Global Change Research Program (USGCRP) on behalf of the National Science and Technology Council found that anthropogenic emissions of greenhouse gases are causing various forms of climate change including higher national and global temperatures, warmer oceans, increased sea levels, and more extreme weather events.
The increased incidence of severe weather represents one of the most significant threats posed by climate change (USGCRP 2013).
Climate change is expected to alter patterns of precipitation. Northern areas of the United States are projected to become wetter, especially in the winter and spring, while southern areas are projected to become drier. In addition, heavy precipitation events will become more frequent. Depending on location, severe downpours currently occurring once every 20 years are projected to occur every 4 to 15 years by 2100.
In addition to higher temperatures and changing patterns of precipitation, scientists expect warmer ocean temperatures to increase hurricane intensity.
Hurricanes draw energy from the temperature difference between ocean surfaces and the mid-level atmosphere. Over the past three decades, the North Atlantic has already experienced the trend of increasing hurricane intensity. Moreover, several studies project a substantial increase in hurricane-related costs due to climate change.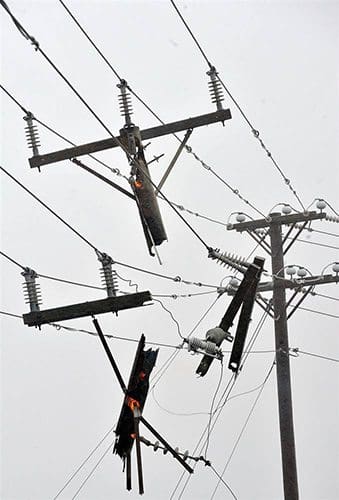 Similarly, winter storms will also become stronger, more frequent, and costly. Investment in modern infrastructure will be required to maintain grid reliability as these weather changes occur.
Hurricane Sandy Downs Power Lines in Delaware
Cant see this video? Click here to watch it on Youtube.
Benefits of increasing electric grid resilience
A more resilient electric grid brings a host of benefits beyond reduced vulnerability to severe weather.
Investments in smart grid technology designed to increase resilience can improve the overall effectiveness of grid operations leading to greater efficiencies in energy use with accompanying reductions in carbon emissions, as well as providing greater assurances to businesses upon which our economy depends.
These technologies can also enhance national security by bolstering the nation's defense against cyber-attacks given that 99 percent of all U.S. Department of Defense installations located within the United States rely on the commercial electric grid for power (Samaras and Willis 2013).
Increased grid resilience may also reduce expenditures by firms and individuals on back-up generators, second utility feeds, power conditioning equipment and other items purchased to mitigate the effects of power outages.
Reference: Economic benefits of increasing electric grid resilience to weather resistance – Executive Office of the President, The White House (This report was prepared by the President's Council of Economic Advisers and the U.S. Department of Energy's Office of Electricity Delivery and Energy Reliability, with assistance from the White House Office of Science and Technology)