Great deal for engineers
Black Friday is gone, but Cyber Monday is here and it's getting better! Let us share with you two Cyber Monday deals for our electrical engineers, expiring on December 3rd: 20% off on EEP Pro Premium Membership and 30% off on all courses and bundles at the EEP Academy. This is an excellent opportunity to learn from specialized LV/MV/HV technical articles, video courses, electrical guides, and papers.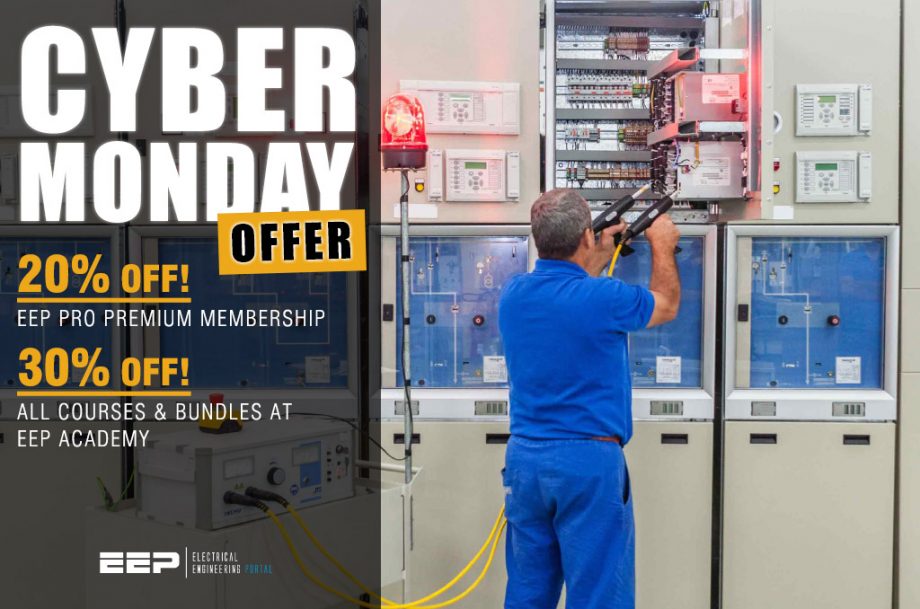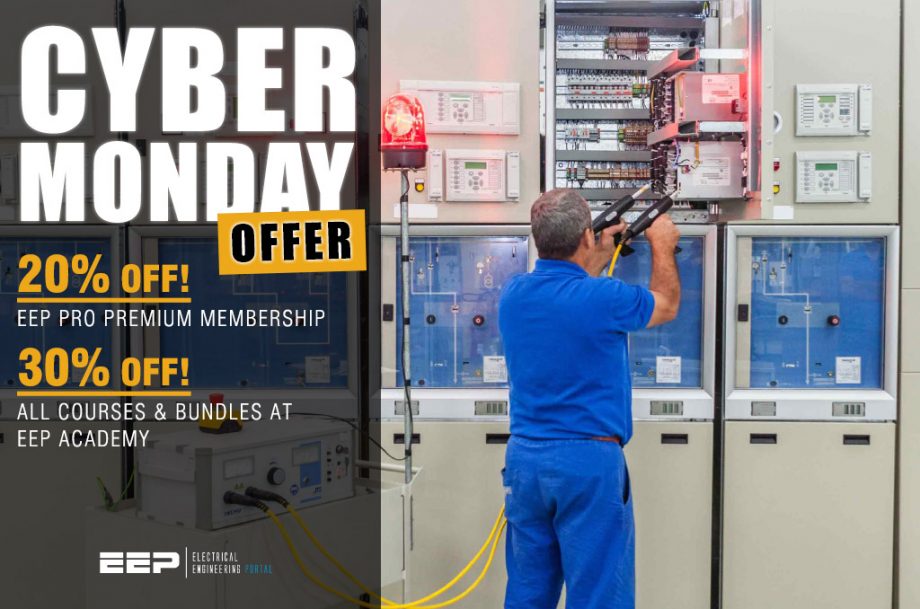 So, let's get in the Cyber Monday deals!
1. Save 20% on EEP PRO Premium Membership
Apply discount code (only for Pro plan): CYBERMONDAY21
Premium Pro membership plan gives you access to specialized LV/MV/HV technical articles written by experienced engineers and advanced electrical guides and papers. You will see no distracting and annoying ads while reading technical articles. You will be able to print any technical articles in PDF format. Take a peek at the premium technical articles!
This plan includes an Android application for accessing EEP's both regular and premium resources on the go.
You know that, nowadays, especially for young engineers, it's extremely hard to get the 'experienced information'. This information does not come from books but experienced electrical engineers working in our industry for many years, and we can tell – it's tough to find. EEP's primary goal is to create the essence of it and put it in the premium membership bottle. This is what you get with our premium membership.
Sign up to EEP Premium and use the discount code for the Pro plan! You're also welcome to check our other premium membership plans.
Sign up to EEP Pro Plan
2. Save 30% on All Courses and Bundles
Discount coupon: CYBERMONDAY21
Video courses at EEP Academy provide all the cutting-edge hand-crafted Electrical Engineering knowledge, based on the 10+ years of practice of our instructors, experienced electrical engineers.
What you can learn? Starting from the fundamentals of electricity and AC/DC circuits, you can learn three-phase power analysis, power transformers, relay protection & control of high voltage circuits, short-circuit analysis, substation protection, low voltage distribution design, electric motor, and generator applications and troubleshooting, solar energy systems, electrical designing & drafting, etc.
If you are serious about the electrical design of industrial, residential and commercial projects, we have dedicated courses just for that! Learn to design electrical systems in the most popular software like Matlab/Simulink, AutoCAD, ETAP, EPLAN, or Dialux.
Visit EEP Academy and browse over 70 electrical engineering courses. Each course has a free preview of one or two lessons.
Course catalogue
You can also apply 1 30% discount coupon on bundles. The bundle is a pack of two or more electrical engineering courses, and it costs less than all courses separately. There are eight bundles currently available:
Featured Courses
Design Course For Solar Energy Systems (Off-Grid, On-Grid, Protection and Simulation)
Transformer Differential Protection Course: Understanding Schematics, Relay Settings and Testing
Learn to Read and Analyze Circuit Breaker Schematics and Control Wiring Diagrams
Course to Relay Circuitry and Understanding Control and Protection Schematics
Look forward to hearing from you.
Have a wonderful day!
Kind regards,
EEP Editorial Team
https://electrical-engineering-portal.com
https://electrical-engineering-portal.com/academy/