Busbar trunking system
As line distribution boards, busbar trunking system (BTS) also belongs to the group of switchgear assemblies documented in IEC 61439 (VDE 0660-600). Apart from the general requirements of IEC 61439-1 (VDE 0660-600-1), the required product features of busbar trunking system are described in IEC 61439-6 (VDE 0660-600-6) in particular.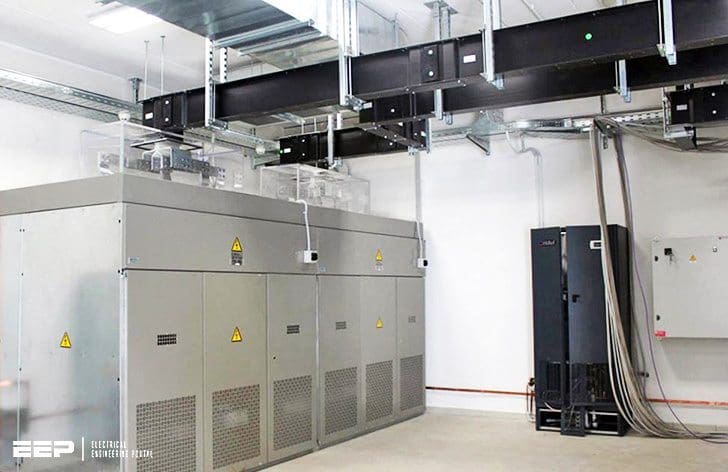 The rated voltage must not exceed 1,000 V for alternating voltage and 1,500 V for direct voltage!
Busbar trunking system can not only be operated in combination with the other components of the electric power distribution system, but they can also be linked with the generation, transmission and conversion of electric power and with the control of power consumers.
Excluded from IEC 61439-6 (VDE 0660-600-6) are, among others, electrical busbar systems for luminaires (in accordance with IEC 60570 and VDE 0711-300). However, lighting systems can be connected to busbar trunking system and communication-capable tap-off units can be used to control consumers and to switch luminaires.
Planning is based on the incoming power (for example, rated and short circuit currents of the feeding transformers) and connection values of the busbar trunking system and additionally on the following data:
Permissible voltage drop
Required degree of protection
Power system configuration
Weighing of the supply concepts as cable system or busbar trunking system
Short-circuit strength
Overload and short-circuit protection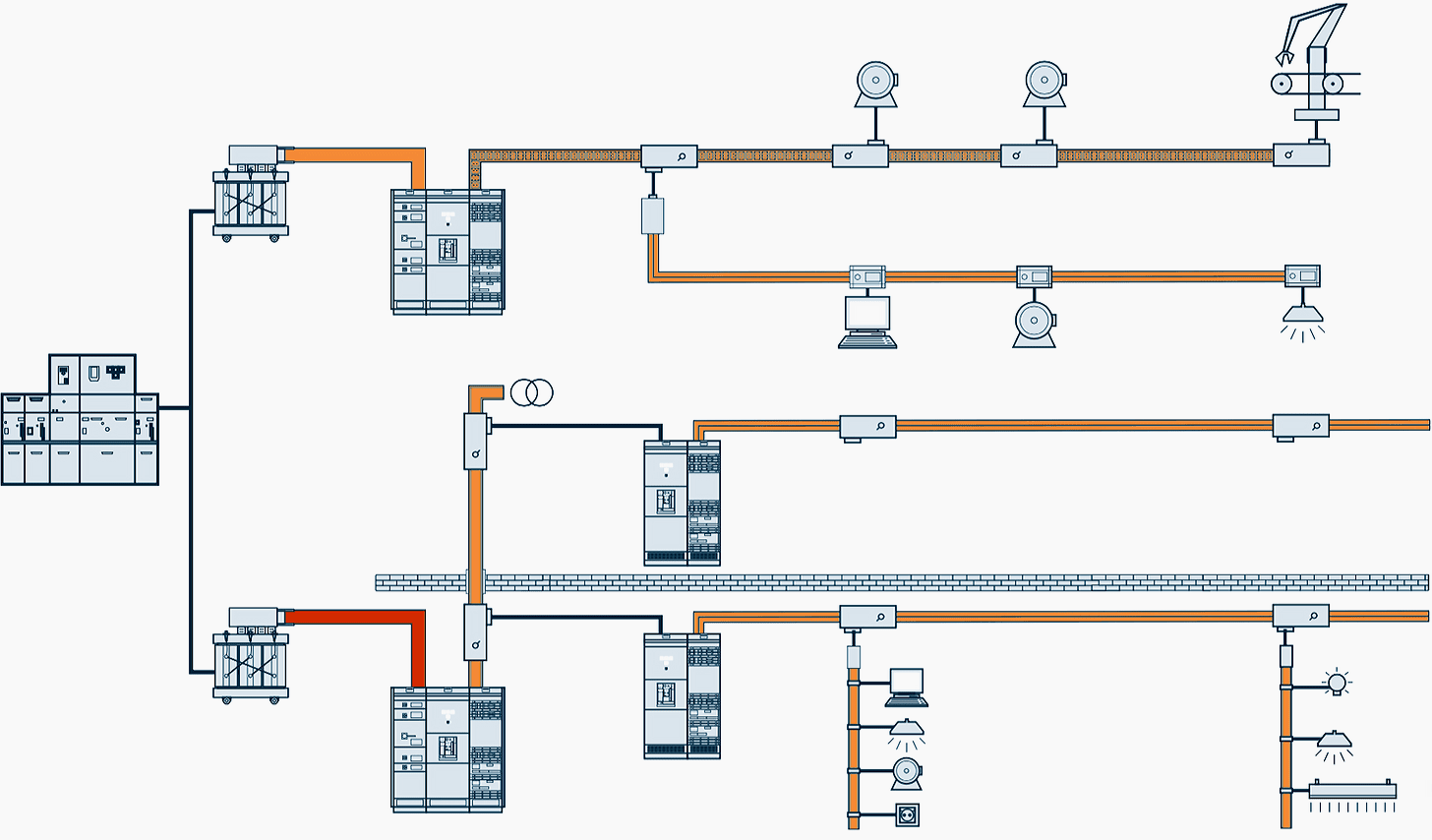 Configuration
Depending on the project conditions and various manufacturers, different busbar trunking systems can be selected:
Sandwich design for compact dimensions.
Ventilated busbar design for excellent heat dissipation.
(Attention: In the case of rising mains, the stack-effect of a closed box-type system may provide advantages)
Moulded busbar trunking system if highest demands are made on the degree of protection in critical environments.
The various systems may include different numbers of conductors. The PE conductor can be implemented as a separate busbar or as an enclosure. The N conductor can be a single conductor or it can be duplicated.
Conductors can be routed doubly in an enclosure to improve EMC!
Conductor material
Aluminium and copper are possible conductor materials. In the three years from 2010 to 2012, the copper price rose from about 4,000 to 6,000 euros per ton, the price for aluminium from about 1,300 to 1,600 € per ton1).
However, if aluminium is to be used as conductor material, the approximately 60 % larger conductor cross sections make a significant difference, which are required due to the lower electrical conductivity compared to copper. On the other hand, aluminium is about 35 % lighter than copper.
If aluminium is used, the necessary larger cross sections require more space.
While this is immaterial in HV power lines, it might be the knock-out criterion in a densely equipped switchgear cabinet or if routing busbar trunking systems in buildings. No criterion, however, is the oxidation capability of aluminium, as the aluminium buses from most of manufacturers are tin-plated so that there is no air-aluminium contact and the infamous disposition to flowing of aluminium cannot loosen the screw connections.
A rough clue for the use of the two materials is provided by the estimations of the material-specific relations as ratio:
Market price for raw material Cu to Al is as 3 : 1
Weight of Cu to Al is as 3 : 1
Volumetric specific resistance (1 / electrical conductivity) is as 3 : 5
Mass-related specific resistance (1 / electrical conductivity) is as 2 : 1
Output-related costs per ampere (transmitted power) is as 5 : 1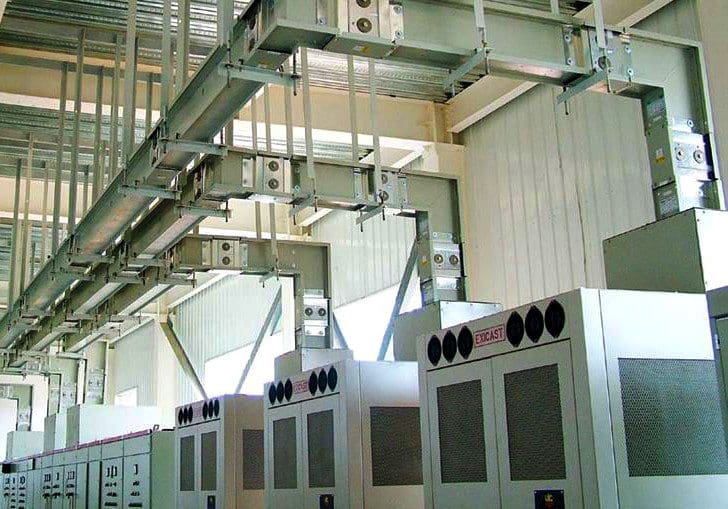 Power transmission
Busbar trunking units without tap-off points are used for power transmission. They are available in standard lengths and custom lengths. Besides the standard lengths, the customer can also choose a specific length from various length ranges to suit individual constructive requirements.
Upwards of a rated current of approximately 1,600 A, busbars have a significant advantage over cables and wires in the material and installation prices as well as in the costs for additional material such as cable terminations or for wall bushings.
Both these costs and the time benefits during installation increase with the rated current rising. Table 1 summarizes the major differences between cable installations and busbar trunking systems.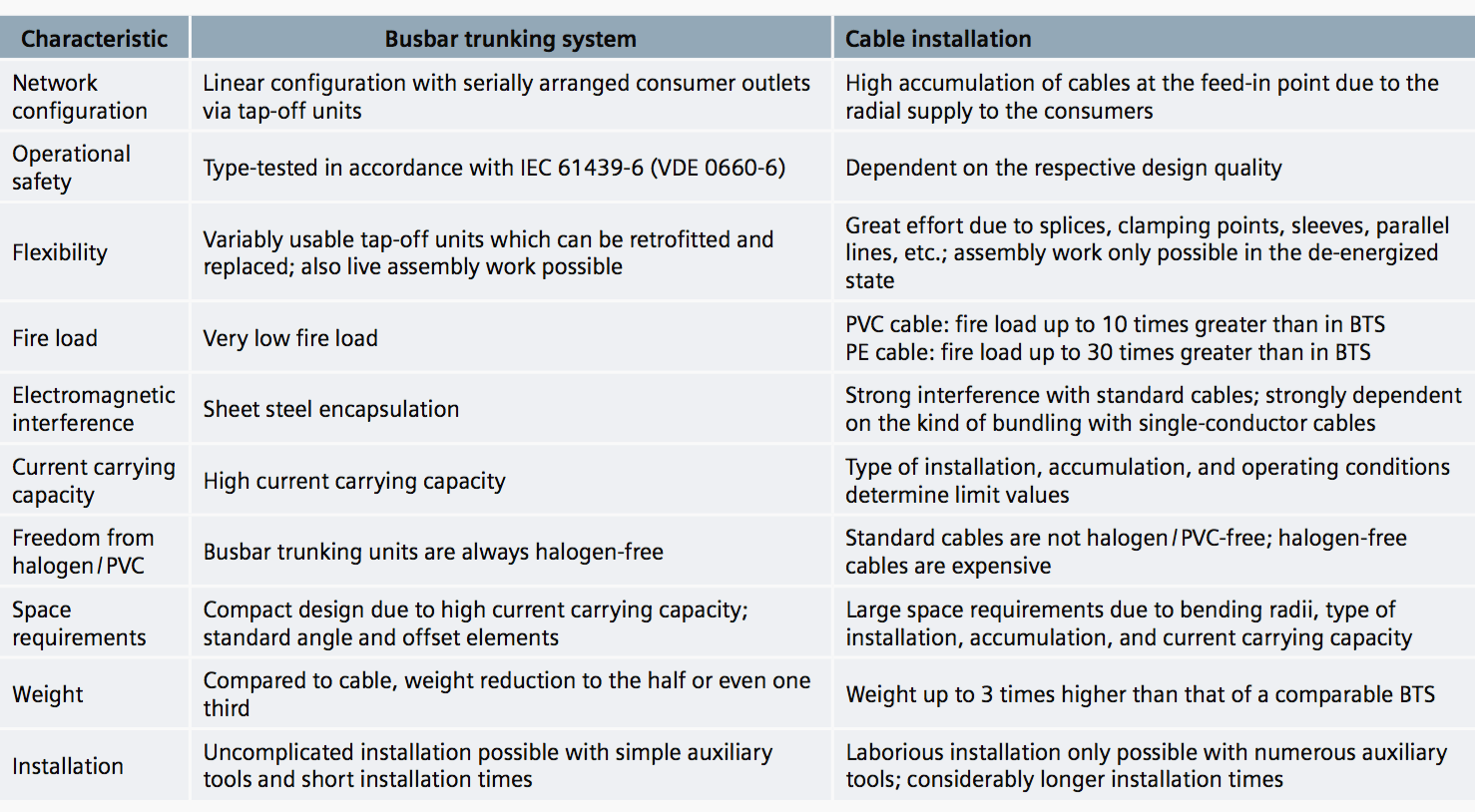 Variable power distribution
In busbar trunking systems, electricity cannot just be tapped from a permanently fixed point as with a cable installation. Tapping points can be varied and changed as desired within the entire power distribution system. In order to tap electricity, you just have to connect a tap-off unit to the busbar system at the tapping point.
This way, a variable distribution system is created for linear and / or area-wide, decentralised power distribution.
Tap-off points are provided on just one or either side of the straight busbar trunking units. For each busbar trunking system, a wide range of tap-off units is available for the connection of consumers and electricity supply.
Fire protection
The following must be taken into account as to fire protection:
Reduction of the fire load
Prevention of fire spreading
The entire length has to be considered because the electrical routing may run through the whole building and is used to supply special installations and systems as for instance:
Lifts with evacuation system
Fire alarm systems
Ventilation systems for safety stairways, lift wells, and machine rooms of fire brigade lifts
Systems to increase the pressure of the water supply for fire fighting
Emergency lighting
"In order to prevent the development and spreading of fire and smoke, and to be able to effectively extinguish fires and save people and animals in the event of a fire" (state building regulations in Germany), neither fire nor flue gas may spread from one floor or fire section to another.
For busbar trunking systems, the fire walls between the various fire areas in the building complying with fire resistance classes S60, S90, and S120 in accordance with DIN 4102-9 can be ordered together with the busbar trunking system, depending on the design and type. The fire walls must have at least the same fire resistance class as the relevant wall or ceiling.
It may be necessary to provide additional protective housing for the trunk line in the room for reasons of functional endurance. Depending on the required functional endurance class and the planned carrier / support system, there are different design variants.
Because of the poorer ventilation and heat dissipation through the protective housing, the reduction factors specified by the manufacturers must be taken into account in later planning steps in order to determine the maximum permissible currents. A reduction factor of 0.5 can be assumed for an initial estimation.
Contrary to inexpensive cables and wires, the insulation used in busbar trunking system does not contain any materials that produce corrosive or poisonous gases in the event of a fire. There is also no burning of material in busbar trunking system so that the rooms remain clean and the escape routes are not impeded.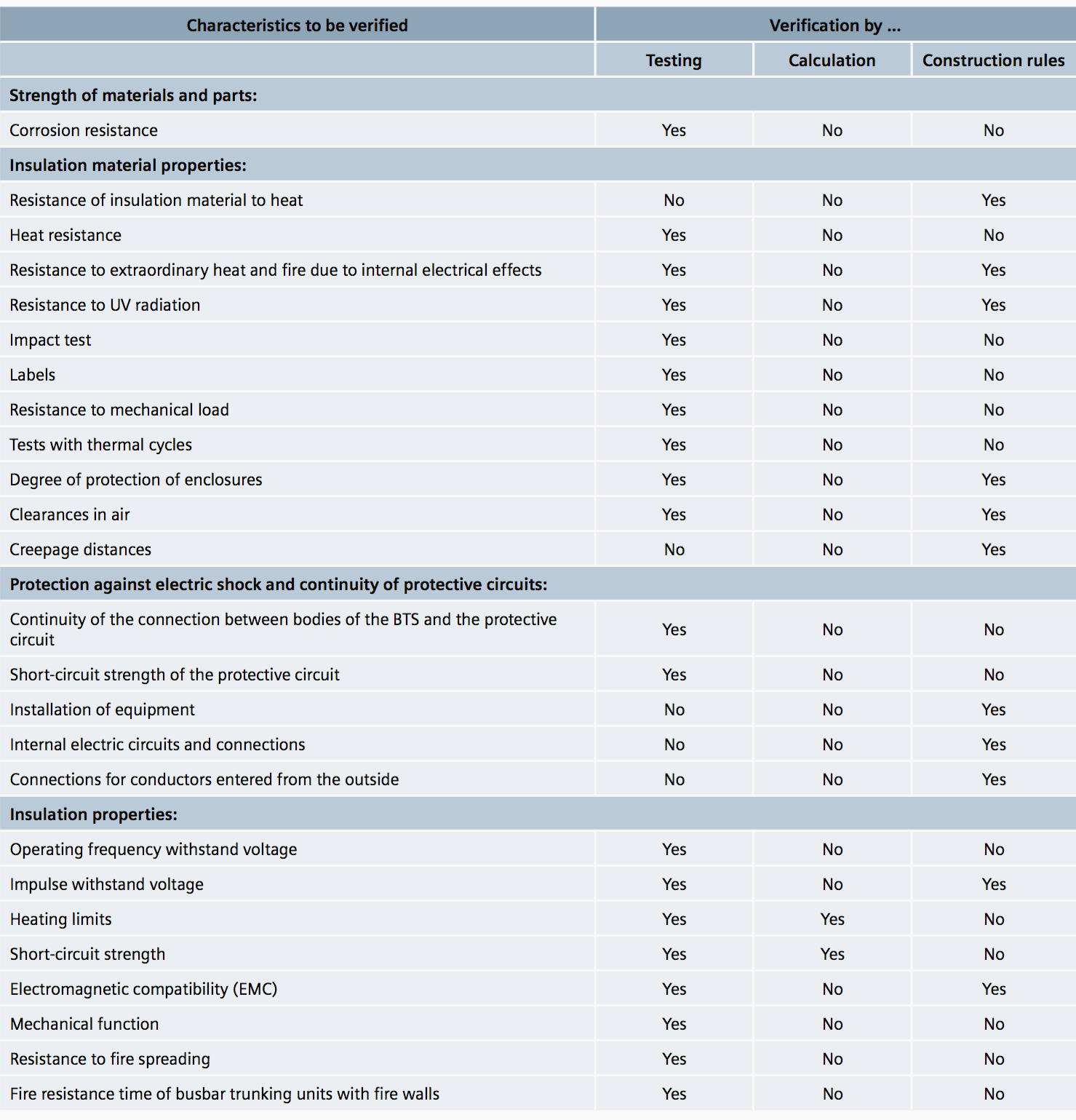 As for low voltage switchgear, a design verification can be accomplished for busbar trunking system. The design verification is accomplished dependent on the examined characteristic by way of testing, calculation, and construction verification (see Table 2 above).
Compared to the conventional cable installation, busbar trunking system provide many advantages with regard to network and installation technology, as depicted in Table 1 above.
Wirings for simple electric power distribution systems
For demonstration purposes, Figure 3 shows wirings for simple electric power distribution systems. Modification and retrofitting of an electric power distribution system usually mean significantly higher expenditures of time and money for cable installations than for busbar trunking systems.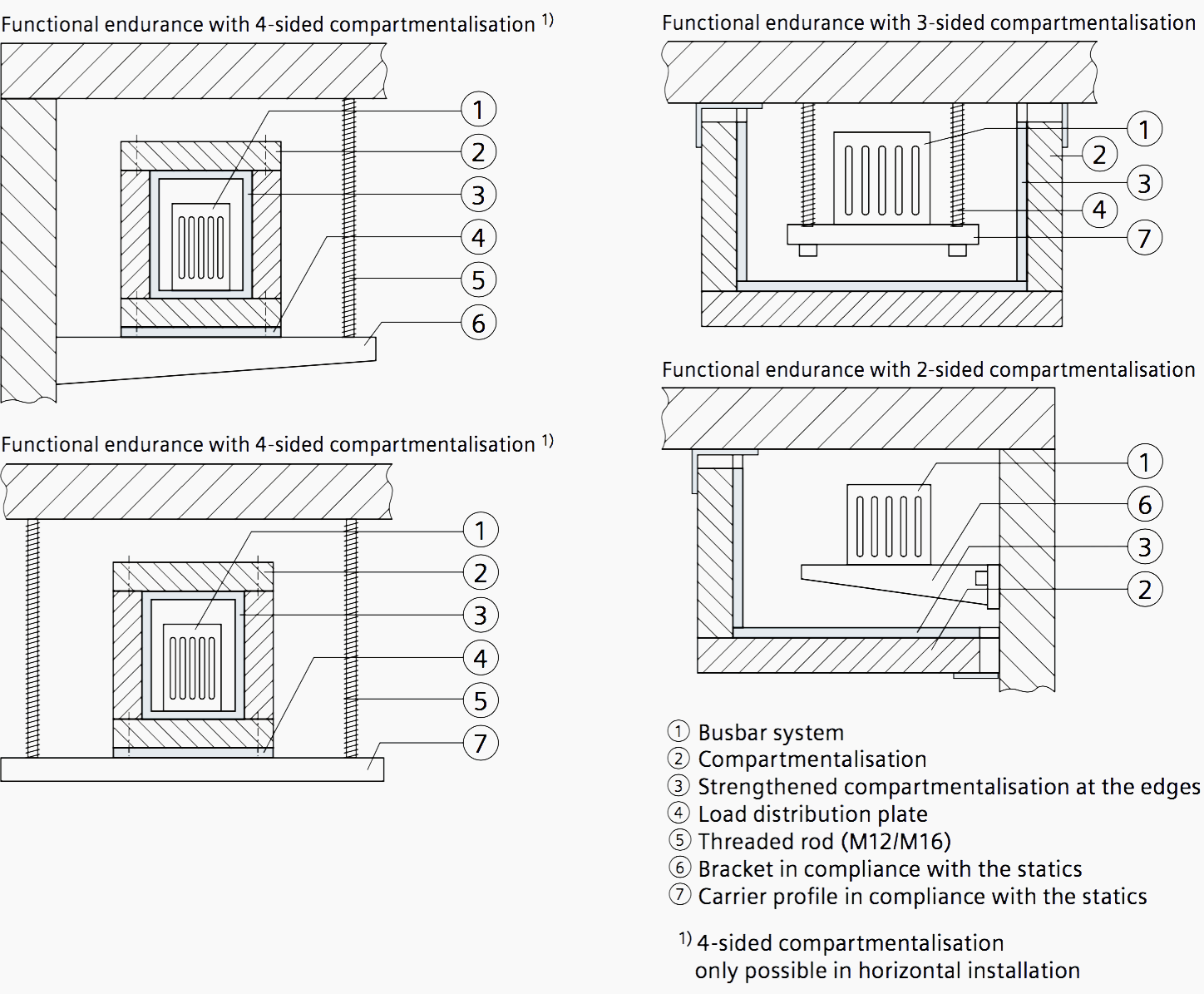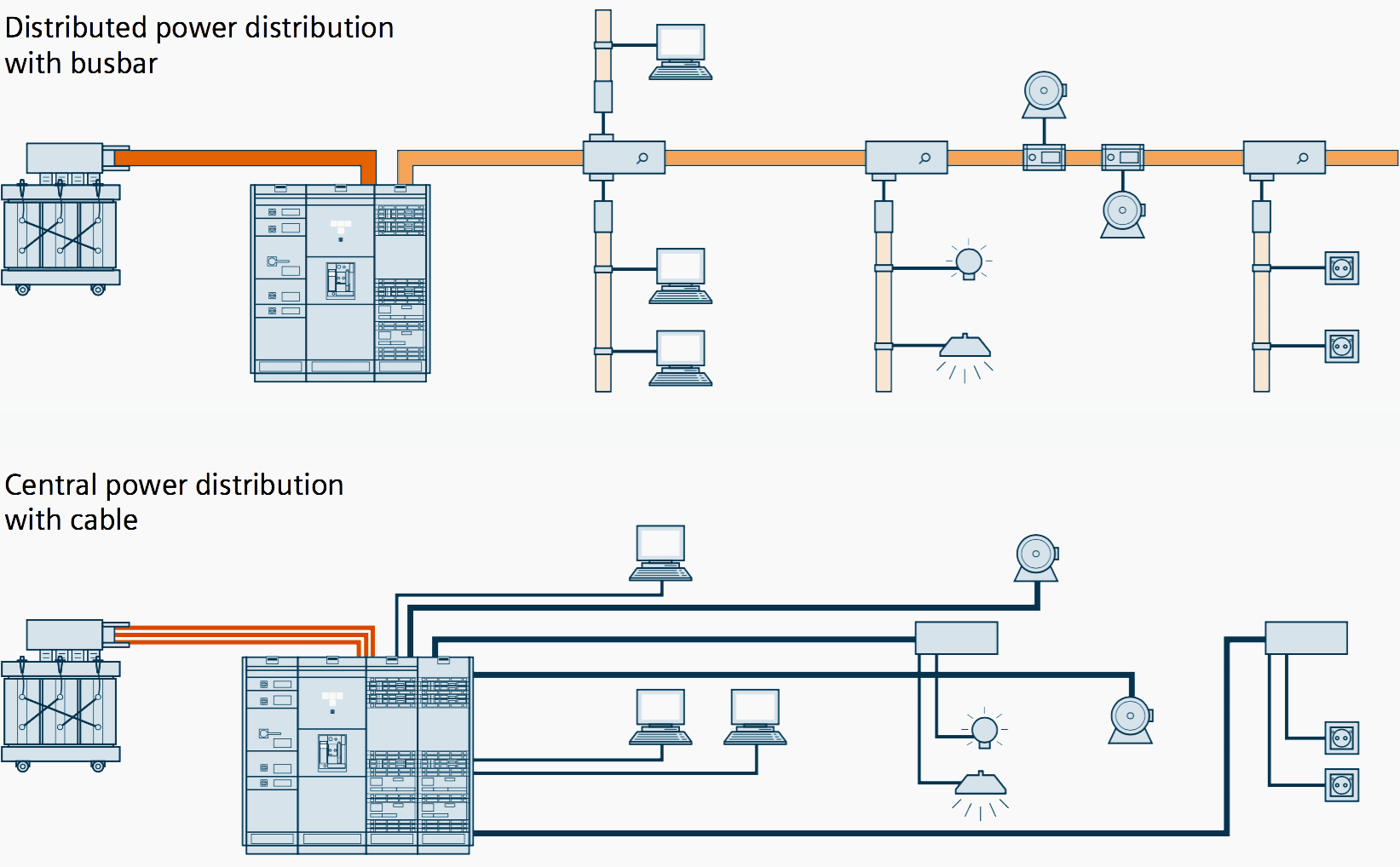 Space-saving solution, easy to install
The smaller the electrical equipment rooms and vertical riser shafts, and the greater the power density of electrical loads and power to be transmitted, the more important the issue of space becomes.
Cables must be laid with clearance between them due to the heat they emit into the environment. Heat dissipation is integrated into busbar trunking systems, eliminating the need for clearance.
Busbar trunking systems also save space through their ability to change direction at right angles.
Reference // Planning of Electric Power Distribution – Technical Principles by Siemens