Operation principle and design issues
Wastewater pumping stations are very common application examples of three-phase induction motors. There are numerous varieties of power supply and control logic, depending on exact conditions in the place of installation, the role of the pumping station inside a sewer system, and of course, applied design logic.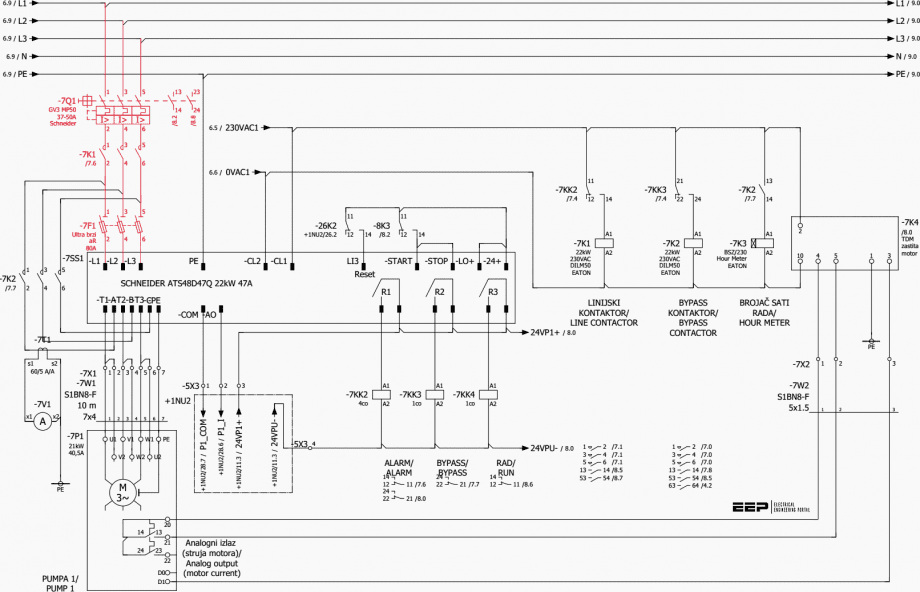 Similar to some previous articles, a real example of pump control will be described within this article as well. Attention will be given to the description of the operation principle, with some comments about specific design issues included.
Unlike previous examples, more than one pump will be subject to control logic.
1. Pumping station example
1.1 Description
The wastewater pumping station is placed in the vicinity of one small town on the Adriatic coast, near the local road. This is one of six main pumping stations that are connected in a row (cascade connection) in that way, serving to supply a wastewater treatment plant that cleans the water prior to outfall into the Adriatic Sea.
The pumping station is consisting of two submersible pumps, with motor rated power of 21 kW each. The regular operation mode of this pumping station is 1 working + 1 spare pump, which means there is not more than one pump active at any time, i.e. if one pump is turned on, the other cannot be turned on as long as the first pump is active.
Every pump is driven by the separate soft starter, while both of them are controlled by a single PLC, which is installed locally, inside the electrical cabinet.
During normal operation, the pumping station is supplied from the local LV distribution network. In the case of power supply disturbances or outages (which are not rare in this particular case), there is a standby diesel Genset, serving as a backup power supply source.
Pumps, level meter and level switches are placed inside the pump manhole, below the ground. The electrical cabinet is placed inside the metal-enclosed container, while diesel Genset is equipped with a prefabricated enclosure for outside installation and placed next to the container.