Traditional LV vs MV Distribution
The first choice for service and distribution voltage is almost always 480 volts. Why is that? Well, it's because it's traditional, it has a safe design and specifications are already written around 480 V. UPS and backup aggregate equipment are readily available at 480 V. It seems that everything fits. But it's not. Let's take a closer look at why this does not work well for all facilities.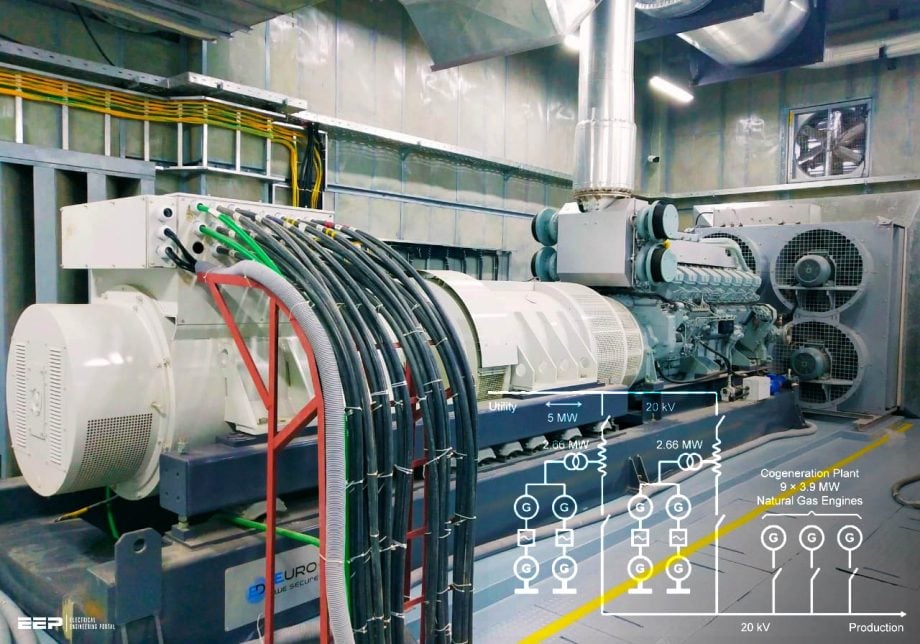 Despite the economic slowdown worldwide, one area of business investment that continues to post strong growth, year in and year out, is mission-critical applications, such as data centres and hospitals – which inevitably increases the infrastructure's size.
As energy prices continue to rise, harnessing power-related costs has never been more essential. Now is the time for companies to take a closer look at those tools specifically engineered to ensure such facilities maximize their power needs.
Think about the typical everyday data consumption of businesses and people: Nowadays, everyone expects their Netflix to start streaming instantly, their Amazon buy to go smoothly, real-time education software, education courses, video chats with Grandpa, and regular email with attachments. This data needs to be created, handled, and kept.

The modern user wants their information now, but they don't necessarily comprehend or appreciate the massive infrastructure required to keep it all or send it around the world.
Any supporting power infrastructure must have the backup required to minimize damage. An effective uninterruptible power supply (UPS) system and backup generator are the foundation of the system.
A device called a UPS, sometimes known as "battery backup", allows data centres to continue operating while switching to a generator or another dependable power source.
1. Typical Commercial Design of Power Supply
Typical commercial design of facility power supply compromises a utility service (commonly medium voltage), pad-mounted or distribution step-down transformer with LV underground secondary feeder, main switchboard with service-main breaker and optional backup diesel engine generator and transfer devices.
Some facilities optionally might have a UPS system to carry critical loads through switching transfers.
Figure 1 – Typical commercial design of a facility power system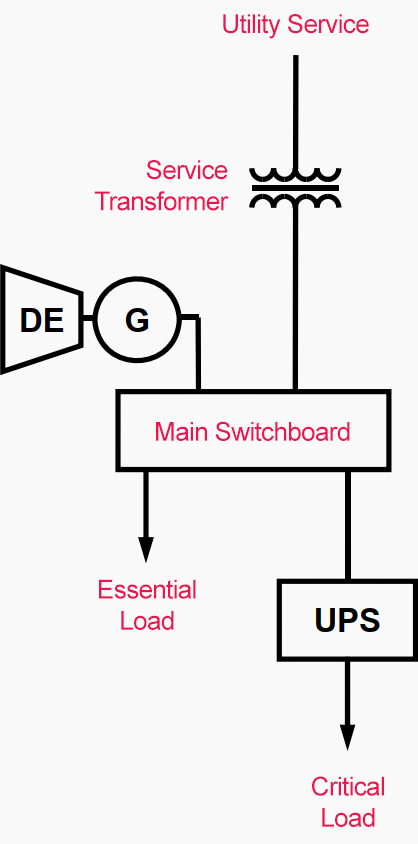 Standard power supply systems are not the subject of this technical article. EEP covered these topics a dozen times in the past. Here you can find related information (articles, guides).
Go back to the Contents Table ↑
2. Medium Voltage UPS Technology
The trend in the internet and IT industry toward big data centres necessitates an increase in the need for high dependability electricity at single locations. Large, crucial industrial processes are becoming more and more dependent on a degree of power quality that is not available from the public grid.
Because a low voltage distribution with its high current levels is technically and financially impractical, the electrical power distribution within those installations is carried out using medium voltage technology.
Figure 2 outlines how large systems allow transformer consolidation and lower costs due to the different configuration.
Figure 2 – Comparison of power supply designs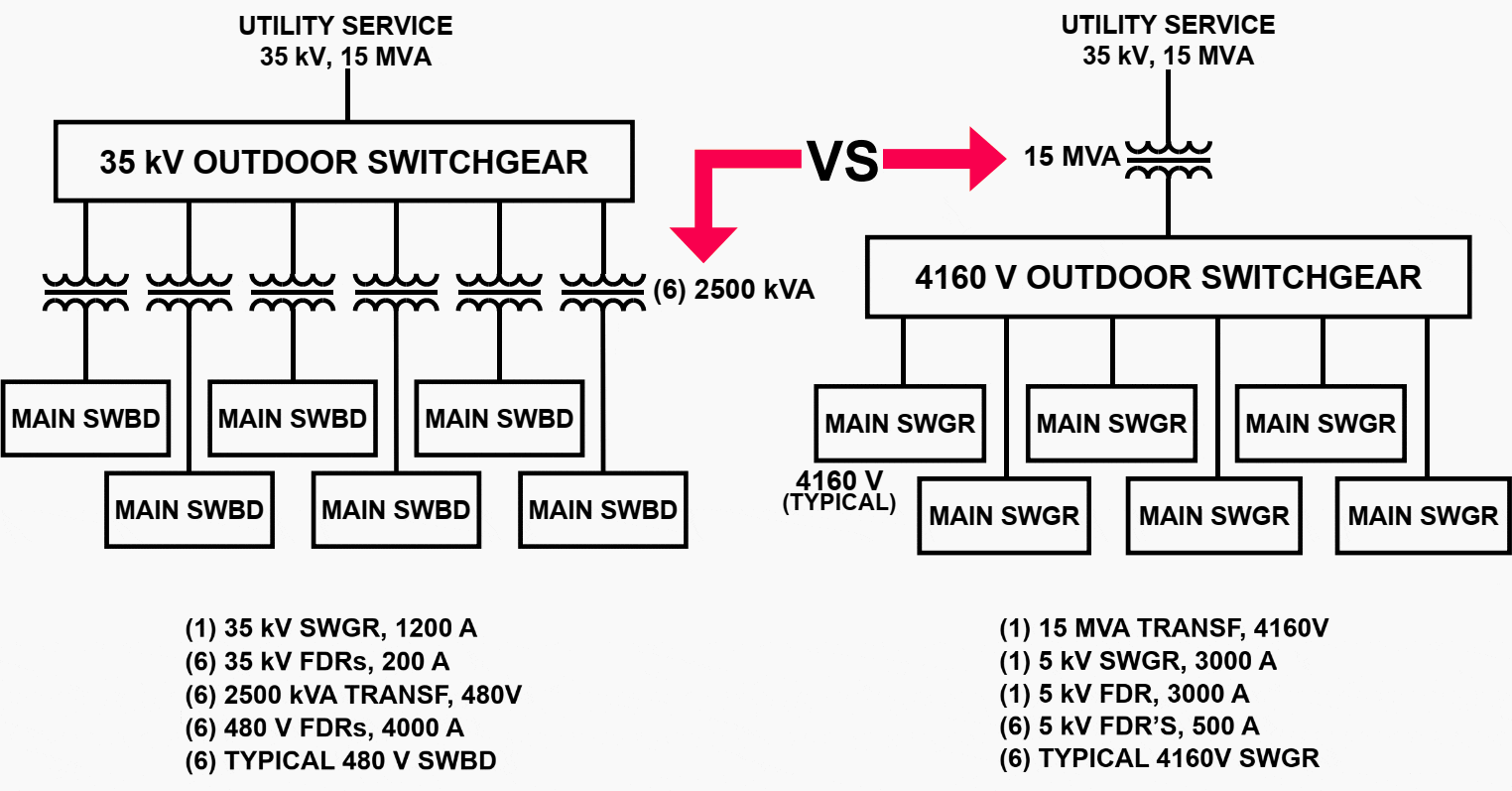 Similar to the medium voltage UPS, a centralized high power uninterruptible power supply (UPS) system is a practical technological option, especially if it is built with an integrated diesel rotary UPS (DRUPS).
Due to the fewer required transformers, medium voltage UPS technology decreases space requirements and distribution losses downstream of the UPS. Using a high grade UPS system keeps short circuit currents to a tolerable level while maintaining a high level of power distribution dependability.
By paralleling two or more high power UPS or DRUPS systems on a single common output bus in a N+x configuration, the MV distribution eliminates the need for a sizable number of low voltage switching devices to provide redundancy.
The grid-to-load interface of a line interactive UPS can be switched from low voltage to medium voltage components using its modular design, but the UPS's core components and storage remain the same. This maintains the positive and comfortable experience with the operation and upkeep of a trustworthy LV UPS.
Aspects of space and electrical loss are described, along with designs that have been implemented in the actual world for a data center, an airport, and a semiconductor factory.
Suggested Video – Largest Rotary UPS System in the Southern Hemisphere: 20MVA
Go back to the Contents Table ↑
3. Power Demand & Distribution in Today's High Power Applications
Over the past ten years, the enormously expanding E-commerce industry has increased the amount of physical space and electrical power needed to run data centres. Then, when the power density in kilowatts per m2 increases, consequently, cooling power becomes a pressing concern. Customers and operators of those data centres demand an uninterruptible power supply (UPS) system to provide a safe and dependable power supply.
Because of the possibility of thermal runaway, UPS frequently provides all required electrical power. One to three megawatts were needed for a typical data center in the early 90s, but currently, ten to fifty megawatts per installation are quite common.