Power Quality problems
To make the study of Power Quality problems useful, the various types of disturbances need to be classified by magnitude and duration.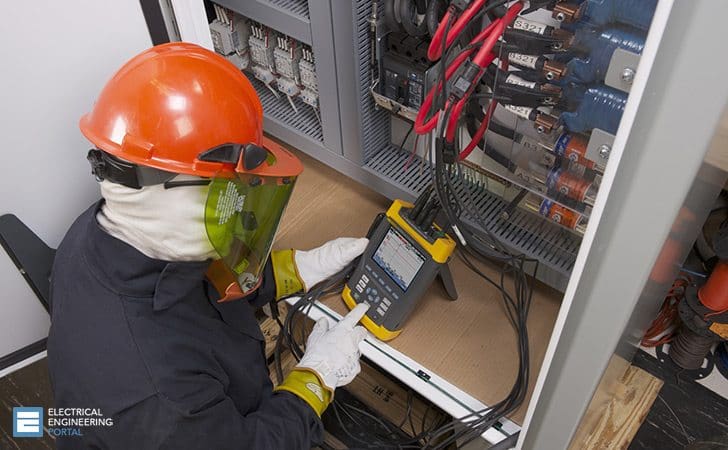 This is especially important for manufacturers and users of equipment that may be at risk. Manufacturers need to know what is expected of their equipment, and users, through monitoring, can determine if an equipment malfunction is due to a disturbance or problems within the equipment itself.
Not surprisingly, standards have been introduced to cover this field. They define the
types and sizes of disturbance
, and the tolerance of various types of equipment to the possible disturbances that may be encountered. The principal standards in this field are
IEC 61000
,
EN50160
, and
IEEE 1159
.
Standards are essential for manufacturers and users alike, to define what is reasonable in terms of disturbances that might occur and what equipment should withstand.
Table 1 provides a broad classification of the disturbances that may occur on a power system, some typical causes of them and the potential impact on equipment. From this Table, it will be evident that the electricity supply waveform, often thought of as composed of pure sinusoidal quantities, can suffer a wide variety of disturbances.
Table 1 – Power Quality issues
Category

Causes

Impacts

Voltage dips

Local and remote faults

Inductive loading

Switch on of large loads

Tripping of sensitive equipment

Resetting of control system
Motor stalling/tripping

Voltage surges

Capacitor switching

Switch off of large loads
Phase faults

Tripping of sensitive equipment

Damage to insulation and windings
Damage to power supplies for electronic equipment

Overvoltage

Load switching

Capacitor switching
System voltage regulation

Problems with equipment that requires constant steady-state voltage

Harmonics

Industrial furnaces

Non-linear loads
Transformers/generators
Rectifier equipment

Mal-operation of sensitive equipment and relays

Capacitor fuse or capacitor failures
Telephone interference

Power frequency
variation

Loss of generation

Extreme loading conditions

Negligible most of time

Motors run slower
De-tuning of harmonic filters

Voltage fluctuation

AC motor drives

Inter-harmonic current components
Welding and arc furnaces

Flicker in Fluorescent lamps

Flicker in Incandescent lamps

Rapid voltage change

Motor starting

Transformer tap changing

Light flicker

Tripping of equipment

Voltage
imbalance

Unbalanced loads

Unbalanced impedances

Overheating in motors/generators

Interruption of 3-phase operation

Short and long voltage
interruptions

Power system faults

Equipment failures

Control malfunctions

CB tripping

Loss of supply to customer equipment

Computer shutdowns
Motor tripping

Undervoltage

Heavy network loading

Loss of generation
Poor power factor
Lack of var support

All equipment without backup supply facilities

Transients

Lightning

Capacitive switching
Non –linear switching loads
System voltage regulation

Control system resetting

Damage to sensitive electronic components

Damage to insulation
Table 2 lists the limits given in Standard EN 50160 and notes where other standards have similar limits.
Table 2 – Power system disturbance classification to EN 50160
Type of disturbance

Voltage level

Limits from EN50160

Measurement period

Typical duration

Other applicable standards

Voltage Variation
230V
+/- 10%
95% of 1 week
–
Voltage Dips
230V
10-1000/year
10ms –1sec
IEEE 1159
Rapid voltage changes
230V
5% to 10%
Several per day
Short duration
1kV-35kV
<6%
Per day
Short duration
IEEE 1159
Short Interruptions
230V
>99%
20-200 per day
Up to 3 mins
EN61000-4-11
Long Interruptions
230V
>99%
10-50 per day
>3 mins
IEEE 1159
Transient Overvoltage
230V
Generally <6kV
Not specified
<1ms
IEEE 1159
Voltage unbalance
230V
Undervoltage
230V
<-10%
Not specified
>1 min
IEEE 1159
Voltage surge
230V
<150% of nominal voltage
Not specified
>200ms
IEEE 1159
Voltage fluctuations
230V
3%
10 min
<200ms
IEC 60827
Frequency variation
+/- 1%
95% of 1 week
Not specified
Measured over 10s
+4%, -6%
100% of 1 week
Not specified
Measured over 10s
Harmonics
THD<8% up to 40th
95% of 1 week
Not specified
For computer equipment, a common standard that manufacturers use is the ITI (Information Technology Industry) curve, illustrated in Figure 1.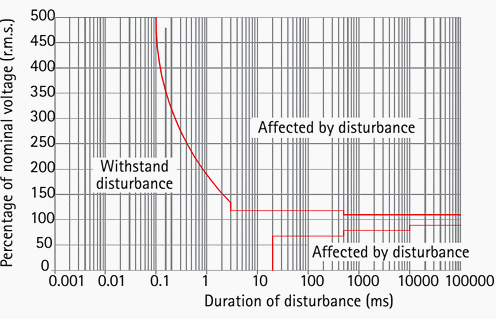 Voltage disturbances that lie in the area indicated as 'safe' should not cause a malfunction in any way. However, some disturbances at LV levels that lie within the boundaries defined by EN50160 might cause a malfunction because they do not lie in the safe area of the ITI curve.
It may be necessary to check carefully which standards are applicable when considering equipment susceptibility.
What is Power Quality and Why It's Important (Webinar)
Reference // Network Protection and automation Guide – Areva