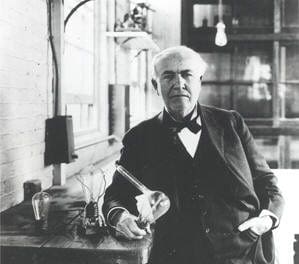 Edison planned his first installation for New York City, and decided that an underground system of distribution would be necessary. This took the form of a network supplied by feeders radiating ftom a centrally located degenerating station to various feed points in the network. Pilot wires were taken back to the generating station from the feed points in order to give the operator an indication of voltage conditions on the system.
Regulation was controlled by cutting feeders in, or out, as needed. At a later date, a battery was connected in parallel with the generator to guard against a station outage.
Gutta-percha, which had proved a satisfactory material for insulating the telegraph cables, was not suitable for the lighting feeders because of the softening of the material (a natural thermoplastic) at the relatively high operating temperature. Experience with other types of insulation had not been sufficient to provide any degree of satisfaction with their use. The development of a cable Miciently flexible to be drawn into ducts was accordingly considered a rather remote possibility.
Therefore, Edison designed a rigid, buried system consisting of copper rods insulated with a wrapping of jute. Two or three insulated rods were drawn into iron pipes and a heavy bituminous compound was forced in around them. They were then laid in 20-foot sections and joined together with specially designed tube joints from which taps could be taken if desired.
The Edison tube gave remarkably satisfactory performance for this class of low voltage service. The low voltage and heavy current characteristics of DC distribution were limited to the area capable of being supplied from one source if the regulation was to be kept within reasonable bounds. The high first cost and heavy losses made such systems uneconomical for general distribution. Accordingly, they were developed in limited areas of high-load density such as the business districts of large cities.
In the outlying districts, ac distribution was universally employed. This type of distribution was developed largely as a result of the work, in 1882, of L. Gaulard and J. D. Gibbs, who designed a crude alternating current system using induction coils as transformers. The coils were first connected in series, but satisfactory performance could not be obtained. However, they were able to distribute electrical energy at a voltage considerably higher than that required for lighting, and to demonstrate the economics of the ac system.
This system was introduced into the United States in 1885 by George Westinghouse, and served as the basis for the development of workable systems. An experimental installation went in service at Great Barrington, Massachusetts, early in 1886.
The first large scale commercial installation was built in Buffalo, New York, the same year. The early installations operated at 1,000 volts. Overhead construction was considered essential for their satisfactory performance and almost universally employed. This was also true of the street-lighting feeders, which operated at about 2,000 volts. In Washington and Chicago, overhead wires were prohibited, so a number of underground lines were installed. Many different types of insulation and methods of installation were tried with little success. Experiments with underground conductors were also camed out in Philadelphia. The 1884 enactment of a law forcing the removal of all overhead wires from the streets of New York mandated the development of a type of construction that could withstand such voltages.
It was some time, however, before the high-voltage wires disappeared. In 1888, the situation was summarized in a paper before the National Electric Light Association as follows:
"No arc wires had been placed underground in either New York or Brooklyn. The experience in Washington led to the statement that no insulation could be found that would operate two years at 2,000 volts. In Chicago, all installations failed with the exception of lead covered cables which appeared to be operating successfully. In Milwaukee, three different systems had been tried and abandoned.
In Detroit, a cable had been installed in Dorsett conduit, but later abandoned. In many of the larger cities, low voltage cables were operating satisfactorily and in Pittsburgh, Denver and Springfield, Mass., some 1,OOO volt circuits were in operation."
SOURCE: Bruce S. Bernstein and William A. Thue