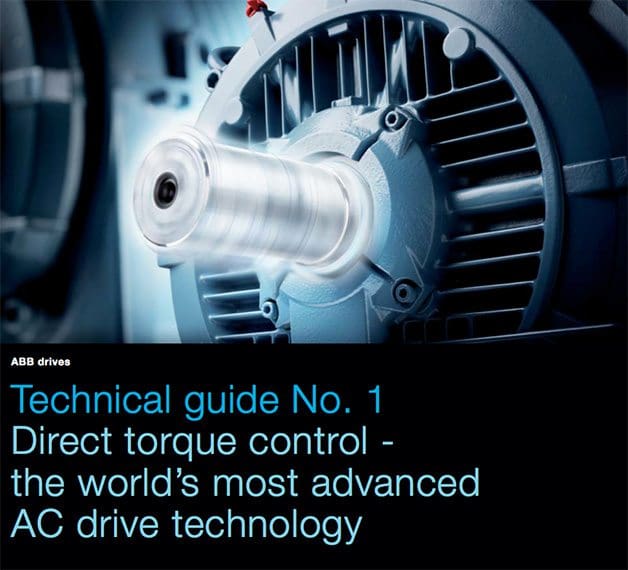 General
Direct Torque Control – or DTC – is the most advanced AC drive technology developed by any manufacturer in the world.
This manual's purpose
The purpose of this Technical Guide is to explain:
What DTC is;
Why and how it has evolved;
The basic theory behind its success; and
The features and benefits of this new technology.
While trying to be as practical as possible, this guide does require a basic understanding of AC motor control principles.
It is aimed at decision makers including designers, specifiers, purchasing managers, OEMs and end-users; in all markets such as the water, chemical, pulp and paper, power generation,material handling, air conditioning and other industries.
In fact, anyone using variable speed drives (VSD) and who would like to benefit from VSD technology will find this Technical Guide essential reading.
What is a variable speed drive?
To understand the answer to this question we have to understand that the basic function of a variable speed drive (VSD) is to control the flow of energy from the mains to the process.
Energy is supplied to the process through the motor shaft. Two physical quantities describe the state of the shaft: torque and speed.
To control the flow of energy we must therefore, ultimately, control these quantities. In practice, either one of them is controlled and we speak of "torque control" or "speed control". When the VSD operates in torque control mode, the speed is determined by the load.
Likewise, when operated in speed control, the torque is determined by the load. Initially, DC motors were used as VSDs because they could easily achieve the required speed and torque without the need for sophisticated electronics.
However, the evolution of AC variable speed drive technology has been driven partly by the desire to emulate the excellent performance of the DC motor, such as fast torque response and speed accuracy, while using rugged, inexpensive and maintenance free AC motors.