Erection Of Generating Unit
Erection, setting, adjustment, centering and alignment of hydro generating unit is a very complicated and specialized job. This has to be carried by expert and experienced team of engineers, technicians and helpers.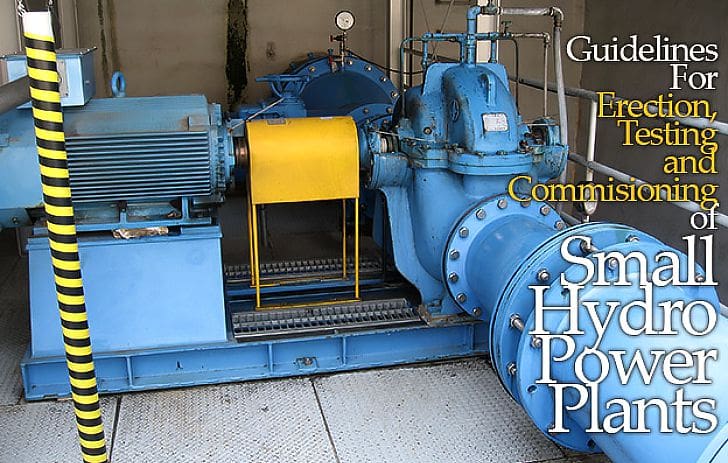 This guide, therefore, has been prepared with intent to provide guidelines to such team for carrying out erection testing and commissioning of either horizontal or vertical machines up to 25 MW capacity successfully.
The guide covers planning, pre-erection activities, erection sequence of both horizontal and vertical machine, pre-commissioning checks, commissioning checks and tests. It also gives tolerance to be achieved during erection and testing.
The erection technologies though explained quite in detail but as hydro machines are tailor made, the technologies may differ for a particular machine which has to be obtained from the manufacturer.
Planning Of Erection Of a Hydropower Plant
The entire process of erection, testing and commissioning may be divided into three main categories:
Pre-erection activities to be completed before starting of erection of the plant.
Erection of built in parts of the plant.
Erection of main operating components of hydro set.
Pre-erection Activities Mainly Covers following:
Preparation of a plan to carry out erection work and sequence of different activities
Preparation for site storage and pre assembly of the equipment, construction of roads, accesses for delivery of plant to assembly area.
Erection of temporary structures, living quarters necessary for carrying out site work smoothly and speedily.
Arrangement of construction power water, compressed air for the erection activities.
Arrangement of lighting of erection site and nearby area
Setting lay out of erection bay as shown in Figure 1.
Ensuring delivery of equipment and materials necessary for continuity of erection work as per charts and plan.
Providing hoisting, handling mechanisms, tools and devices for erection as also making arrangement of transportation of material to the site.
Arrangement of safety measures protection of workers and equipment during handling, shifting and installing different components of plant.
Arrangement of first aid and health checkups for workers.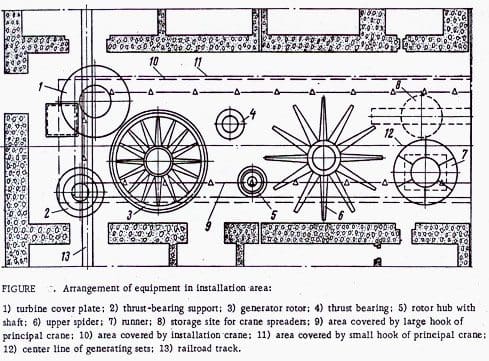 Erection of these items starts as soon as the underwater concrete structure has reached the required elevation below the lining of DT cone.
At this stage permanent crane is not available as such temporary gantry crane has to be installed whose lifting capacity, travel upward, downward, forward and backward is decided by the size and weight of heaviest and largest part to be handled by the crane.
| | |
| --- | --- |
| Title: | Guidelines For Erection, Testing and Commisioning of Small Hydro Power Plants – Alternate Hydro Energy Center Indian Institute of Technology Roorkee |
| Format: | PDF |
| Size: | 1.7 MB |
| Pages: | 80 |
| Download: | Right here | Video Courses | Membership | Download Updates |