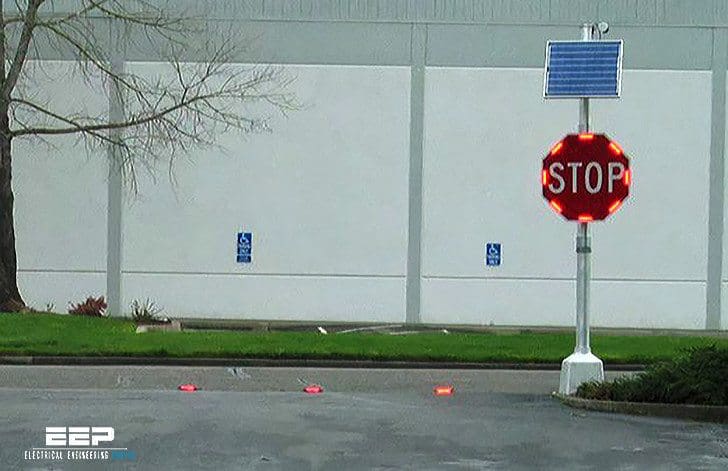 Introduction
With energy costs rising and the high cost of running power lines to remote areas, there has been a growing interest in using renewable energy in low power highway applications. This project explores using photovoltaic solar panels to harness power from the sun to provide the required energy to illuminate overhead signs along the highways.
There is 1000 Watts of power in one square meter of sunlight, but the typical solar panels of today can only collect 15% of that energy from the sun when operating into a matched load. This means a solar panel that has an area of one square meter can only collect 150 Watts out of 1000 Watts under ideal conditions.
The inefficiency of the solar panel requires that the system efficiency must be at a maximum to reduce the size and cost of the solar panels.
The project looked at two approaches for formulating low cost reliable designs. One approach uses LED (Light Emitting Diode) technology and the second approach uses CFL (Compact Fluorescent Lamp) technology. Both approaches offer a high light intensity output with a minimum of input power. The main thrust of the research was to develop highly efficient driver circuitry in the effort to keep the solar panel size to a minimum.
The specific goals of the research were:
The drive circuitry should be as efficient as possible to minimize the required size of the solar panel.
The overall electronic control system should be compact and portable.
The lighting system must be of robust construction to handle the harsh environment along the highways.
The lighting system circuitry should be robust, requiring a minimum of maintenance.
System maintenance should require a minimum of effort.
Solar Powered LED System
The LED light system uses a PWM (Pulse Width Modulation) strategy for driving the two LED light fixtures. The PWM technique allowed for a minimum of power loss through a current limiting resistor. As long as the peak current and duration do not exceed the specifications of the LED, a low value current limiting resistor can be used, reducing power loss.
The low value current limiting resistor was required because the battery voltage can be greater than 13V when fully charged, allowing for an over current situation, shortening the life of the LED's. The PWM strategy allows time-multiplexing and thus made it possible to drive the LED light fixture one at a time sequentially.
For two LED lamps, the lamps not being on at the same time the peak current through the common line is one half and consequently the voltage drop is one half, reducing the power loss through lines powering the LED fixtures.