Electrical motors, how they work
Welcome! This motor book will provide you with a wealth of information about electrical motors, how they work, what they can be used for, and so on. But before we delve into detailed explanations of the world of electrical motors, we should perhaps spare a brief thought for the purpose of these motors.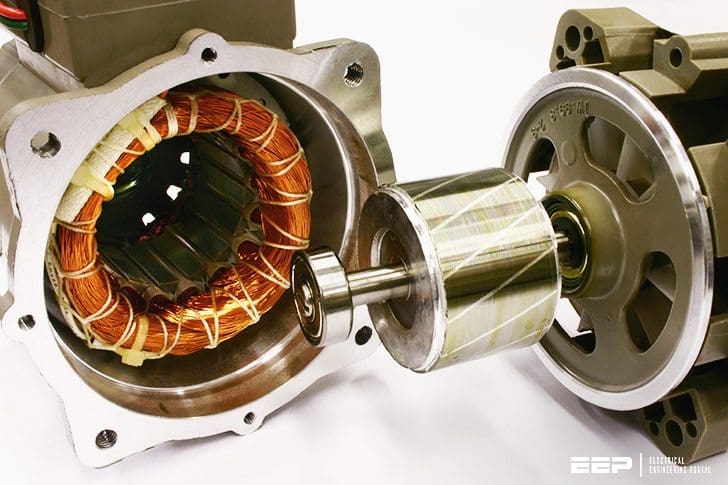 After all, motors are always designed to carry out specific tasks. As this is a Grundfos publication, it is only natural that we should pay special attention to motors used for pumps – although much of the information contained within these pages will benefit all those with an interest in electrical motors.
Standards for AC motors
IEC 60034-2 Efficiency standards
Several standards for testing electric machinery exist on a worldwide basis. For induction motors, the three most important ones are IEEE Standard 112, JEC 37 (Japan) and IEC 60034-2. The efficiency value obtained from the different testing standards can differ by several percent.
This seems in contradiction with the theoretical definition of the efficiency:
η = power out / power in
η = 1 – overall losses / power in
The losses in an induction motor are distributed as follows:
Stator winding loss Pcu1 – approximately 40-45%
Rotor winding loss – Pcu2 – approximately 15%
Friction loss Pfric – approximately 10-15%
Iron loss Pfe – approximately20%
Stray loss Pstray – approximately 10%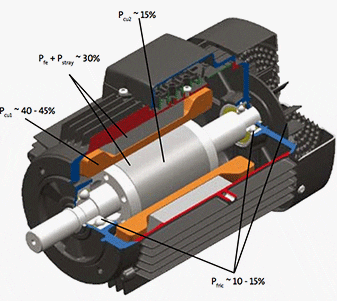 The main difference between the standards is the way in which the fifth loss component stray loss (Pstray), the additional load losses, is treated.
Standards for the testing of motors
The testing of standard motors is described in IEC 60034-2. In the following paragraphs two different methods of testing motors are presented: The direct method and the indirect one .
The difference between these two methods is the way in which the motor efficiency is established.
IEC 60034 covers the so-called industrial motors . Requirements of domestic appliances are listed in IEC 60335, which specifies somewhat different (stricter) requirements of the motors . In addition to the tests of standard motors our laboratory also undertakes to test products integrating motor and pump .
In principle the thermal tests are the same, but the tests are carried out according to other standards . Small circulator pumps are for instance tested according to IEC 60335-2-51.