Protective Relays, Measurement and Control
Since 1966, the Network Protection and Automation Guide (formerly the Protective Relays Application Guide) has been the definitive reference textbook for protection engineers and technicians.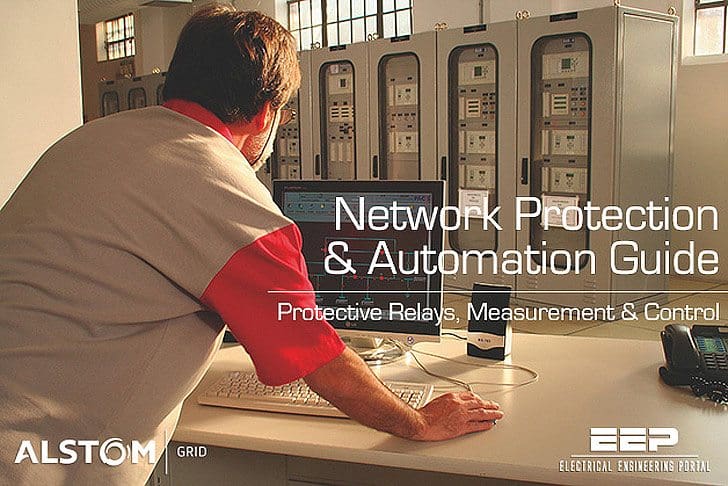 For 2011, Alstom has capitalised on its pool of experts at the St Leonards Centre of Excellence in Stafford UK to launch a new edition.
New chapters treat topics such as system integrity protection and remedial action schemes, phasor measurements and wide area schemes. The digital substation, including IEC 61850, Ethernet station bus, GOOSE, process bus, and precision time synchronising is also detailed.
Advancements in protection and control application engineering have assisted the authors in exploring and integrating the new techniques and philosophies in this edition, whilst retaining vendor- independence – as we continue to deliver the genuine, impartial, reference textbook.
This book is a précis of the Application and Protection of Power Systems (APPS) training course, an intensive programme, which Alstom (and its predecessor companies at Stafford) has been running for over 50 years.
Content of Guide
Introduction
Fundamentals of Protection Practice
Fundamental Theory
Fault Calculations
Equivalent Circuits and Parameters of Power System Plant
Current and Voltage Transformers
Relay Technology
Protection: Signalling and Intertripping
Overcurrent Protection for Phase and Earth Faults
Unit Protection of Feeders
Distance Protection
Distance Protection Schemes
Protection of Complex Transmission Circuits
Auto-Reclosing
Busbar Protection
Transformer and Transformer-Feeder Protection
Generator and Generator-Transformer Protection
Industrial and Commercial Power System Protection
A.C. Motor Protection
System Integrity Protection Schemes
Relay Testing and Commissioning
Power System Measurements
Power Quality
The Digital Substation
Substation Control and Automation
Special thank goes to the authors that made this guide so awesome:
Michael Bamber, Michael Bergstrom, Andrew and Susan Darby, Graham Elliott, Peter Harding, Graeme Lloyd, Alan Marshall, Allen Millard, Andrew Myatt, Philip Newman, Anthony Perks, Steve Pickering, Stephen Potts, Simon Richards, Jack Royle, Peter Rush, Brendan Smith, Mark Stockton, Paul Wilkinson, Alan Wixon and John Wright.

This course, by the ingenuity and dedication of the trainers, is vibrant and evolving. As APPS progresses, the Network Protection and Automation Guide advances too, whilst never losing sight of the key basic principles and concepts.
Beginners and experts alike will each feel satisfied in their search for relaying, measurement, communication and control knowledge.