Industrial automation
From the needs, choose an architecture, then a technology to lead to a product. Progress in industrial automation has helped industry to increase its productivity and lower its costs. Widespread use of electronics and powerful, flexible software have given rise to more efficient modular designs and new maintenance tools. Customer demands have also evolved substantially; competition, productivity and quality requirements compel them to adopt a process-based approach.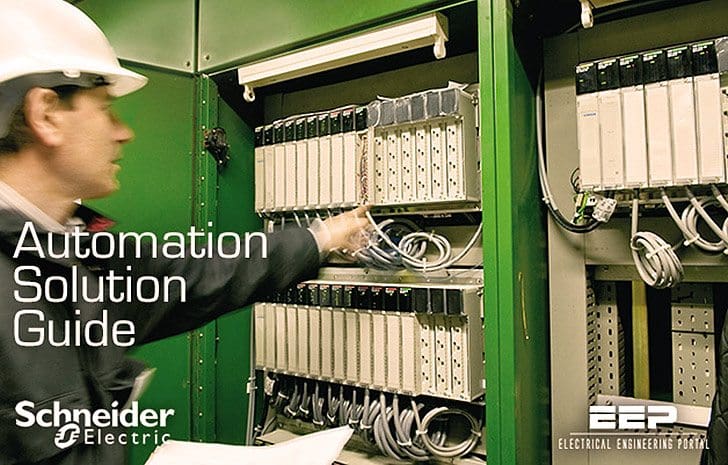 Automation equipment features five basic functions linked by power and control systems.
Five basic functions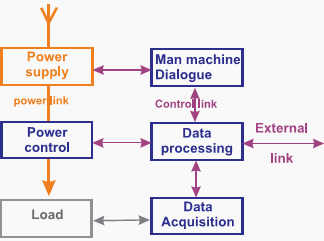 1. Electrical power supply
Ensures the distribution of power to the power devicescapacity and control parts. It must be uninterrupted and protected in compliance with electrical installation and machines standards.
This function is usually ensured by a circuit-breaker or fuse holder switch.
2. Power control
Controls loads driven by the automatic device, either a contactor is used as a direct on line starter or an electronic controller is used to graduate the power supply of a motor or heater.
3. Dialogue
Commonly named man-machine interface, it is the link between the operator and the machine. It is function is to give orders and monitor the status of the process Control is made by push buttons, keyboards and touch screens and viewed through indicator lights, illuminated indicator banks and screens.
4. Data processing
The software, part of the automation equipment, fusing the orders given by the operator and the process status measurements is the brain of the equipment. It controls the preactuators and sends information when and where required.
The automation engineer has a wide range of options, from the simplest (as a set of push buttons directly controlling a contactor), through programmable logic systems to a collaborative link between the automated devices and computers.
Today as simple low-cost automated devices are available, relay diagrams have practically disappeared.
5. Data acquisition
Data acquisition is mandatory to send feedback is to the controller or the PLC. Due to technological progress most of all physical value can now be detected or measured.