Wiring diagrams
Wiring diagrams show the connections to the controller. Wiring diagrams, sometimes called "main" or "construction" diagrams, show the actual connection points for the wires to the components and terminals of the controller.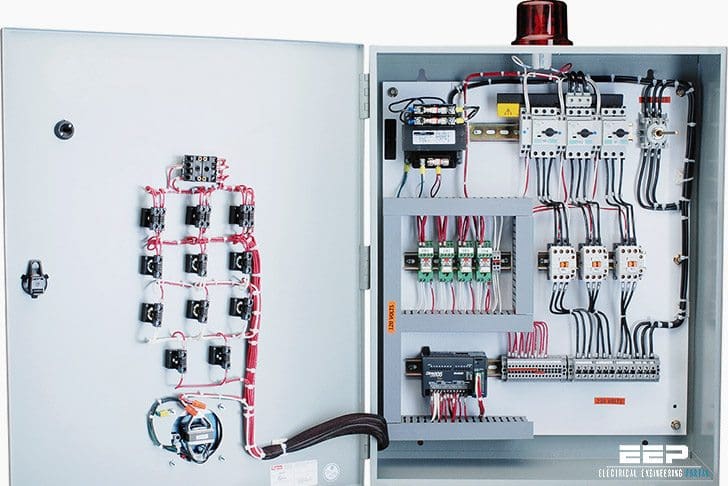 They show the relative location of the components. They can be used as a guide when wiring the controller. Figure 1 is a typical wiring diagram for a three-phase magnetic motor starter.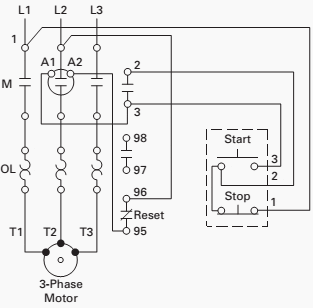 Line diagrams show circuits of the operation of the controller
Line diagrams, also called "schematic" or "elementary" diagrams, show the circuits which form the basic operation of the controller. They do not indicate the physical relationships of the various components in the controller. They are an ideal means for troubleshooting a circuit.
Figure 2 shows a typical line or schematic diagram.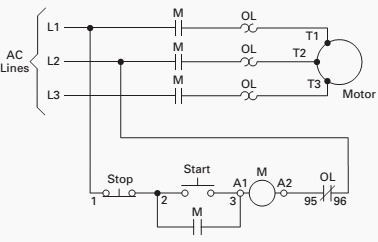 Standardized symbols make diagrams easier to read
Both line and wiring diagrams are a language of pictures. It is not difficult to learn the basic symbols. Once you do, you are able to read diagrams quickly, and can often understand a circuit at a glance. The more you work with both line and wiring diagrams, the better you will become in analyzing them.
The American Standards Association (ASA) and the National Electrical Manufacturers' Association (NEMA) are the agencies which are responsible for setting up and maintaining the symbol standards.
Because of these standards, you will be able to read all diagrams that come across your workbench.