Electrical inspection checklists
This guide contains 77 most important electrical inspection checklists taken from the Electrical Inspection Manual with Checklists. The checklists are in PDF format and can be completed electronically or printed and used as hard copy.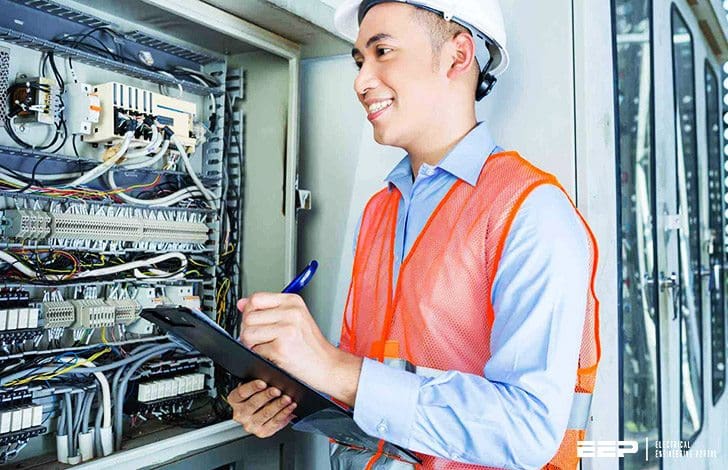 The checklists are intended to help inspectors keep track of the numerous aspects of an electrical installation that must be checked, verified, reviewed, determined, or otherwise examined for NEC® compliance.
The checklists are also intended to serve as an organizational tool for contractors, project managers, or anyone who conducts, receives, or is responsible for electrical inspections, or who may wish to perform self-inspections, of electrical installations.
The checklists are organized as follows:
Chapter 1 – Introduction
Checklist 1-1: General Safety Checklist for Electrical Inspections
Chapter 2 – General Requirements Inspections
Checklist 2-1: General Requirements for Electrical Inspections
Chapter 3 – Wiring Methods and Devices
Checklist 3-1: General Wiring Methods
Checklist 3-2: Boxes and Conduit Bodies
Checklist 3-3: Cabinets and Cutout Boxes
Checklist 3-4: Switches and Receptacles
Chapter 4 – Services, Feeders, and Branch Circuits
Checklist 4-1: Services
Checklist 4-2: Feeders
Checklist 4-3: Branch Circuits
Chapter 5 – Grounding and Bonding
Checklist 5-1: Service Grounding and Bonding
Checklist 5-2: Equipment Grounding and Bonding
Chapter 6 – Dwelling Units and Mobile/Manufactured Home Sites
Checklist 6-1: Residential Rough Inspection: General Requirements (All Areas)
Checklist 6-2: Residential Rough Inspection: Kitchen
Checklist 6-3: Residential Rough Inspection: Dining Room
Checklist 6-4: Residential Rough Inspection: Bathrooms
Checklist 6-5: Residential Rough Inspection: Other Habitable Rooms (Bedrooms, Family Rooms, Parlors etc.)
Checklist 6-6: Residential Rough Inspection: Hallways and Foyers
Checklist 6-7: Residential Rough Inspection: Stairways
Checklist 6-8: Residential Rough Inspection: Closets
Checklist 6-9: Residential Rough Inspection: Laundry Area
Checklist 6-10: Residential Rough Inspection: Basements and Attics
Checklist 6-11: Residential Rough Inspection: Attached Garages and Detached Garages or Accessory…
Checklist 6-12: Residential Rough Inspection: Outdoors
Checklist 6-13: Residential Rough Inspection: Services and Feeders and System Grounding
Checklist 6-14: Residential Rough Inspection: Feeders and Panelboards
Checklist 6-15: Residential Finish Inspection: General Requirements (All Areas)
Checklist 6-16: Residential Finish Inspection: Kitchen
Checklist 6-17: Residential Finish Inspection: Dining Room
Checklist 6-18: Residential Finish Inspection: Bathrooms
Checklist 6-19: Residential Finish Inspection: Other Habitable Rooms (Bedrooms, Family Rooms, Parlors etc.)
Checklist 6-20: Residential Finish Inspection: Hallways and Foyers
Checklist 6-21: Residential Finish Inspection: Stairways
Checklist 6-22: Residential Finish Inspection: Closets
Checklist 6-23: Residential Finish Inspection: Laundry Area
Checklist 6-24: Residential Finish Inspection: Basements and Attics
Checklist 6-25: Residential Finish Inspection: Attached Garages and Detached Garages or Accessory…
Checklist 6-26: Residential Finish Inspection: Outdoors
Checklist 6-27: Residential Finish Inspection: Service Equipment, Feeders, and Panelboards
Checklist 6-28: Residential Finish Inspection: Mobile/Manufactured Home Site Inspections
Chapter 7 – Commercial and Industrial Inspections
Checklist 7-1: Motors
Checklist 7-2: Air-Conditioning and Refrigerating Equipment
Checklist 7-3: Transformers
Checklist 7-4: Capacitors
Checklist 7-5: Elevators, Dumbwaiters, Escalators, Platform Lifts, and Stairway Chairlifts
Checklist 7-6: Electric-Vehicle-Charging Equipment
Checklist 7-7: Signs and Outline Lighting
Checklist 7-8: Field-Installed Skeleton Tubing (Neon) and Wiring
Chapter 8 – Hazardous Locations
Checklist 8-1: Class I Locations
Checklist 8-2: Class II Locations
Checklist 8-3: Class III Locations
Checklist 8-4: Commercial Garages
Checklist 8-5: Aircraft Hangars
Checklist 8-6: Motor Fuel-Dispensing Facilities
Checklist 8-7: Bulk Storage Plants
Checklist 8-8: Spray Application, Dipping, and Coating Processes
Chapter 9 – Special Occupancies
Checklist 9-1: Health Care Facilities
Checklist 9-2: Assembly Occupancies
Checklist 9-3: Theaters and Audience Areas of Motion Picture Studios
Checklist 9-4: Carnivals, Circuses, Fairs, and Similar Events
Checklist 9-5: Agricultural Buildings
Checklist 9-6: Recreational Vehicle Parks
Checklist 9-7: Marinas and Boatyards
Chapter 10 – Swimming Pools and Related Installations
Checklist 10-1: Initial Inspection: Prior to Pouring of Concrete or Burial
Checklist 10-2: Intermediate and Final Inspections
Checklist 10-3: Storable Swimming Pools and Storable Spas and Hot Tubs
Checklist 10-4: Spas and Hot Tubs: All Installations
Checklist 10-5: Spas and Hot Tubs: Indoor Installations Only
Checklist 10-6: Fountains
Checklist 10-7: Therapeutic Pools and Tubs
Checklist 10-8: Hydromassage Bathtubs
Chapter 11 – Emergency and Standby Systems and Fire Pumps
Checklist 11-1: Emergency Systems
Checklist 11-2: Legally Required Standby Systems
Checklist 11-3: Optional Standby Systems
Checklist 11-4: Fire Pumps
Chapter 12 – Remote-Control, Signaling, and Fire Alarm Circuits and Optical Fiber Cables
Checklist 12-1: Class 1, Class 2, Class 3, Remote-Control, Signaling, and Power-Limited Circuits
Checklist 12-2: Fire Alarm Systems
Checklist 12-3: Optical Fiber Cables and Raceways