Types and Uses of Transformers
A transformer is an electrical device without moving parts, which transfers energy of an alternating current in the primary winding to that in one or more secondary windings, through electromagnetic induction.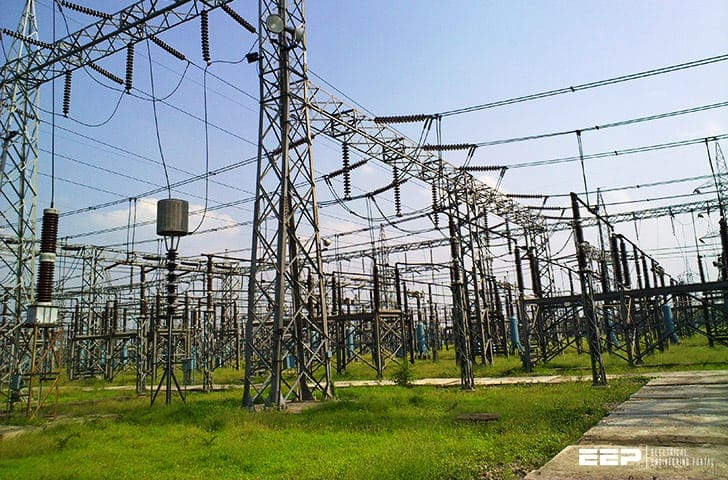 Except in the case of the autotransformer there is no electrical connection between the two windings and, except for the isolating transformer, the voltage is changed". It is also defined as, "a device employing the principle of mutual induction to convert variations of current in a primary circuit into variations of voltage and current in a secondary circuit". A transformer may have more than two conductors or windings.
Definitions are given here with some overlap due to varying sources.
Power systems involve transformers that step up and step down voltage, and include the following presented below.
Transmission transformer
Power transformers are used in transmission network of higher voltages for step-up and step down application (400 kV, 200 kV, 110 kV, 66 kV, 33kV) and are generally rated above 200MVA…
The high voltages reduce current and therefore I2R energy losses as heat.
Distribution transformer
Installed in distribution substations located near load centers, these reduce transmission line high voltage to 5 to 220 KV for local distribution ending at service transformers.
Service transformer
These are located close to customer's loads, and reduce distribution voltage to split phase 120/240V (in the US) for final delivery to the customer loads. Power systems also use transformers for less raw power applications.
Circuit transformer
Small transformers used in power supplies and electronic circuits. These can also be used for impedance matching, filters, and electrical isolation of different parts of a circuit.
Specific transformer types
Some of the specific transformer types, including non-power applications, include:
Autotransformer
Transformer in which part of the winding is common to both primary and secondary circuits.
An autotransformer has only a single winding, which is tapped at some point along the winding. AC or pulsed DC power is applied across a portion of the winding, and a higher (or lower) voltage is produced across another portion of the same winding.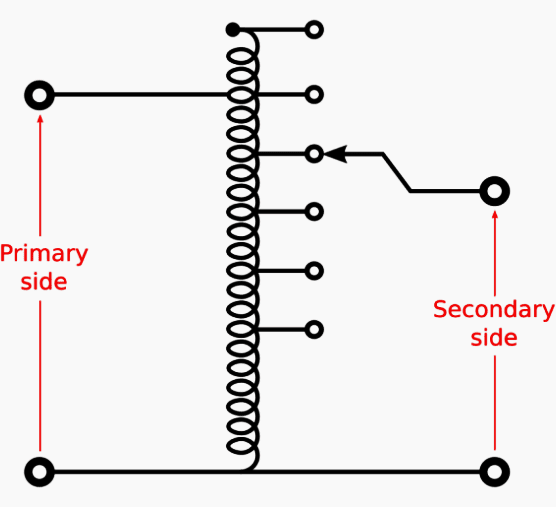 Autotransformers are commonly used as spark coils in automotive engines, and as high-voltage flyback transformers in television sets and computer monitors…
Variac was a trademark in the mid-20th century for a variable autotransformer intended to conveniently vary the output voltage for a steady AC input voltage. A sliding contact determined what fraction of the winding was connected across the output.
A common configuration provided for 120 V as input and percentages of that voltage as high as about 110%. More compact semiconductor light dimmers have displaced them in many applications, such as theatrical lighting.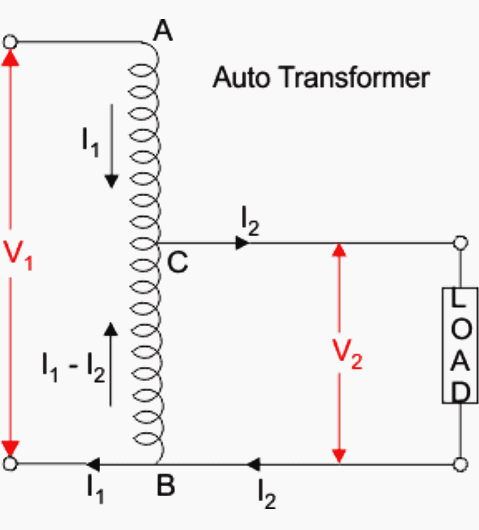 Three-Phase or Polyphase transformer
Transformer with more than one phase (typically 3-phase). 3-phase may have Wye-Wye, Wye-Delta, Delta-Wye, or Delta-Delta configurations.
The reasons for choosing a Y or Δ configuration for transformer winding connections are the same as for any other three-phase application: Y connections provide the opportunity for multiple voltages, while Δ connections enjoy a higher level of reliability (if one winding fails open, the other two can still maintain full line voltages to the load).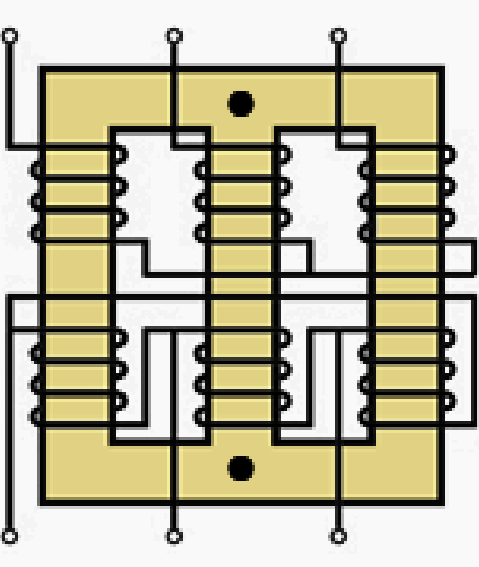 The diagram depicts a 3-phase transformer with a star (Wye) connected set of windings and a delta connected set (i.e., Wye-Delta configuration). Here the core consists of three limbs that are closed at the top and bottom.
Note that as a result of the properties of balanced 3 phase construction, including primary currents and resulting magnetic fluxes, the core fluxes induced by the 3 primary windings sum to 0 at the black dots I have added.