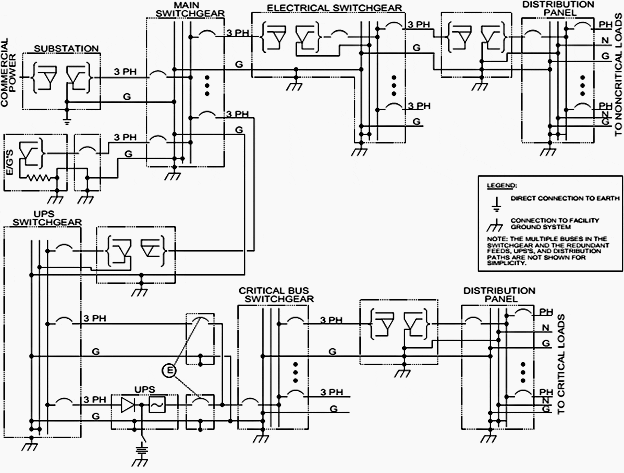 Guidance
The scope of this manual is to provide general guidance for:
Design,
Construction,
Modification,
Inspection, and
Acceptance testing
of the grounding and bonding subsystems for building protection, electrical power ground fault protection, lightning protection, and signal ground protection for both new and existing Command, Control, Communications, Computers, Intelligence, Surveillance and Reconnaissance (C4ISR) facilities.
The procedures presented in this manual are basic. Detailed information and specific instructions for each particular project should be observed.
Objectives
The objective to this manual is to define the state of the art and most commonly accepted practices for an integrated set of grounding and bonding practices for design and installation that is applicable to both new and existing C4ISR facilities.
Recommended grounding and bonding practices
The recommended grounding and bonding practices are designed to:
Accomplish adequate fault and lightning protection,
Allow effective TEMPEST protection to be implemented,
Support reliable signal and data transmission without introducing noise couplingvia safetygrounds, and
Maintain the integrity of electromagnetic interference (EMI) control and electromagnetic pulse (EMP) hardness measures.
C4ISR facilities and the interconnections between the various systemelements are very complex. Existing documentation of the as-installed grounding and bonding networksis typically not kept current.
Therefore, this manual will provide a unified set of grounding and bonding practices specifically formulated for standard C4ISR facilities.