MV cables and installation methods
A large part of cable damages occurs in the cables' installation situation. Another risk factor is the challenging and variable soil in Finland. In the past, there was only one installation method and it was normal digging. The advantage of digging is that backing sand can be used when filling the hole.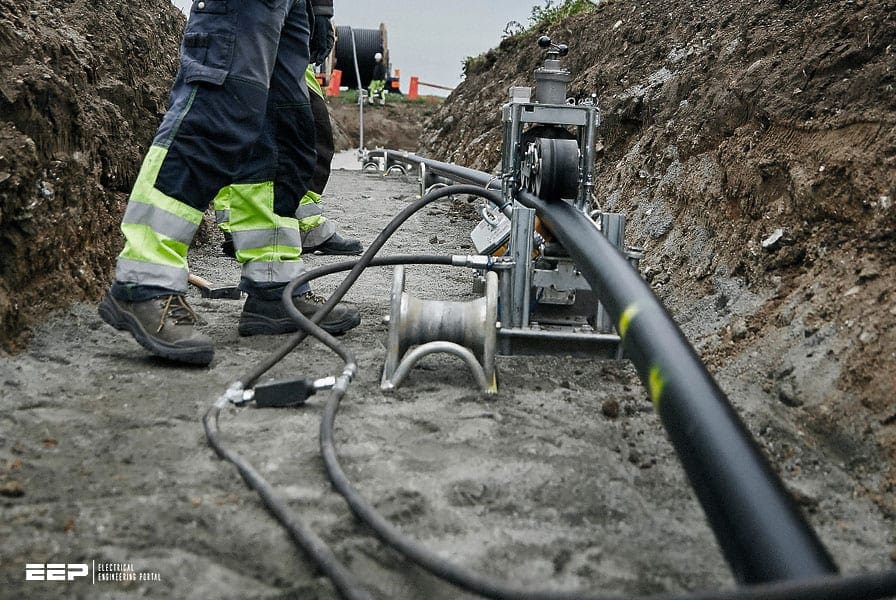 In this way, it is possible to avoid harmful rocks and the effect of earth freezing. It is also easy to control the deepness of cable installation by using the digging method. The digging method has its own risks, especially when the soil contains big rocks. It is difficult to obtain a smooth trench bottom, which may lead to a situation where water will rinse the back sand away from under the heavy filling earth.
If the filling earth contains rocks, it may cause damage when the filling earth presses on the cable. In figure 2.7 non-electrical damage portion of MV cable network failures are presented.


Trench digging by using an excavator is quite slow and the growing interest in cabling has caused the need to find new alternative installation methods. Faster installation and cost structure of cable network construction, which are very contractor-oriented, have also influenced the interest in new methods of installation.
At the moment, the most widely used installation method is cable ploughing straight to ground and below the pilots experiment is new earth sawing method.
Cable ploughing means that at the same time when the machine ploughs the ground, the cable is being directed in the channel. The ploughing method is a fast but a blind method. It is impossible to see how the cable settles in its channel.
In Figure 2.8 cable ploughing and the cable plough are presented.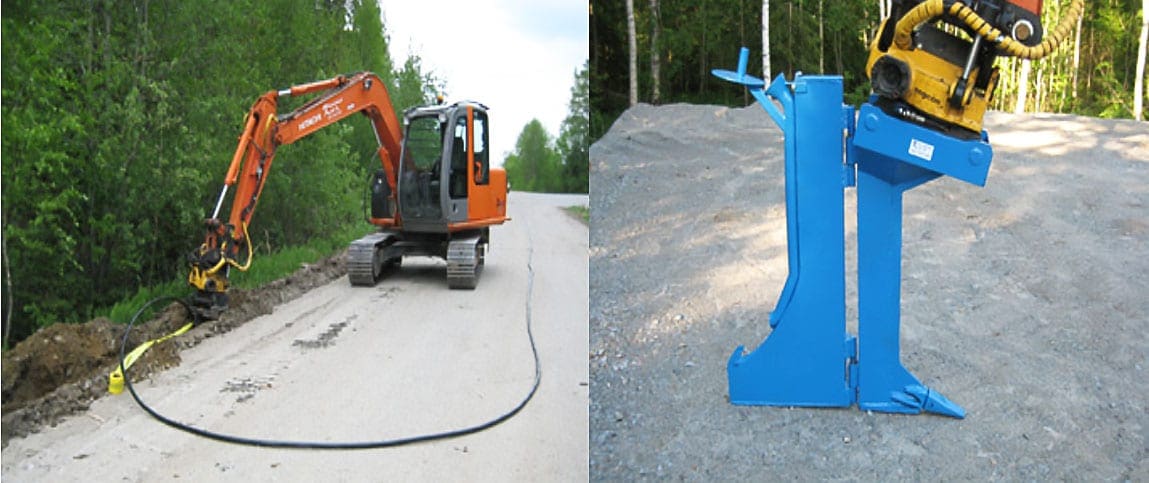 Today, about 50 % of VFV's cable installation is made by ploughing. The success of ploughing depends a lot on the contractor's competence. If the contractor has good ploughing skills, then the ploughing can be even a better installation method than digging.
Ploughing requires precise environmental and pre-ploughing assessment from the contractor.
New solutions allow the achieving of a better cable trench than before. The earth saw is possible to be used throughout the year in cable trench making without loss of frost.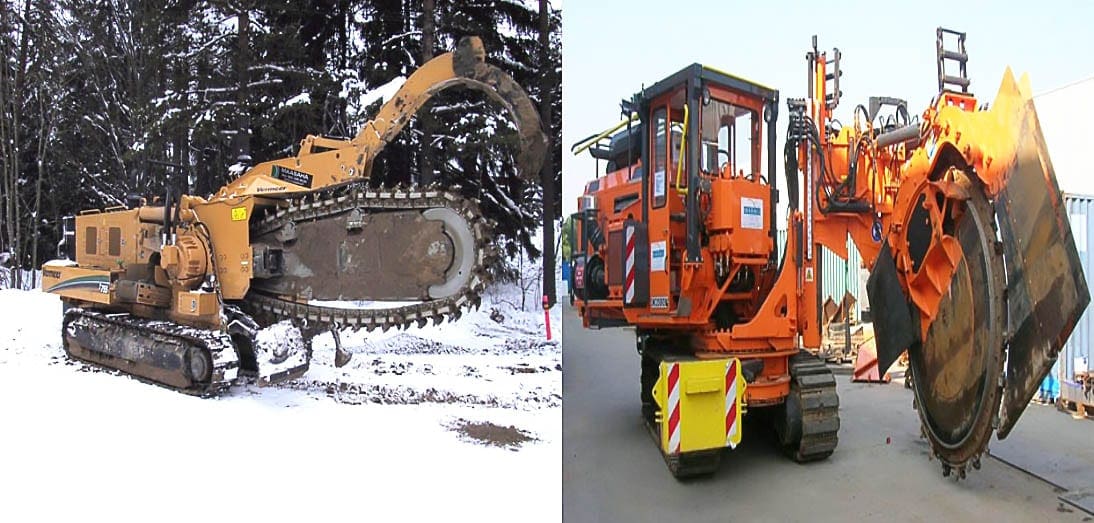 Deterioration and damaging mechanisms
The deterioration of dry cured XLPE insulated MV cables can be divided into three different categories, mechanical, chemical and electric deterioration. This kind of cables insulation does not reach the final state immediately after the manufacturing process.
It can take years for the insulation structure to be stable and this exposes the XLPE cable to harmful effects which can be mechanical, chemical or electrical. Damaged cable insulation is weaker to resist partial discharge because the electric field stress is bigger than in normal state.
Partial discharges are very harmful for XLPE insulation. The chemical deterioration weakens the polymer insulation. In chemical reaction temperature, oxygen and radiation are present. As a result of chemical reaction long polymer chains break which is known as depolymerisation.
There can also be new cross-linking bridges formed and it makes isolation more brittle.
The electrical deterioration happens as a result of water trees which generate electrical trees and lead to partial discharge. The most common electrical deterioration is a local effect. Low electric field intensity and long development time are common for electrical degradation mechanisms in medium voltage cables.
Useful reading:
General guidelines for online partial discharge testing of power cables
1. Mechanical and installation damage
Components of MV cable network are very vulnerable during its operation chain, which includes manufacturing process, storing, transporting, handling and installation. Carelessness in cables different operation may lead to cuts, scrapes, too large sidewall force and water penetration inside the cable.
These undesirable damages may affect immediately and make cable energizing impossible or the damages affects long-time period in cable insulation and creates partial discharge which finally leads to failure.
Damage to the outer sheath and cross sectional water tightening may allow water to enter the space between the outer sheath and the insulation shield. This may have a corrosive effect to the aluminium screen.
If water has entered inside the cable structure and the internal pressure forces to carry it along the cable, the water may create conductive paths and this may lead to short circuit and failures.
Damage suffered by digging may also be included in this mechanical and installation damage category.
2. Operational damage
Overload, short circuit currents and extensive load changing are known as effects, which may cause operational damage. Extensive load changing causes temperatures changing and it leads to both expansion and contraction of the cable. This can cause conductor shields hardening and cracking.
Extensive load changing has also harmful effect on cable system terminations and joints. In the interface of insulation and semi conducting conductor shield or insulation shield may arise voids and gaps, which can lead to partial discharges.
Overloads and
short circuit currents
bring high temperatures, which are damaging for the cable systems components. These big temperature changes are more harmful than the changes of the load cycling. High temperatures create a risk that the cable system fails, it can damage the insulation and change its geometry.
Insulation geometrical changes lead to a deterioration of dielectric strength.
3. Age-related deterioration
The cable structure deteriorates over time. The insulations and semi conductive shields attachment may deteriorate. This can lead to a situation where deterioration creates voids and gaps, which allows water penetration inside the cable. The moisture in the insulation may cause water treeing.
The water tree generates when the
moisture inside the insulation
starts to move electric fields direction. There are two types of water trees which are called bow-tie and vented trees. Bow tie water trees initiate from impurities and voids within the bulk insulation and tend to grow in two directions.
Bow tie trees reach a limiting length of some tens of μm, and do not have a significant effect on degradation at the low electric field stresses used in distribution cables. A vented water tree arises at the interface between the semi conductive screens and insulation. It grows in only one direction and has more harmful effects on insulation than bow-tie water trees.
If water trees grow enough they can change electric trees, which causes partial discharges and finally cable fails.