Electrical power requirements
System planning is essential to assure that the growing demand for electricity can be satisfied by distribution system additions which are both technically adequate and reasonably economical.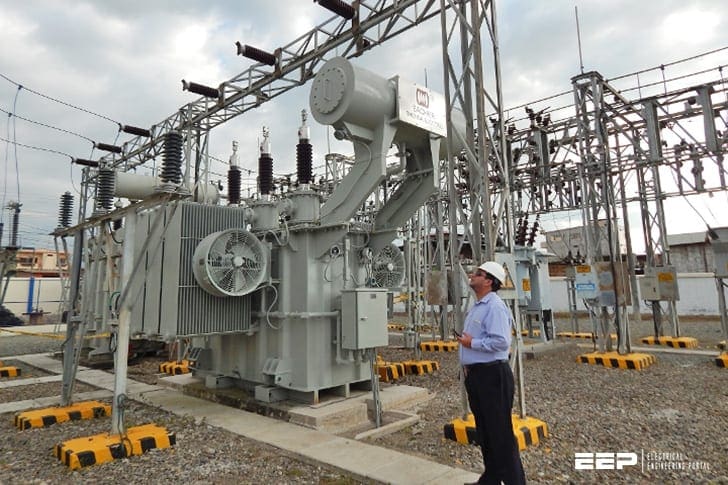 The distribution system is particularly important to an electrical utility for two reasons:
Its close proximity to the ultimate customer
Its high investment cost.
Since the distribution system of a power supply system is the closest one to the customer, its failures affect customer service more directly than, for example, failures on the transmission and generating systems, which usually do not cause customer service interruptions.
Therefore, distribution system planning starts at customer level. The demand, type, load factor, and other customer load characteristics dictate the type of distribution system required. Once the customer loads are determined, they are grouped for service from secondary lines connected to distribution transformers that step down from primary voltage.
The distribution transformers are combined to determine the demands on the primary distribution system. The primary distribution system loads are then assigned to substations that step down from transmission voltage.
The distribution system loads, in turn, determine the size and location of the substation as well as the routing and capacity of the associated transmission lines.
The most feasible method of supplying and distributing electrical power was determined by first quantifying the electrical power requirements (or maximum demand) for the installation.
In the early design stages (system sizing), the power demand was based on the summation of all the loads which were to be served modified by suitable diversity factors.
Note that all documents in this section are free to download.

No.

Description

Download

1
Mitigate The Magnetic Field Exposure Near Transformer Substation
Typical TS with nominal power 630 kVA, nominal voltage 10/0.4 kV is located in the basement of the residential apartment building. In the first room there is transformer…
.
2
General Technical Specification For 220kV SF6 Gas Insulated Metal Enclosed Switchgear (GIS)
The SF6 gas insulated metal enclosed switchgear shall be totally safe against inadvertent touch of any of its live constituent parts. It should be designed for indoor application with…
.
3
Measuring Earth Resistance
First, the NEC code requires a minimum ground electrode length of 2.5 meters (8.0 feet) to be in contact with soil. Soil composition, moisture content, and temperature all influence the soil…
.
4
National Electrical Code design considerations as applied to Utility Substations
A discussion of the National Electrical Code (NEC) and National Electrical Safety Code (NESC) design considerations as applied to utility substations, including working clearances…
.
5
A Practical Guide To Earth Resistance Testing
The simplest and somewhat misleading idea of a good ground for an electrical system is a section of iron pipe driven into the earth with a wire conductor connected from the pipe to…
.
6
Load Shedding For Utility and Industrial Power System Reliability
Power systems are designed and operated so that for any normal system condition, including a defined set of contingency conditions, there is adequate generating and…
.
7
Energy Transmission and Distribution Guide
The purpose of the electric transmission system is the interconnection of the electric energy producing power plants or generating stations with the loads. A three-phase AC system…
.
8
Improving safety on ageing switchgear
Switchgear Retrofitting Retrofitting is defined as adding components to equipment on site so as to achieve additional features or ratings. A number of different…
.
9
Technical Considerations in the Specification and Design of LV Switchboards
Cubicles may be front access only, rear access only or front and rear access. This has clear ramifications with regard to cable accommodation and access…
.
10
The 21st Century Substation Design
An electrical substation is a part of an electricity generation, transmission and distribution system where voltage is transformed from high to low or in reverse using transformers…
.
11
Switchgear and Motor Control Centres in Oil, Gas and Petrochemical Industry
The switchgear (SWGR) and motor control centres (MCC) considered in this section are those found in the onshore and offshore oil industry for supplying power to processes…
.
12
Low voltage switchgear and controlgear application guide for electrical engineers
Electrical motors must be accelerated from rest up to the operating speed with a starting device. In the case of variable speed drives, the motor controller must also manage the…
.
13
Static Analysis of Power Systems
The Swedish transmission system consists of approximately 15.250 km power lines, and is connected to other countries on 23 different locations…
.
14
Practical guide to electrical measurements in LV switchboards
Measuring and monitoring electrical quantities enable fault prevention to be optimised and maintenance to be scheduled owing to early identification of problems…
.
15
Power System and Substation Automation Guide
From experience, faults at transmission levels are less frequent than at distribution levels. At the same time distribution networks are not only complex, but the consequences of failure…
.
16
Reliability of Substation Configurations
While one of the strongest points in a power system is the electric substation, it still contains what could be described as weak points or points of failure that would lead to loss…
.
17
Substation Design Guidelines
Consider that you would like to choose a transformer to supply power to a factory which requires maximum of 270 kVA of power at 400 V on the LV side and no expension…
.
18
Power Transformer Maintenance and Field Testing
Power transformer is an electric machine with a useful life cycle of some 30 years. This doesn't mean to say that cannot be used above this time, in fact, a great part of the electric…
.
19
Selection of CTs and wire sizing in power substations
Mostly, the primary of a CT is a straight- through bar, meaning the number of turns on the primary is just 1. Hence n is often the number of turns of the secondary…
.
20
Copper for Busbars – Guidance for Design and Installation
Busbars are used within electrical installations for distributing power from a supply point to a number of output circuits. They may be used in a variety of configurations ranging…
.
21
Thermal design of MV/LV substations
Among the type tests listed in the IEC 62271-202 standard, the temperature-rise test is no doubt one of the major tests used to validate the performance of prefabricated MV/LV…
.
22
Guidelines for Conducting an Energy Audit in Industrial Facilities
The objectives of an energy audit can vary from one plant to another. However, an energy audit is usually conducted to understand how energy is used within the plant and to…
.
23
Transformer Protection Application Guide
This guide focuses primarily on application of protective relays for the protection of power transformers, with an emphasis on the most prevalent protection schemes…
.
24
Instrument Transformers Application Guide
A current transformer is, in many respects, different from other transformers. The primary is connected in series with the network, which means that the primary and secondary…
.
25
How to assemble LV electrical switchboard – Technical guide
This guide presents and illustrates all the best practices to apply when building low-voltage switchboards, in compliance with IEC standards 61439-1 and -2…
.
26
A Guide To Power Factor Correction For The Plant Engineers
What do power factor correction capacitors have to do with harmonics? A discussion of power system harmonics is incomplete without discussing the effects of power factor…
.
27
Complete Guide To Wind Power Plants
In the study of wind turbines injecting power into the grid, the last is often considered ideally with infinite short-circuit power. Therefore it cannot be influenced by the connection of…
.
28
Design of Electrical Power Supply System in an Oil and Gas Refinery
In this practical project, the design of power supply in oil and gas refinery is investigated. In these kinds of projects, the job is usually done in two main stages; basic design…
.
29
Guidelines to Power Transformer Type, Routine and Special Tests
The methods used during tests and measurements of the Power Transformers, test and measurement circuits, calculations and evaluation criterias are included in this manual…
.
30
Guidelines to the construction of a low-voltage assembly
An electrical assembly is a combination of more protection and switching devices, grouped together in one or more adjacent cases (column)…
.
31
Guide to High Voltage Direct Current (HVDC) Transmission
The transmission and distribution of electrical energy started with direct current. In 1882, a 50-km-long 2-kV DC transmission line was built between Miesbach and Munich…
.
32
Design Manual For High Voltage Transmission Lines
The primary purpose of this design manual is to furnish engineering information for use in designing transmission lines. Good line design should result in high continuity of service…
.
33
Power Plant Horror Stories – The Loss Of a Generator
Generators are the most expensive piece of equipment in a power system. The cost of a major generator failure to a utility is not only the cost of repair or replacement of the damaged machine…
.
34
Electrical Design Of 132/33KV Substation
The project work assigned to us was to design a 132/33 KV EHV substation. We considered incoming power at 132 KV and the power was transferred to main bus through…
.
35
Operation and Maintenance of a 220/132KV Substation
A Single Line Diagram (SLD) of an electrical system is the line diagram of the concerned electrical system which includes all the required electrical equipment connection sequence…
.
36
Design and construction of long-distance HV transmission systems
To clearly describe power transmission facilities, it is necessary to draw a distinction between transmission and distribution, both of which refer to the transport of electricity…
.
37
Development of 22kV Distribution Systems and Switchgear
The 22kV distribution is primarily directed at urban and other densely populated areas, and our efforts are focused on reducing overall costs (by making the equipment…
.
38
Electrical Safety Hazards Handbook
Electrical Safety in the workplace is the most important job of an electrical worker. No matter how much training one has received or how much employers try to safeguard…
.
39
Complete Guide To Diagnostic Insulation Testing Above 1 kV
Insulation tester is a portable instrument that provides a direct reading of insulation resistance in ohms, megohms, gigohms, or teraohms (depending on the model chosen)…
.
40
Transfer Switch Application and Selection Manual
This Manual is intended to provide guidance in the selection and application of transfer switch equipment in a variety of power generation situations. Transfer equipment is…
.
41
Guide to Low Voltage Circuit Breakers Standards
This guide is intended as a practical guide for designers, specifiers and installers to enable them to specify low voltage circuit breakers in accordance with BS EN 60898-1…
.
42
Battery Maintenance and Testing Guide
Why batteries fail? In order for us to understand why batteries fail, unfortunately a little bit of chemistry is needed. There are two main battery chemistries used today…
.
43
Design Guide For Overhead Distribution Systems
Voltage values, which are all 'line to line' values are 66kV, 22kV, 11kV, 6.6kV and 400/230V. Some of these values are rarely used in public distribution networks but…
.
44
Guide to MV/LV transformer substations (2000 kVA or two 1000 kVA)
The subject of this guide is MV/LV transformer substations with installed power limited to 2000 kVA or two 1000 kVA MV/LV transformers…
.
45
Guidelines for grounding of outdoor high voltage power substation
Grounding of high voltage power substation is a very important subject in electric power technology since it is decisive when it comes to touch and step voltages that will arise…
.
46
Guide to selection of current transformers and wire sizing in substations


The standard current transformer secondary winding is rated at 5A as per ANSI standards. Other rated currents such as 1A exist elsewhere.

Ubiquitous current transformers are…
.
47
Guide to manual and automatic transfer switch equipment
All of us have experienced the loss of electricity from time to time. In most instances, we just grin and bear it. There are, however, numerous manufacturing, commercial…
.
48
Guide to understanding of earth / ground resistance testing
Well, soil resistivity measurements have a threefold purpose. First, such data are used to make sub-surface geophysical surveys as an aid in identifying ore locations, depth…
.
49
Safe isolation procedures for low voltage installations
This guide explains what are safe isolation procedures and why they need to be followed during working or maintenance on LV installations. They need to be followed to make sure…
.
50
Shunt capacitor bank applications and protection fundamentals
The paper provides a quick and simple way to calculate the out-of-balance voltages (voltage protection) or current (current protection) resulting from failed capacitor units or elements…
.