AIS, GIS high voltage switchgears
The conventional Air-insulated substation (AIS) design uses a large number of disconnectors in order to allow for maintenance and repair with a minimum of interruption. The occupied area of AIS is typically large and the maintenance demand of the open-air apparatus is relatively high, particularly in case of severe environmental conditions.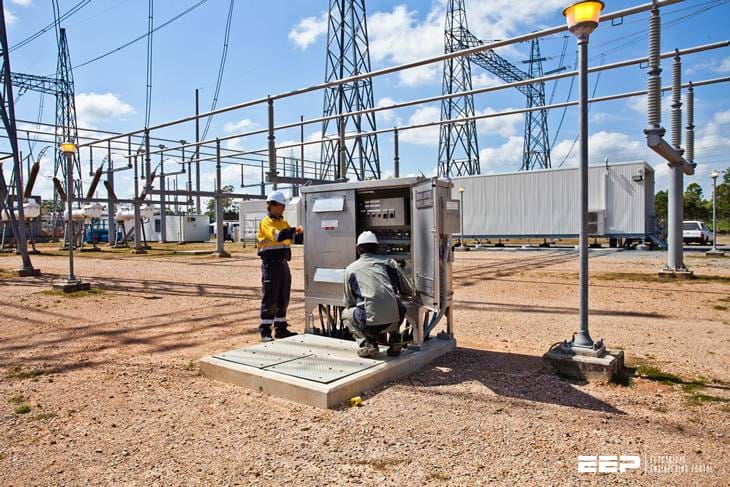 Besides, switchgear, its subsystems and components are exposed to aging and wearing during the years of exploitation that leads to the increase in fault events over the years of service. The attempt in the new substation designs is to make them more compact and somewhat protected from the environmental impacts.
The sensing and signal processing in existing substation designs is based on a number of individual sensors being placed in the switchyard and hard-wired directly to the control house.
The individual monitoring, control and protection devices that are using those signals for their decision-making are located in the control house. This concept is not facilitating integration of data and signal processing across the substation.
The IEC 61850 substation automation standard provides higher degree of integration, greater flexibility, reduced construction and commissioning time. The levels of functional integration and flexibility of communications bring significant advantages in cost reduction.
This integration affects not only the design of the substation but almost every component and/or system such as protection, monitoring and control by allowing replacement of the hardwired interfaces with communication links.
Note that all documents in this section are free to download.

No.

Description

Download

1
Training report on 33/11 kV substation
The main bus 33KV is connected to grid located at Sector-25, INDIRANAGAR, LUCKNOW. Now the transmission line first parallel connected with lightning arrester to diverge surge…
.
2
Operation and commissioning of 33/11 kV power substation
This thesis report is prepared in according to the operation and maintenance procedure of 33/11KV Substation, including emergency maintenance work…
.
3
IEC 61850 standard application examples of substation automation
The IEC 61850 standard has been defined in cooperation with manufacturers and users to create a uniform, future-proof basis for the protection, communication and control…
.
4
Selecting and installing a new medium voltage motor control center
This paper is a case study outlining the selection and installation of a new medium voltage motor control center (MCC) installed at a major process industrial facility…
.
5
Construction and Maintenance of High Voltage Power Transformers (For Students)
The main purpose of this research is to gather in one paper information about construction and maintenance of high voltage power transformers. There are included informations…
.
6
Inspection and Test Procedures For Electrical Power Equipment and Systems
The guidance of an experienced testing professional should be sought when making decisions concerning the extent of inspection and test procedures for electrical power…
.
7
Design Of Earthing System For (Extra) High Voltage AC Power Substations
This paper presents the design of Earthing system for 400 KV substation and calculation of its parameters. Successful operation of entire power system depends to a considerable…
.
8
25 High Voltage Transformer Tests and Commissioning Procedures (Before Energizing)
High voltage transformers are some of the most important (and expensive) pieces of equipment required for operating a power system. The purchase, preparation, assembly…
.
9
Designing a new IEC 61850 substation architecture and solving encountered issues
The primary role of Substation Automation System (SAS) is to provide safe, secure, and reliable local/remote control and monitoring of high-voltage AC distribution and transmission…
.
10
Factory and Site Acceptance Tests (FAT, SAT) For Electrical and Automation Systems In a Power Plant
The thesis consists of an investigation of what is to be tested with FAT (Factory Acceptance Test) and SAT (Site Acceptance Test), and also how to do the testing. The result of this…
.
11
Guide To Medium Voltage Capacitor Bank Switching And Impact Of Overvoltage On The System
The energy associated with re-striking due to capacitor bank switching must be assessed with the greatest care. Although rare, restriking can be a challenging task, especially for…
.
12
Measurements Of Transformer Winding Resistance For Diagnostic Purposes
This application note is focusing on using winding resistance measurements on power transformers for diagnostic purposes. The intention is to guide the operator in the…
.
13
Ground Fault Protection Scheme For an Ungrounded Power System
Proper system grounding is essential in protecting against transient overvoltages that result in significant damage to equipment and people working at the power substation…
.
14
Technical Specification Of 11 kV SCADA Controlled Indoor Switchgear (With Interlocking Diagrams)
This is an example how to describe your requirements for 11 kV switchgear which is SCADA controlled. Switchgear consist of 11kV busbar, fixed type circuit breakers, disconnectors…
.
15
Analysis And Implementation Of The IEC 61850 Standard For Substation Automation Systems
In many areas of engineering, interoperability is a goal when technical systems are designed. This is true also for the domain of electrical engineering and in particular for…
.
16
Substation Event Monitoring Based On IEC 61850 and IEEE 1588
In general, high voltage power network can be further categorized as distribution network or transmission network. The distribution network are normally considered to be operated…
.
17
Substation Automation Systems Based On IEC 61850 Communications Standard
Two redundant Substation LANs shall provide the principal means for data exchange among intelligent station components at both the station and bay levels. Each LAN shall consist of…
.
18
The Concept Of High Voltage Distribution Networks Including Wind Power
Two types of networks are used in the Finnish power system for transferring electrical power from production to consumption. These types are a transmission network and distribution…
.
19
Design Of 400/220/132 KV 1316 MW Power Substation
The first step towards the design of a 400/220/132 KV substation is to determine the load that the substation has to cater and develop it accordingly. The substation is responsible for…
.
20
Transformer Short-Circuit Current Calculation and Reinforcement Solutions
This thesis has three main goals. The first goal is to introduce types of short-circuits. The second one is to introduce the transformer short-circuit current calculations. And the last one…
.
21
Transmission and Substation Design and Operation (Technical Papers)
Automated video systems provide utilities with real-time visualization of the substation allowing them to make key decisions designed to prevent outages, save time and reduce…
.
22
Guidelines to properly designed substation grounding system
Before the design of the grounding system begins, soil resistivity measurements need to be taken at the substation. Stations with uniform resistivity throughout the entire area are rarely…
.
23
Earth electrode and earth loop impedance testing (Theory and applications)
When looking at making measurements of Earth loop Impedance, or Prospective Fault Current (PFC) for that matter, it is always worth remembering why the reading is…
.
24
Insulation testing using guard terminal (for HV cables, bushings, transformers and CBs)
During insulation testing, the resistance path on the outer surface of the insulation material often gets neglected. However, this resistance path is very much a part of the measurement…
.
25
Electric power quality in LV grid (Measurements in office buildings and rural substation)
Electric power quality is a general expression regarding the electricity quality. Electrical power quality can be divided in the two main groups: delivery reliability and voltage quality…
.
26
Fundamentals of HV circuit breakers (applications, failure analysis and maintenance)
One of the main objectives of this work is failure modes and effects analysis of HV circuit breakers. This is the technique used to investigate failures and consequences of HV CBs…
.
27
Power Substation Design Course (Parameters and Physical Layout)
Two of the most critical factors in the design of a substation are its location and siting. Failure to carefully consider these factors can result in excessive investment in the number…
.
28
Operation and maintenance of 33/11 kV substation
Every substation is controlled by experienced manpower, including one in charge,2/3 engineers, 4/5 technical staffs. All kinds of maintenance work of the substation done by them in addition…
.
29
Partial Discharge Analysis in HVDC GIS (Gas Insulated Substations)
Gas Insulated Substations (GIS) respond to the expansion of the grid as well as the scarcity of available locations to build substations. In fact, GIS are multi-equipment systems in which…
.
30
Big data mining and analytics in substation automation and network management
This thesis begins with the study of current naming conventions used in the power systems. Two standards, the COMTRADE and the IEC 61850, that define the organizing of data…
.
31
SCADA application in Kenyan National Power Grid
The entire 220 and 132 kV transmission system is supervised from the National Control Centre (NCC). At 220/132 kV, 220/66 kV and 132/66kV substations the NCC also controls…
.
32
Operation and maintenance of substation equipment and EHV transmission lines
The capacitor bank is to be kept in service only if the power factor is below 0.98 lagging and the voltage is also below the normal. If, with the capacitor bank ON, power factor is below…
.
33
Design study for new 132/33/11 kV power substation in Kingdom of Nepal
Under the Project, a new 132/33/11 kV Kawasoti substation will be constructed with a transformer of 132/33 kV, 30 MVA. The new substation will receive power from a higher…
.
34
Design study for 33/11 kV substation, distribution and protection in the city of Kenya
The substation would be a combination of switching, controlling, and voltage step-down equipment arranged to reduce sub-transmission voltage to primary distribution voltage…
.
35
Construction & electrical design of 400/220/132 KV power substation
The first step towards the design of a 400/220/132 KV substation is to determine the load that the substation has to cater and develop it accordingly. The substation is responsible for…
.
36
Testing and commissioning of 66/33 KV substation
This report describes about the various testing that are required to be done before commissioning of 66/33 KV substation. Primary goal of this report is to provide in a simple…
.
37
Substation equipment maintenance, tests and checkings
The measurement of insulation resistance is carried out to check the healthiness of the transformer insulation. This test is the simplest and is being widely used by the electrical…
.
38
EHV substation layouts for busbar systems (up to 400 kV)
In this publication, a serious attempt has been made to cover the basic requirements and illustrations containing typical layout for various busbar systems beside brief discussion on…
.
39
Substation data acquisition, automation and control (Future design research)
The proposed substation design of the future will benefit all aspects of power system operation. While present practice in power substation design may not be close to the vision…
.
40
Instrument Transformer Calculations and Dimensioning For Substation Protection
The purpose of this thesis was to get to know the theory behind instrument transformers in substations and to create a calculation template in Microsoft Excel which would simplify…
.
41
Synchronising problems in substation protection and automation applications
Advanced substation automation applications such as wide area phasor monitoring with Phasor Measurement Units (PMU) and sampled value process buses require synchronising…
.
42
132 KV substation basic training for students
The equipment required for a transformer substation depends upon the type of substation, service requirement and the degree of protection desired. 132KV substation has the…
.
43
New Technologies in Substation Automation Systems
The performance of a substation automation system depends on the implementation of an effective communication system to connect all the protection, monitoring and control devices…
.
44
Test procedures for large power transformers
A partial discharge in an insulating medium is a localized electrical discharge, which does not bridge the electrodes of the insulation structure. The field strength of a weak part of the…
.
45
Wireless sensor network in distribution substation (IEEE 802.15.4 / Zigbee and IEC 61850)
The IEC 61850 standard requires that communication between the devices must be wired via fiber optic or cable. This is so for they are mature technologies that ensure compliance…
.
46
Best practice in power substation grounding
The substation grounding system is an essential part of the every electrical system. The proper grounding of a substation is essential and very important for the following two reasons…
.
47
Substation single bus scheme with bus section circuit breakers and interlockings
This technical course explains in details power substations using the single bus scheme with bus section circuit breakers. You will be introduced to the use of protective grounding when…
.
48
Hardware, standards and schemes required for digital substations
Revolution in information technology brought enormous influence on electrical power system by the application of intelligence in metering, protection, monitoring and control…
.
49
Experience in implementation of IEC 61850 standard in high voltage substation in Ghana
The Kintampo power substation have two switchyards. One switchyards is 161 kV high voltage substation with 4 transmission lines, two step-down transformers, and 9 HV circuit…
.
50
Power plant control – Integrating process and substation automation into one system
This paper deals mainly with thermal plants such as steam power units, gas-fired combined-cycle power plants and waste incineration plants in terms of integrating both process and…
.