Largest power grid in the north India
400 kv Agra substation is one of the most important substation in India and it belongs to the largest power grid in the north India. The whole substation is divided in three parts: 400kV, 220kV and 132kV switchyard.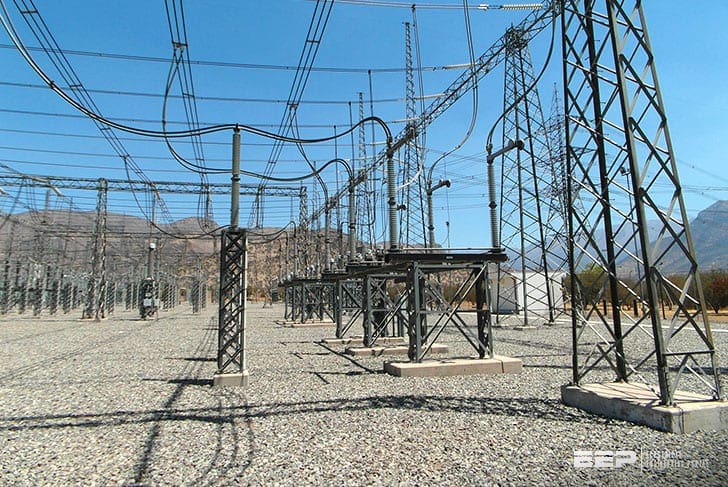 For 400kv, 220kv and 132kv switchyard a common control room is used Crompton Greaves Limited (CG), an Indian Multinational with manufacturing bases in 8 countries, have signed the contract in 2010 with Uttar Pradesh Power Transmission Corporation Ltd for construction of 765/400 kV Substation at Agra, in Uttar Pradesh.
A 765/400 kV substation is the highest grade system voltage for transmission in India. UPPTCL is first state utility to enter into 765 kV arena. The scope of the project includes Design, Engineering.
As we said earlier the whole substation is divided in three parts: 132 kV site, 400 kV and 220 kV site. Other part of project Design, Engineering, Manufacture, Supply, Erection, Testing and Commissioning of Bays will complete by CGL.
In 400/220kv switchyard following outdoor instrument used:
Two 165 MVA 220/132 kV autotransformer
Three 315 MVA 400/220 kV autotransformer
Two 31.5 MVAR shunt reactor
15 lighting towers
SF6 circuit breakers
Capacitor voltage transformers (CVTs)
Current transformers (CTs)
In switchyard one room for mulsi fire system and one for generator system is also present. In 400 kV switchyard folowing lines are present for incoming and outgoing power: four 400 kV incoming lines,  three 220 kV outgoing lines and five 132 kV outgoing lines.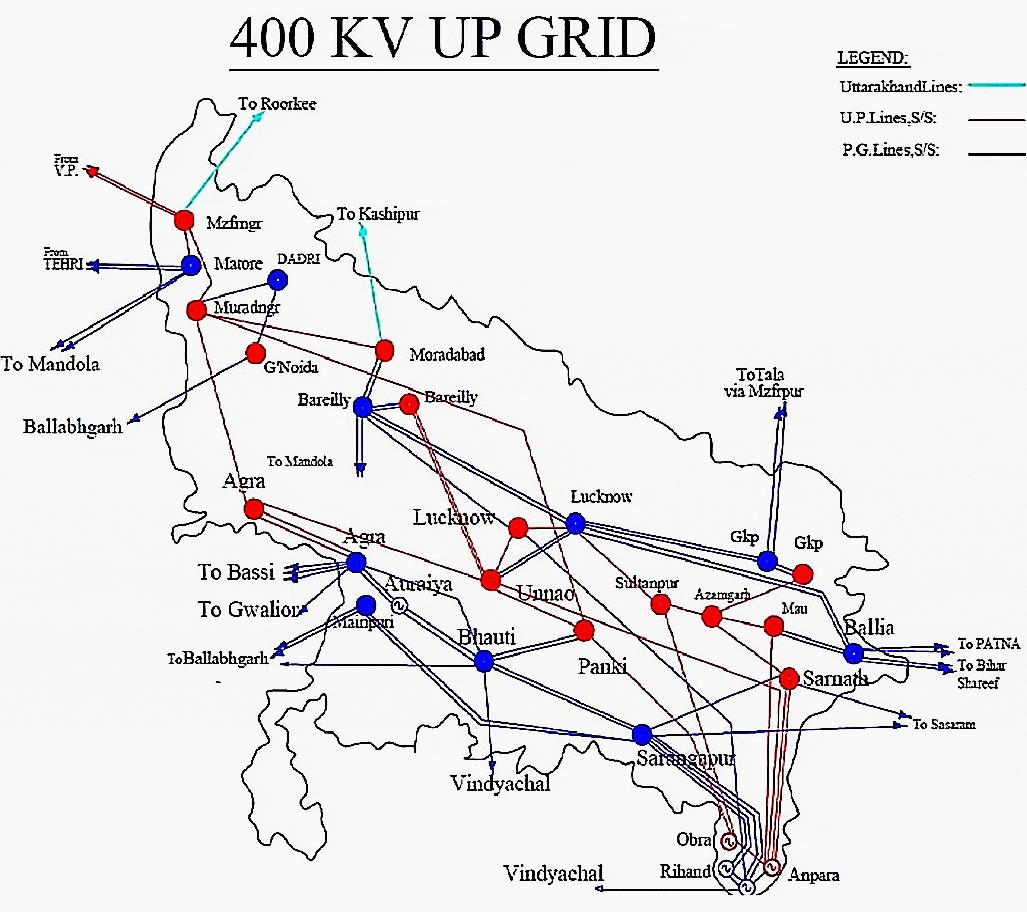 SCADA system installed
In SCADA system measured values, i.e. analogue (measured value) data (MW, MVAR, V, Hz Transformer tap position), and Open/Closed status information, i.e. digital data (Circuit Breakers/Isolators position i.e. on/off status), are transmitted through telecommunication channels to respective sub-LDCs.
For this purpose Remote Terminal Units (RTUs) at 400KV, 220KV and few important 132KV substations have been installed. System values and status information below 132 KV have not been picked up for data transmission, except for 33KV Bus isolator position and LV side of generators.
Secondary side of Current Transformers (CT) and Potential Transformer (PT) are connected with 'Transducers'. The output of transducers is available in dc current form (in the range of 4mA to 20mA). Analogue to digital converter converts this current into binary pulses.
Different inputs are interleaved in a sequential form and are fed into the CPU of the RTU. The output of RTU, containing information in the form of digital pulses, is sent to subLDC through communication links. Depending upon the type of communication link, the output of RTU is connected, directly or through Modem, with the communication equipment. At subLDC end, data received from RTU is fed into the data servers.
In general, a SCADA system consists of a database, displays and supporting programs.


In UPPTCL, subLDCs use all major functional areas of SCADA except the 'Supervisory Control/Command' function. The brief overview of major functional areas of SCADA system is as below:
1. Communications
Sub-LDC's computer communicates with all RTU stations under its control, through a communication system. RTU polling, message formatting, polynomial checking and message re-transmission on failure are the activities of 'Communications' functional area.
2. Data Processing
After receipt of data through communication system it is processed. Data process function has three sub-functions i.e. (i) Measurements, (ii) Counters and (ii ) Indications.
'Measurements' retrieved from a RTU are converted to engineering units and linearized, if necessary. The measurement are then placed in database and are checked against various limits which if exceeded generate high or low limit alarms.
The system has been set-up to collect 'Counters' at regular intervals: typically 5 or 10 minutes. At the end of the hour the units is transferred into appropriate hour slot in a 24- hour archive/history.
'Indications' are associated with status changes and protection. For those statuses that are not classified as 'alarms', logs the change on the appropriate printer and also enter it into a cyclic event list.
For those statuses which are defined as an 'alarms' and the indication goes into alarm, an entry is made into the appropriate alarm list, as well as in the event list and an audible alarm is generated in the subLDC.
3. Alarm/Event Logging
The alarm and event logging facilities are used by SCADA data processing system. Alarms are grouped into different categories and are given different priorities. Quality codes are assigned to the recently received data for any 'limit violation' and 'status changes'.
Alarms are acknowledged from single line diagram (or alarm lists) on display terminal in LDCs.
4. Manual Entry
There is a provision of manual entry of measured values, counters and indications for the important substation/powerhouse, which are uncovered by an RTU or some problem is going on in its RTU, equipment, communication path, etc.
5. Averaging of Measured Values
As an option, the SCADA system supports averaging of all analogue measurements. Typical y, the averaging of measured values over a period of 15 minutes is stored to provide 24 hours trend.
6. Historical Data Recording (HDR)
The HDR, i.e. 'archive', subsystem maintains a history of selected system parameters over a period of time. These are sampled at a pre-selected interval and are placed in historical database.
At the end of the day, the data is saved for later analysis and for report generation.
7. Interactive Database Generation
Facilities have been provided in such a way that an off- line copy of the SCADA database can be modified al owing the addition of new RTUs, pickup points and communication channels.
8. Supervisory Control/Remote Command
This function enables the issue of 'remote control' commands to the sub-station/powerhouse equipment e.g. circuit breaker trip command.
9. Fail-over
A 'Fail-over' subsystem is also provided to secure and maintain a database of devices and their backups. The state of the device is maintained indicating whether it is 'on- line' or 'failed'. There is a 'backup' system, which maintains database on a backup computer and the system is duplicated.