Substation specific design
The substation would be a combination of switching, controlling, and voltage step-down equipment arranged to reduce sub-transmission voltage to primary distribution voltage for residential, commercial, and industrial loads.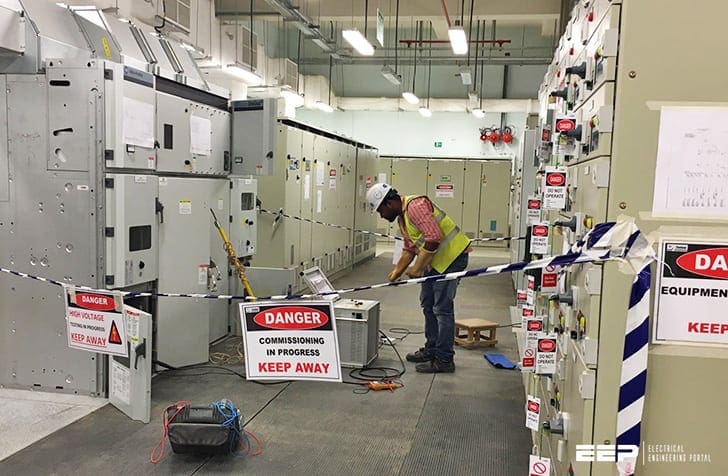 Power substation consists of:
Switchgear: isolators, circuit breakers, earthing switches etc.
Controlgear: current transformers, voltage transformers, contactors etc.
Protection equipment: relays, fuses, surge arrestors etc.
Power Transformers
Substation equipment
The main equipment in Fahari substation consist of:
Transformers:
To step down the 33kV primary voltage to 11kV suitable for distribution purpose. One 33kV/0.415 auxiliary transformer was also needed to supply the substation with reliable AC power.
Circuit breakers:
Circuit breakers were needed so as to disconnect and isolate the faulted section. Sulphur-hexa-fluoride (SF6) circuit breakers were chosen.
Isolating switches (isolators):
It is a requirement that whenever maintenance or repair work is to be carried out on equipment in a substation or feeders, it be disconnected from the supply by an isolator, normally operated on no load.
Isolators are normally interlocked with circuit breakers and earthing switches.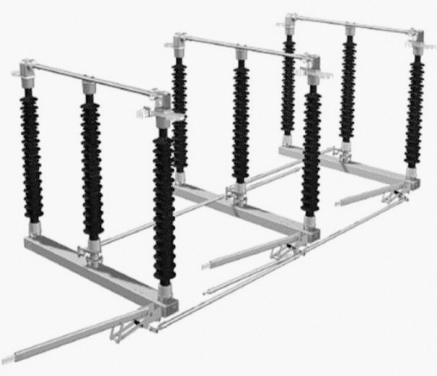 Current and potential transformers:
Current and voltage transformers were needed so as to step down the line current for the purpose of metering and relaying.
Busbars:
The incoming and outgoing circuits were connected to busbars. Flexible ACSR stranded conductor bus bars supported from two ends by strain insulators was chosen for the 33kV busbar.
Protective relays:
Whenever a fault occurs the protective relay would operate and send a trip signal to circuit breakers. The relays were housed in panels in the control room and Ring Main Units.
Surge arrestors (lightning arrestors):
Surge arrestors would protect the substation equipment from lightning and switching surges.
Earthing switch:
The earthing switch is usually connected between the line conductor and earth and is mounted on the frame of isolator. Normally it is in open position. When the line is disconnected the earthing switch is closed to discharge the trapped charges to earth.
Station earthing system:
The function of station earthing system is to provide a low resistance path for flow of earth fault currents (for proper operation of protection devices) and safety of equipment and personnel.
Substation feeders
Chosen feeder system was the loop type. Feeders were paired so as to form a closed ring and with each fitted with a circuit breaker. The 11 kV bus was sectionalized into two sections each being fed from the different power transformers.
A bus sectionalizer in form of a circuit breaker and disconnector was installed between the two bus sections which would make it possible to join or separate the two sections while in service.
Each one of the feeders constituting a pair was to emanate from one of these sections and the other from the other section because of the following reasons:
In case protection system isolates one section of the bus (i.e. if it is faulted) supply is still maintained to the entire loop.
If one transformer is out, the ring can still be fed from both sides which normally reduces line losses and improves on the voltage regulation.
It allows for maintenance on any of the switchgear, control gear, transformer etc. without interrupting service to the power consumers.
Tapings from the ring main were designed to be via ring main units which would then feed their respective secondary distribution transformers.
The ring main units are also usually fitted with the necessary switchgear and controlgear as shown in figure 1.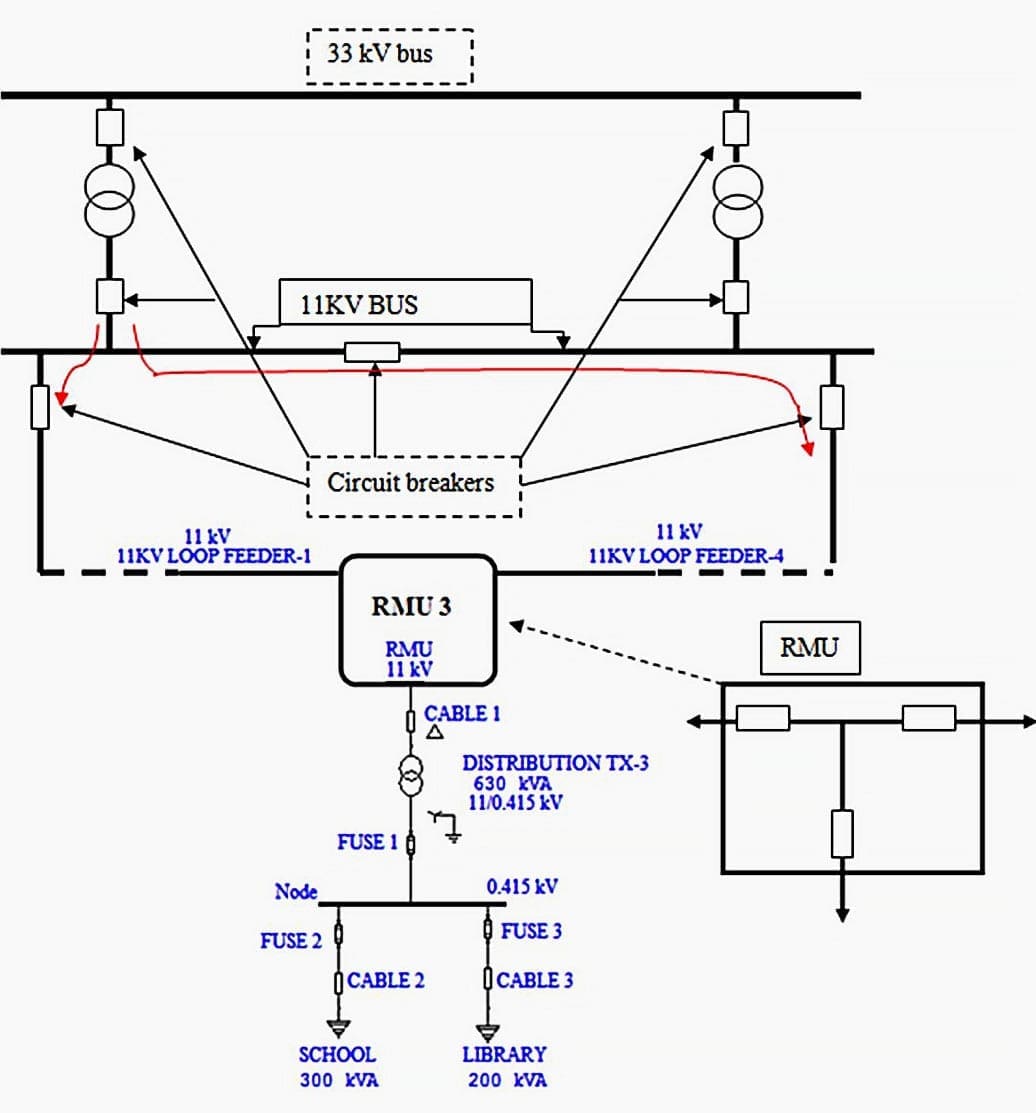 This system is by far the most reliable for continuity of supply and gives better voltage regulation and less power losses. It is used where continuity of supply is the priority factor and thus large investment may be warranted.
Number of feeders
Normally a primary distribution line or feeder is designed to carry a load of 1-4 MVA depending on the feeder length, so the number of Feeders emanating from a secondary substation at 11 kV is 3 or more.
The substation feeders should be able to ferry all electrical power from a source to the designated load areas. Therefore the number of feeders for Fahari city substation was determined by the substation full capacity and the estimated full load on each.
Each feeder was first assigned an average capacity of 2.5 MVA and the substation capacity being the sum of the ONAF ratings of the two power transformers.
| | |
| --- | --- |
| Title: | Design for 33/11 kV power substation, distribution and protection in city of Nairobi – Cyrus Kariuki Kamau At University Of Nairobi Faculty Of Engineering Department Of Electrical And Information Engineering |
| Format: | PDF |
| Size: | 7.20 MB |
| Pages: | 97 |
| Download: | Right here | Video Courses | Membership | Download Updates |