Capacitor bank operation
The capacitor bank is to be kept in service only if the power factor is below 0.98 lagging and the voltage is also below the normal. If, with the capacitor bank ON, power factor is below 0.98 lagging and the voltage has a tendency to increase above the normal value with the transformer operating on higher taps.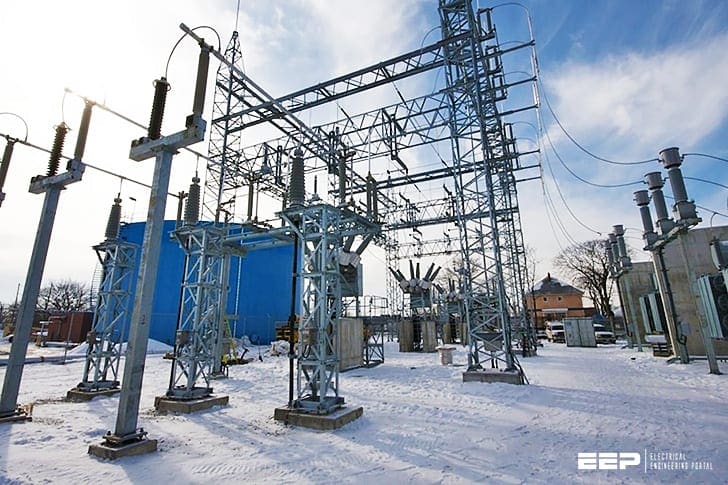 In this case, the tap position should be reduced, so as to keep the voltage up to the normal value.
This will enable the optimum use of the capacitors to improve power factor. If the power factor goes above 0.98 lagging or the voltage exceeds the normal voltage even after reducing the tap position of the transformer, the capacitors bank is to be switched OFF.
As guidelines (for keeping capacitor bank in circuit and where power factor meters are not provided or are defective), the minimum values of load current are given below for keeping capacitor banks in the circuit:
| | | |
| --- | --- | --- |
| Voltage class | Min. load current | MVAR to be switched on: |
| 33 kV | 60 Amps. | 2.5/3.3/3.6 MVAR |
| 33 kV | 120 Amps. | 5.0/6.6/7.2 MVAR |
| 11 kV | 150 Amps. | 2/2.3 MVAR |
| 11 kV | 300 Amps. | 4/4.6 MVAR |
Whenever any capacitors are put into circuit, the load current on the transformer incoming panel should be observed. If the load current remains the same or is increased by switching on the capacitors, the capacitor should be immediately switched OFF.
If the load current is reduced, then only the capacitor shall be kept in the circuit.
Wherever there are two or more separate capacitor banks of the same voltage rating on the same bus but controlled by separate breakers, then two or more of them cannot be switched on unless they are provided with series reactors.
At substations, where two or more capacitor banks are installed and one of them is not provided with series reactor, then the capacitor bank without series reactor is to be switched ON first and the capacitor bank (s) with series reactor is (are) to be switched ON there after.
To explain, the first capacitor bank to be switched ON can be without series reactor, but any second or later capacitor bank switched on should have series reactor.
The capacitors should not be switched on within 5 minutes of switching OFF so that by that time the capacitors are discharged to a safe value.
Repairs of minor defects in capacitors
It is important that few points be considered for obtaining satisfactory performance and long useful life of capacitors. Do not attempt any repairs which may open the sealed internal assembly or which may cause the impregnant to come to contact with air or other materials.
Any leakage that has been caused to a unit due to mechanical damaged should be stopped, as soon as possible, by soldering (using only resin alcohol flux) or by plugging the hole. Do not attempt to add any impregnating liquid to such units. Following are few faults, which are likely to develop, and necessary quick repairs required to be done.
Inspection and preventive maintenance
Actually the capacitor units are a sealed one and do not require any maintenance. A periodic check of a few important parts of capacitor units/bank is very necessary to avoid any sudden failure.
Recommended schedule for inspection and preventive maintenance of capacitor banks should be meticulously followed.