Hazards of operating on electrical equipment
There are five types of hazards associated with the operation of electrical equipment: electrical shock, electrical burns, fire and explosion, heat build up and mechanical hazards. Let's briefly describe each of the mentioned hazards.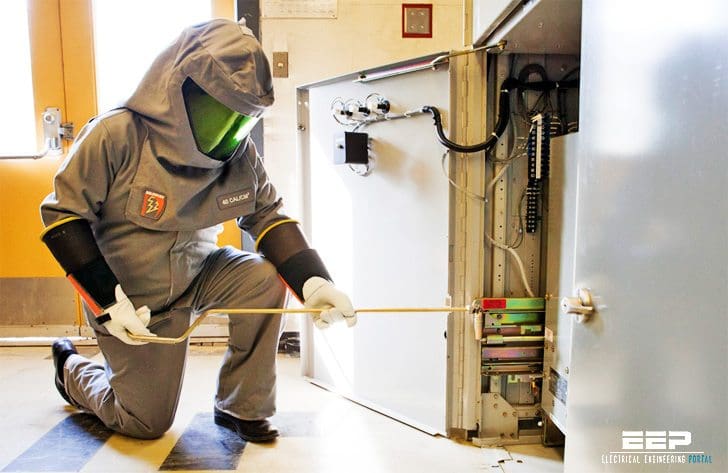 Electrical shock
There is no way to tell if an electrical conductor or terminal is alive just by looking at it, it should be tested using an appropriate approved tester. Thereafter it should be made safe in such a manner that it cannot be energised by someone else whilst it is being worked on.
Electrical burns
With medium voltage it is not necessary to touch a conductor or terminal in order to get burned. Air does not normally conduct electricity however, when a person gets too close to an electrical wire that is not properly insulated, the air can break down and form a conducting path between them to earth.
Coils and capacitors store electrical energy and release it after power has been turned off and should, therefore, be discharged before work commences.
Fire and explosion
There is great danger of fire and explosion when working with medium voltage equipment, due to the large fault currents that can flow in the system. Oil circuit breakers (OCBs) and oil mini sub stations (MSS) and ring main panels (RMPs) pose a particular threat.
Operator errors can also cause faults, livening up a cable, whist the other end is earthed for instance.
Heat build up
Heat can build up in wires. A lightweight extension lead gets hot when used for heavy duty service.
Avoid using extension leads at all, if possible. If they must be used, ensure they can carry the current without overheating.
Do not string them overhead, across aisles and under mats, where heat can build up and fully extend them.
Mechanical hazards
Electricity is often used to run machinery, rotating machinery and moving parts are always a source of danger, always ensure that guards are in place.
Make sure the machine you are working on cannot be turned on without your knowledge.