SF6 or vacuum?
Approximately 35 years ago, in the mid 1960s, two new breaker technologies, one using SF6 gas and the other vacuum as its arc quenching medium, were introduced to the market.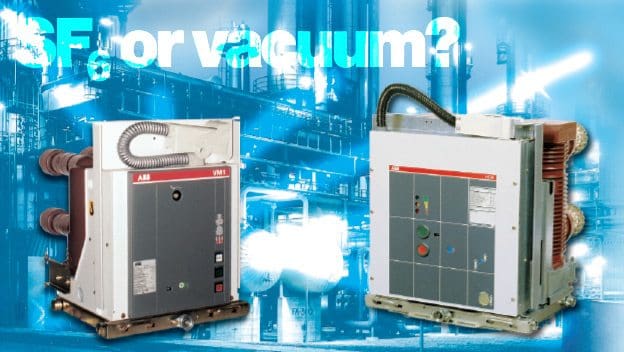 Research and development work on both technologies has continued unabated since then, and today it can be said that, together, they have all but replaced the older types of switchgear.
There is, however, not always agreement on which criteria should be used when choosing one of these two dominant technologies.
Instead of an objective selection based on real-world characteristics, the choice is very much driven by the circuit-breaker manufacturer.
SF6 and vacuum switchgear enjoy varying market success in the different parts of the world (Figure 1) whereas Europe and most of the Middle East countries tend to favor SF6, China, Japan and the USA definitely prefer vacuum. In other regions, the two technologies are equally popular.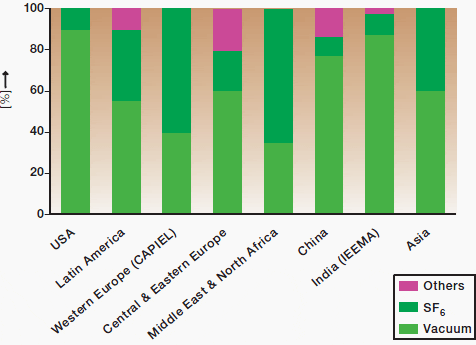 Bulk-oil and minimum-oil technologies are still used in China, Eastern Europe, India and Latin America, but trends clearly indicate that these technologies will disappear very soon, to be replaced by SF6 and vacuum.
ABB concentrates today almost entirely on the two dominant technologies, and is equally present in the market with both SF6 and vacuum.
Experience with more than 300,000 MV circuit-breakers of both designs installed worldwide, backed up by over 30 years of intensive involvement in research [1], has convinced ABB that the two technologies are entirely complementary, though in some cases their different designs can be seen as alternatives.
Based on this conviction that SF6 and vacuum have equally important roles to play, the company has continued to force the development of both, and hence, as the world's largest manufacturer of MV circuit-breakers, occupies the unique position of being able to provide unprejudiced advice and assistance in the selection of switchgear for any special application.