The structure of the power system
A power system consists of generation sources which via power lines and transformers transmits the electric power to the end consumers.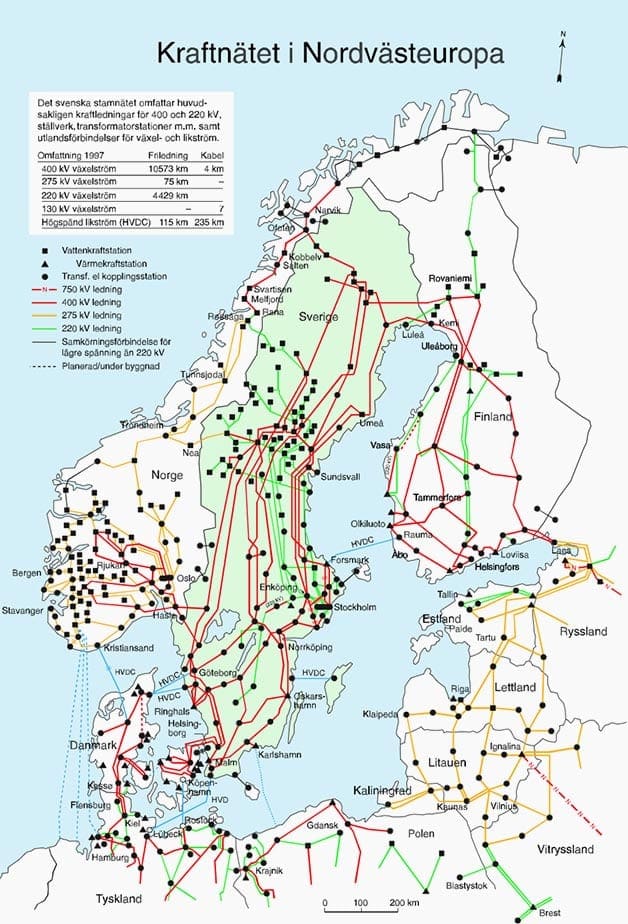 The power system between the generation sources and end consumers is divided into different parts according to Figure 2.3 above. The transmission network, connects the main power sources and transmits a large amount of electric energy.
The Swedish transmission system consists of approximately 15.250 km power lines, and is connected to other countries on 23 different locations.
In Figure 2.4, a general map of the transmission system in Sweden and neighboring countries is given.
The primary task for the transmission system is to transmit energy from generation areas to load areas. To achieve a high degree of efficiency and reliability, different aspects must be taken into account. The transmission system should for instance make it possible to optimize the generation within the country and also support trading with electricity with neighboring countries.
It is also necessary to withstand different disturbances such as disconnection of transmission lines, lightning storms, outage of power plants as well as unexpected growth in power demand without reducing the quality of the electricity services.
As shown in Figure 2.4, the transmission system is meshed, i.e. there are a number of closed loops in the transmission system.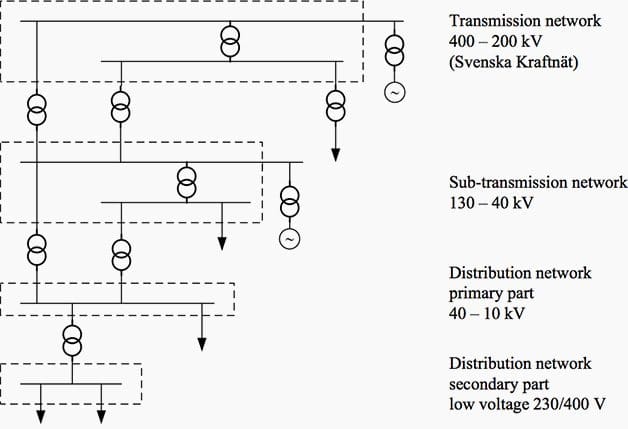 A new state utility, Svenska Kraftnat, was launched on January 1, 1992, to manage the national transmission system and foreign links in operation at date.
Svenska Kraftnat owns all 400 kV lines, all transformers between 400 and 220 kV and the major part of the 220 kV lines in Sweden.
Note that the Baltic Cable between Sweden and Germany was taken into operation after the day Svenska Kraftnat was launched and is therefore not owned by them.
Sub-transmission network, in Sweden also called regional network, has in each load region the same or partly the same purpose as the transmission network. The amount of energy trans- mitted and the transmission distance are smaller compared with the transmission network which gives that technical-economical constraints implies lower system voltages.
Regional networks are usually connected to the transmission network at two locations.