Light and overcurrent based protection
A successfully proved, simple and reliable technology for arc flash mitigation is light and overcurrent based protection. It is based on simultaneous detection of light and overcurrent and provides an extremely fast and secure arc flash detection and mitigation.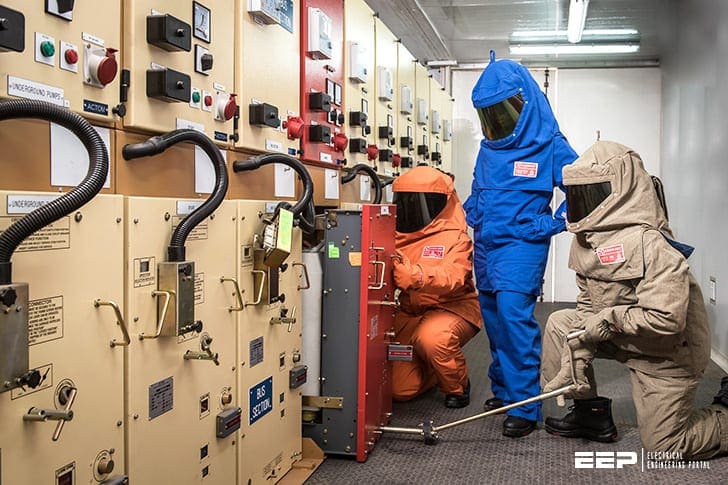 Along with detection of phase o overcurrent, zero-sequence overcurrent detection can also be applied to indicate phase-to-ground faults.
Figure 1(a) illustrates the basic operation principle of light and overcurrent based protection. Optical fiber based point type and loop type sensors are commonly used in this application.
The sensitivity level of the sensor is not a critical issue because the light intensity caused by an arc-flash is very high compared to ambient light intensity.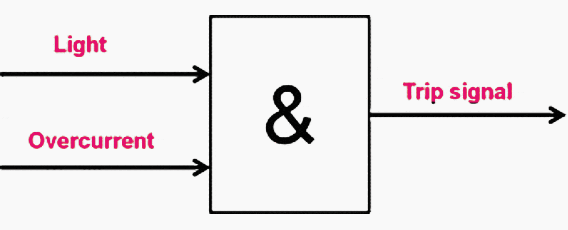 However, special attention has to be paid for the detection of light in the circuit breaker compartment of LV systems, if the circuit breaker (CB) emits light.
Figure 1(b) presents a scheme of a simple arcflash protection system which includes current measurement, light sensors, the input/ output (I/O) unit for sensors, and the arc-flash relay. Existing current transformers (CTs) can be utilized for the current measurement.
Like the light, the current can also be detected within 1 ms.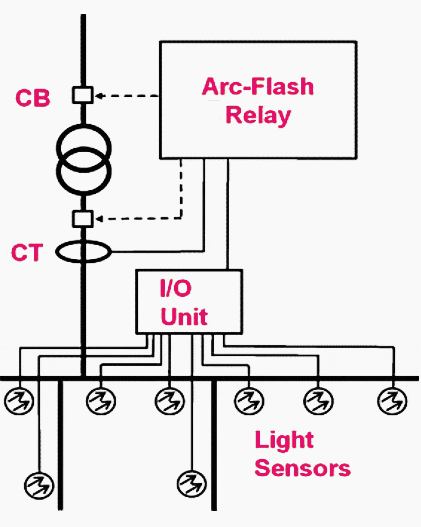 Thus, the arc detection time using light and current based detection is approximately 1 ms and the whole operation time of this protection is based on the switching device, such as CB. Thus it is most important to ensure that the CBs are in working order.
When applying current and light based arc-flash protection,
selective protection
can be achieved, especially with optical point sensors indicating the faulty section. This means that e.g. in cable termination faults, only the breaker of the outgoing feeder will trip while the rest of the systems remains energized.
Limitation of incident energy by reducing arcing time
Incident energy is directly proportional to the arcing time. Reduction of arcing time can be a promising approach in arc-flash mitigation.
Compared to the traditional overcurrent protection, the protection time in busbar faults can be improved by zone-selective interlocking.
Traditional bus bar differential protection provides better performance with an operation time of 1 cycle only, however, the bus bar differential protection is not effective if the fault occurs in cable compartment, typically in cable terminations.
In order to implement fast tripping, fast detection is required.
| | |
| --- | --- |
| Title: | Arc-flash prediction and detection in MV and LV switchgear – Thesis by Ghulam Amjad Hussain at Aalto University, School of Electrical Engineering (Electrical Engineering & Automation; Power Systems and High Voltage Engineering) |
| Format: | PDF |
| Size: | 6.60 MB |
| Pages: | 117 |
| Download: | Right here or here | Video Courses | Membership | Download Updates |