Generator single line diagram
Generator Protections are broadly classified into three types: Class A, B and C. Class A covers all electrical protections for faults within the generating unit in which generator field breaker, generator breaker and turbine should be tripped. Clas B covers all mechanical protections of the turbine in which turbine will be tripped first and following this generator will trip on reverse power / low forward power protections.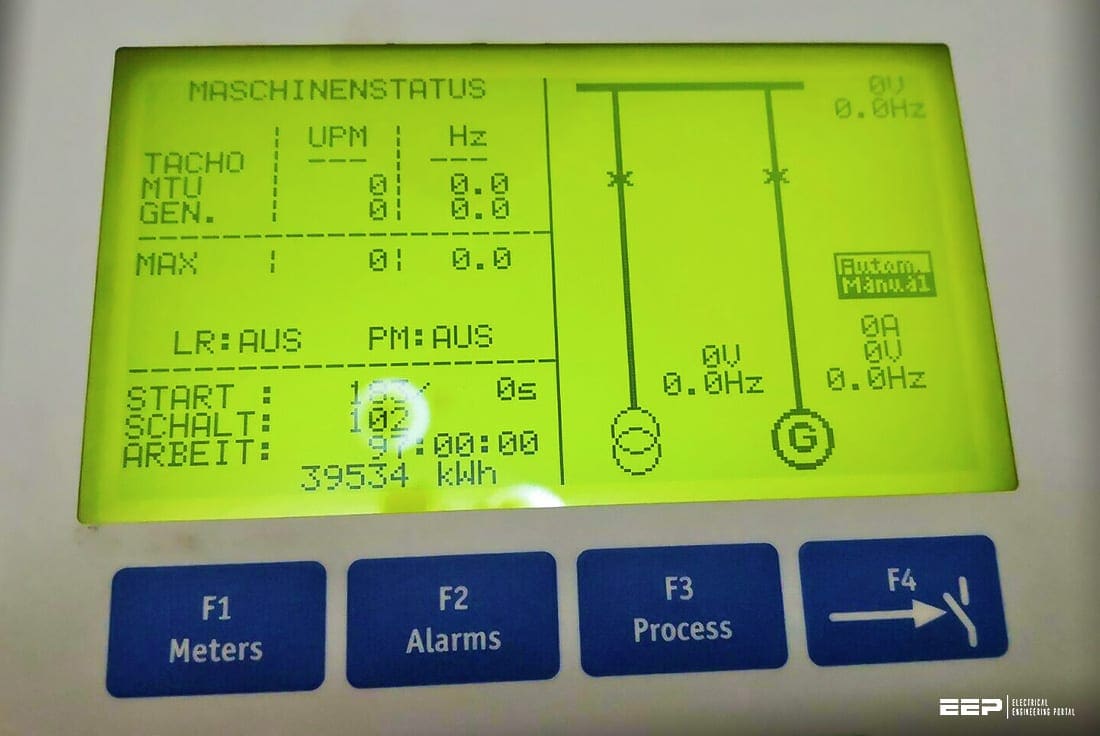 Class C covers electrical protection for faults in the system in which generator will be unloaded by tripping of generator breaker only. The unit will come to house load operation and the UAT will be in service.
Various protections of this class are:
220 KV (HV side of Generator Transformer) busbar protections.
Generator Transformer HV side breaker pole discrepancy.
Generator negative phase sequence protection
Generator Transformer over current / Earth fault protection
Reverse power protection without turbine trip
Generator protection functions:
I – For insulations failures
Differential
Inter-turn fault
Stator Earth Fault (95% & 100%)
Rotor Earth fault (2 Stage)
II – For abnormal running conditions
Loss of excitation (field failure)
Pole sleeping
Overfrequency / Overspeed
Overvoltage
Reverse/Forward power
Impedance/Over current back-up protection, etc…
III – For Generator transformer protections
Differential protection
Bias test
2nd harmonics restrained.
REF protection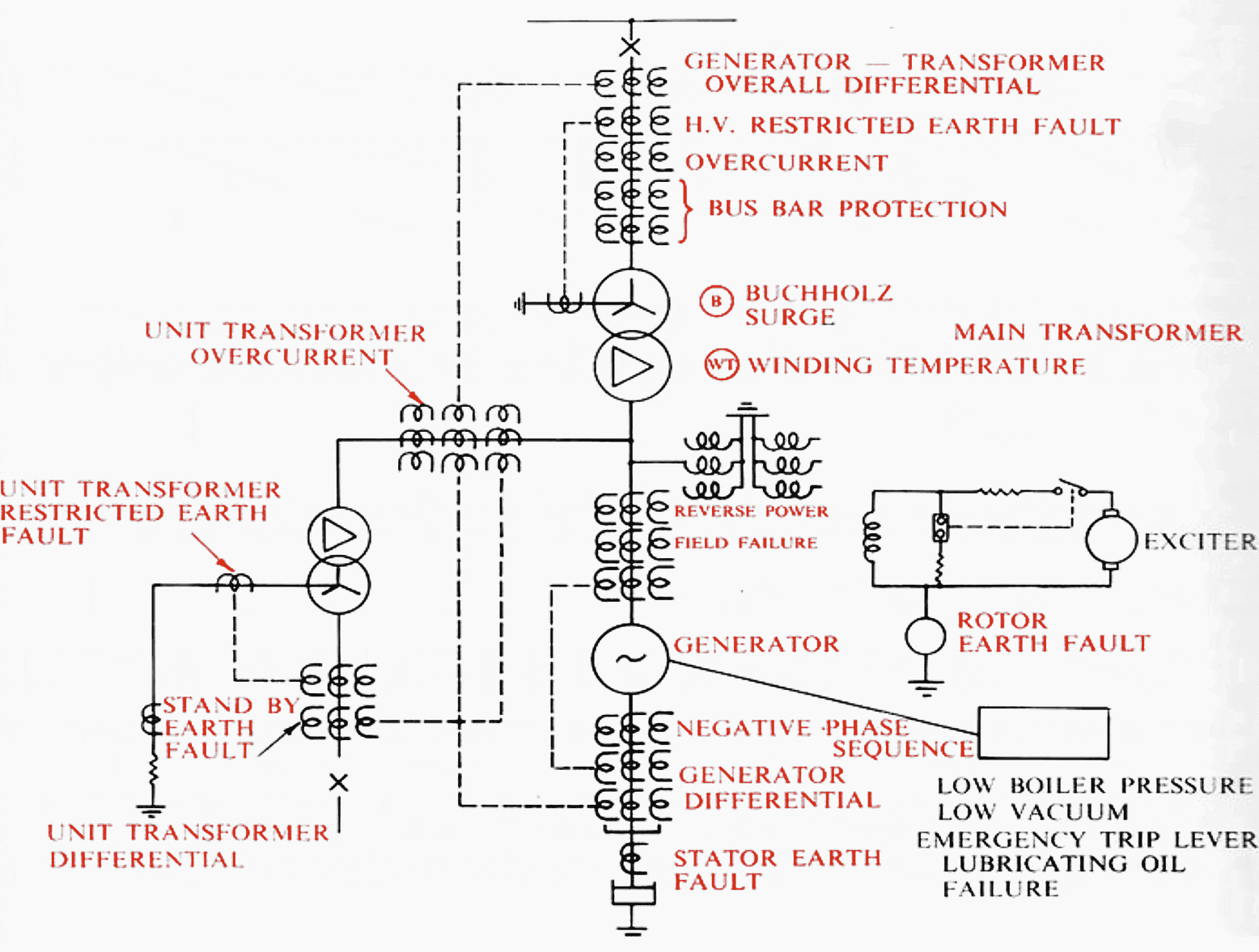 I – For insulation failures protection
1. Generator differential protection (87 G)
It is unit type protection, covering the stator winding for phase to phase faults due to breakdown of insulation between stator phase windings. This relay is not sensitive for single line to earth faults as the earth fault current is limited due to the high neutral earthing resistance.
If CTs of identical ratios are used on
neutral and line side of generator
, an operating current setting of
20%
it can be adopted. It is instantaneous in operation and it trips the generator breaker (Class – A) to eliminate the system in – feed to the fault along with field breaker and turbines.
For all machines of ratings 10 MVA and above, this protection shall be provided.
Diagram: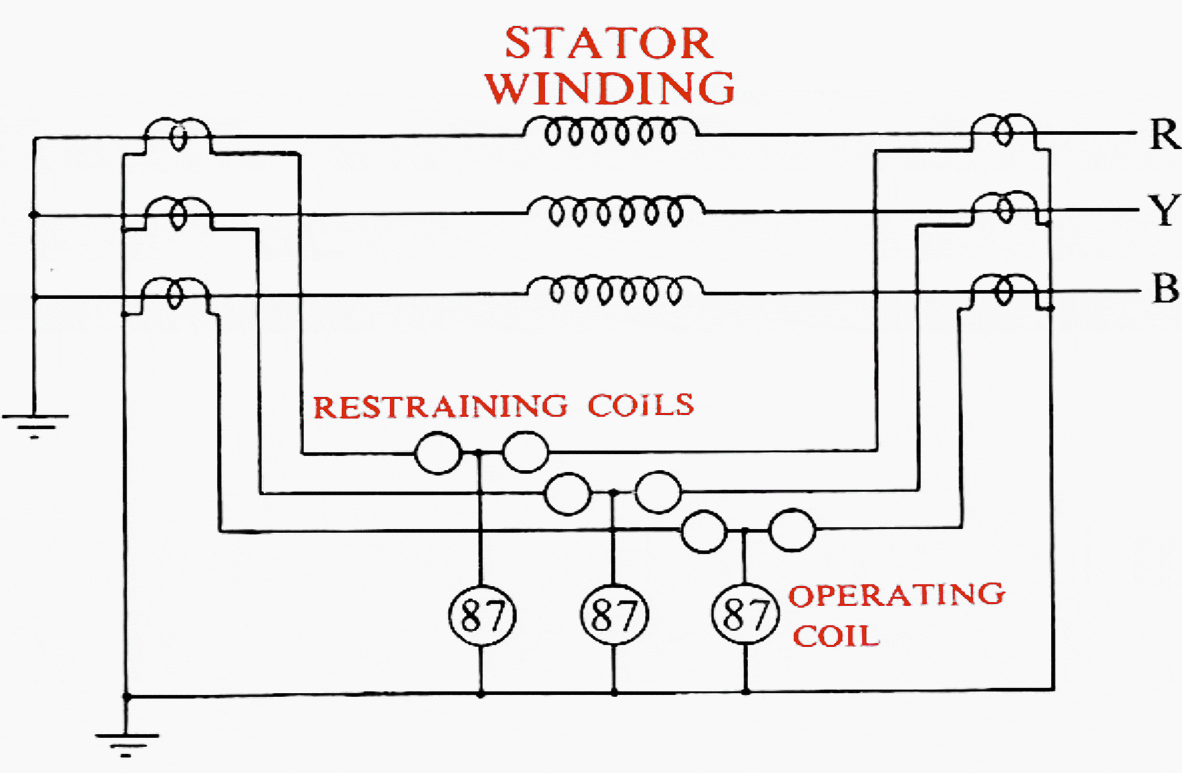 Settings:
Pickup Value of Differential Current: 0.10 I/InO
T I-DIFF> Time Delay: 0.00 sec
Pickup Value of High Set Trip: 2.0 I/InO
T I-DIFF>> Time Delay: 0.00 sec
2. Interturn fault protection of the stator winding (64GIT)
Formerly, this type of protection was considered unnecessary because breakdown of insulation between points on the same phase winding, contained in the same slot, and between which a potential difference exists, will very rapidly change into an earth fault, and will be detective by either the differential protections or the stator earth fault protection.
An exception is the generator designed to produce a relatively high voltage in comparison to its output and which therefore contains a large number of conductors per slot.
With the size and voltage output of generators increasing, this form of protection is becoming essential for all generating units.
Diagram: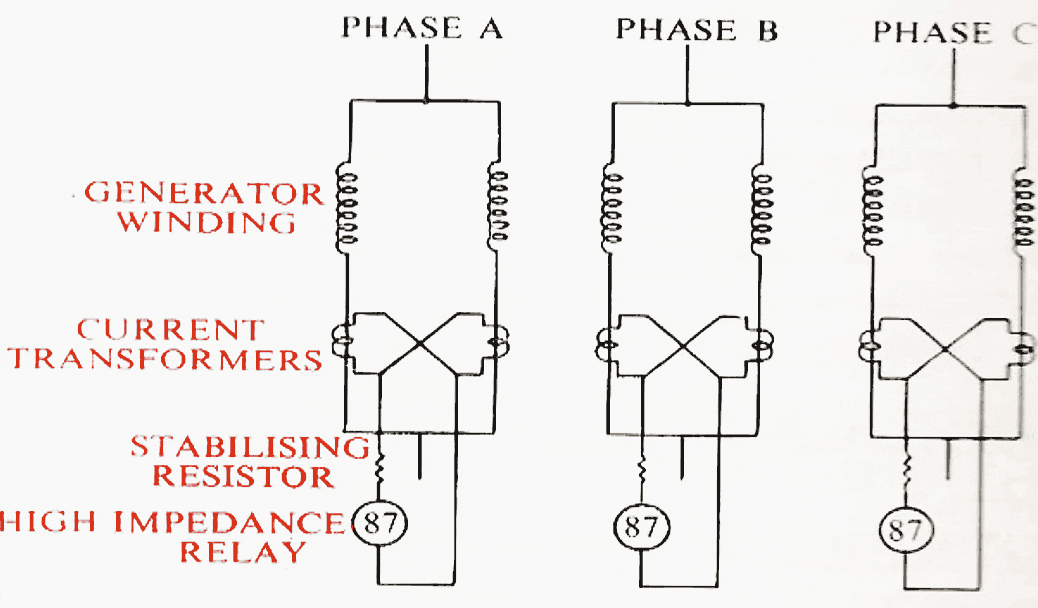 The recommended relay is the high impedance relay having a setting range of 10-40% of rated current.
Settings:
L-E Voltage of Faulted Phase Uph Min 110 V
L-E Voltage of Unfaulted Phase Uph Max 110 V
Uen> Earth Displacement Voltage 10 V
T-DELAY TRIP Uen/3U0 0.50 sec