Withstanding electrodynamic forces
The problem of withstanding electrodynamic forces arises on the LV power circuits of the installation. Although mainly dependent on the strength of the fault current, it also depends on the shape of the conductors, their mutual setout and securing method.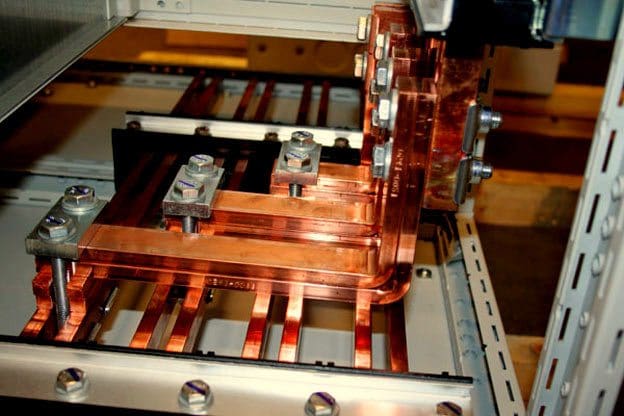 Although this problem can be solved by calculation, only validation by a real-life tests enables provision of a document acknowledging conformity with standard and/or customer requirements.
The very high current strengths that may occur during a short-circuit between the various conductors of a LV installation (solid conductors of the bar, cable type…) generate considerable forces (several thousands of daNm).
These forces thus need to be determined in order to mechanically size both the conductors and the structures supporting them so that they can withstand these forces whatever protective devices are placed upstream and downstream (standards stipulate electrodynamic withstand tests of one second).
The exact calculation of electrodynamic forces is often complex in view of the geometry of the conductors and associated structures. However a few approximations yield in most cases valid results on the basis of simple formulae.
After a brief reminder of calculation of electrodynamic forces in simple geometries, this Cahier will deal with busbars in switchboards and prefabricated ducts on the basis of these formulae.
AUTHOR: Schneider Electric experts | Jean-Pierre THIERRY, Christophe KILINDJIAN