Selection of cables and prefabricated busbar trunking
The electrical power connections have the role of transporting energy from the electrical switchboard to the lighting loads. They can be formed of cables or prefabricated busbar trunking. Where large areas have to be lit, they comprise a main circuit and branch circuits to the luminaires.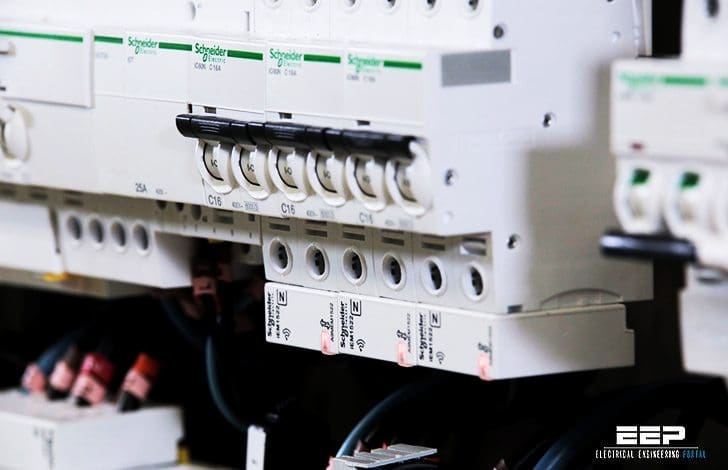 Their selection depends on various constraints:
Safety (insulation, little overheating, mechanical strength, etc.),
Efficiency (limited voltage drop, etc.),
Installation environment (location, installation procedure, temperature, etc.), v investment cost.
1-phase or 3-phase distribution with or without neutral


In most buildings used for tertiary or commercial purposes, the lighting system is distributed via a single-phase circuit.
To optimize the cabling, especially for high-power applications over large areas, three-phase distribution is sometimes used: 230 V between phase and neutral or between phases, or 400 V between phases for high-power lamps (2000 W).
Length of electrical connections
The cable resistance causes a voltage drop proportional to the cable length and the current. It can cause malfunctions when the lamps are switched on or reduce the luminosity in steady state. The length of the circuits and the distributed power require an appropriate cable cross section.
Application sheets of lighting management //
Home
Lighting management for a house
How to modernise the entrance of an apartment building
School and University
Management of the lighting period and bells in a school
Emergency lighting in a public building: junior high school
Hotel
Lighting for a hotel lobby
Optimising lighting for the car park of a hotel
Lighting management for a hotel room
Controlling power off for a hotel room by keycard
Offices and Buildings
Lighting management for a car park of a large tertiary site
Lighting management for an office space
Optimising the lighting of open office spaces
Lighting for a meeting room with remote reporting
Lighting management for a solicitor's office
Lighting management for an archive room
Lighting management in a stairway, a corridor or a lobby
Lighting management in a basement
Management of a large office building
Industry
Lighting for a storage warehouse
Automating the lighting for an industrial workshop
Lighting for a humid room
Retail
Managing the lighting of a convenience store or superette
Optimising the lighting of a shop window
Functional lighting for a hypermarket
Cities
Automatic control of public lighting according to sunrise and sunset times
Improving management of a public lighting system in a town
Lighting control for the exhibition halls of a museum
Renovation of the lighting for a Town Council
In a underground car park