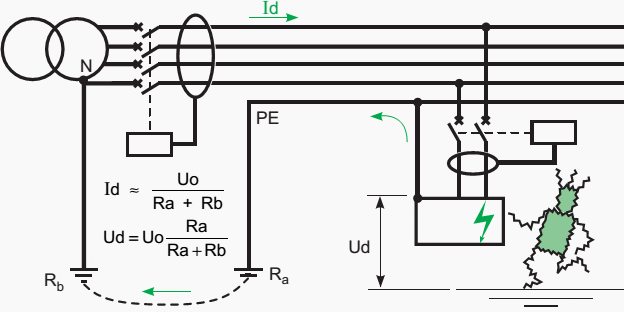 Standard IEC 60364
This «Cahier Technique» proposes a survey of potential hazards that insulation faults may create for safety of persons and property. It emphasises the influence of system earthings on the availability of electrical power. It presents the three most common system earthings defined in standard IEC 60364 and used to varying degrees in all countries.
Each system earthing is analysed in terms of dependability (safety, maintenability and availability).
All system earthings are equivalent as far as safety of persons is concerned, but each system earthing has its own advantages and disadvantages regarding the operation of electrical installation. The user must therefore be guided according to his needs, with the exception, however, of prescription or of standard or legislative bans.
TT system
With this system, the small value of the fault currents (see previous section) does not allow the SCPDs to protect persons against indirect contacts. RCDs need to be used, associated with circuit-breakers or switches (see IEC 60364 – paragraph 413.1.4.2).
These devices must meet the following standards in particular:
IEC 60755: General rules
IEC 61008: "Household" residual current switches
IEC 61009: "Household" residual current SCPDs
IEC 60947-2: "Industrial" residual current circuit-breakers
Their implementation must meet the objectives for:
Protection of persons, i.e.

Threshold IΔn ≤ UL/RA
Breaking time ≤ 1s
Continuity of service with thresholds and time delays enabling current and time discrimination
Fire protection with IΔn ≤ 300 mA
IT system
Remember that in the event of a double fault, safety of persons is provided by the SCPDs. When the first insulation fault occurs, the calculation proved there was no risk (contact voltage lower than limit safety voltage).
Automatic de-energising is therefore not compulsory: This is the main advantage of this system.
To retain this advantage, standards recommend (IEC 60364 – paragraph 413.1.5.4) or stipulate (NF C 15-100) the use of an Insulation Monitoring Device (IMD) and locating of the first fault.
In point of fact, if a second fault occurs, automatic breaking is vital due to the Electric Shock risk: This is then the role of the SCPDs backed up by the RCDs if required.
AUTHOR: Schneider Electric experts | Roland CALVAS, Bernard LACROIX