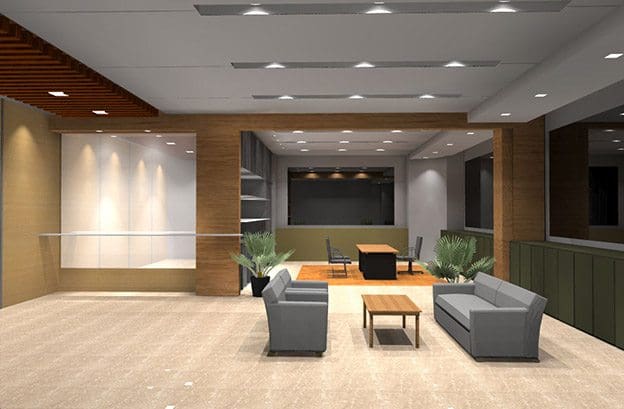 Calculations
AGI32 is a computational program that performs numerical point-by-point calculations of incident direct or reflected light on any real surface or imaginary plane.
Within this scope, it is used to predict or quantify the distribution of artificial or natural light in any environment.
The values can be entered by the keyboard or by the use of the mouse. There are input boxes with up and down arrows on the sides, for increasing or decreasing the value in the box. You can calculate the lighting level of a room, for a given amount of lamps and their lumens. You can alternatively find out how many lamps, with how much of lumens, will be required to give a specified level of lighting.
If you change any of the variables, there is a corresponding dynamic change in the values.
Modeling
AGI32 is a simple yet extraordinary model builder capable of constructing almost any architectural environment. Vaults, domes, curves, slopes and extrusions are easily created allowing you to accurately model the architectural elements you encounter everyday.
For those with existing 3D models, AGI32 canimport 3D geometry via DWG or DXF.
Rendering
AGI32 is a wonderfully fun and interactive rendering program. Employed on this level, AGI32 can be used to generate extremely fast and photometrically accurate color images of the behavior of light within the environment.
Fast enough to be used on an iterative basis, designers now have the ability to quickly visualize and share different lighting scenarios before they are specified, purchased and installed.
About Calculations
AGI32 is the tool of choice when quantifying the amount of light present in any architectural application. Whether the problem be a 500 luminaire professional sports facility, an entire shopping mall parking area, commercial interior or single emergency luminaire in a hallway, AGI32 can produce the required numerical results quickly and accurately.
AGI32 is used daily to present point by point illuminance, roadway pavement luminance, ceiling exitance and other specific lighting quantities for all types of lighting applications.
If your position on the design team requires you to submit numeric evidence of lighting quantity and quality, AGI32 is able to produce the data you require.