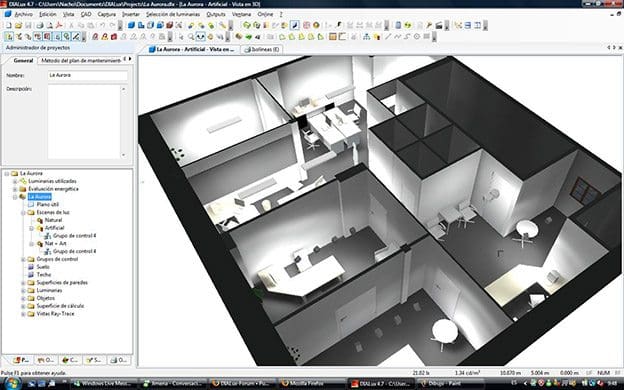 Calculate and visualize
By using this program, you will be able to plan the lighting you will use in a room, scene or building. The program will be able to calculate and visualize the daylight, as well as letting you plan your lighting scenes, plan the color and intensity of the lights you will use, position on the project the emergency lighting, with the right legal number of luminaires, and many more.
With DIALux you can prepare photo realistic visualizations of your light planning and send them to your customers via email, or upload them to a server. For a better realism, the program can use different textures and furniture, and it uses an integrated ray-tracing module. You can also save your results in a .PDF format file, or export to .DWG and .DXF files. You can even import files in those formats to apply the lighting with DIALux.
The furniture, surfaces and luminaires can be placed simple dragging and dropping elements from the provided libraries.
The free and complete software developed by us for professional light planning is open to luminaires of all manufacturers. A software by planners for planners. Used by many hundredthousands of light planners and designers worldwide. And their number is growing from day to day.
Create your virtual worlds simply and intuitively with DIALux. Document your results in breath-taking, photorealistic visualizations. Delight your customers with daylight and artificial light scenarios through which they can glide with wild camera runs. Rely on the CAD data of other architecture programmes and re-export your files easily. Or use any 3D models from the Internet – it's child's play.
While you plan creatively, DIALux determines the energy your light solution requires and supports you in complying with the respective national and international regulations.
DIALux is continuously being developed by a team of 20. You can plan in DIALux with the luminaires of the world's leading manufacturers and therefore have the greatest possible freedom in the design process.
And the the list of international partner companies is getting longer and longer.