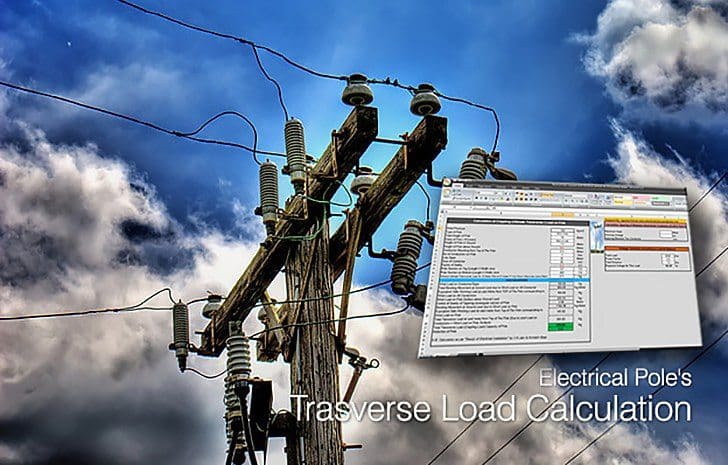 Introduction
Transverse loads are forces acting upon pole line. Function of electrical pole is that of a cantilever beam rather than of a column.
External forces are due to dead, ice and wind loads, which with the exception of the pressure on the pole must be transmitted to the pole by the wires. The weight of the wires and their coating of sleet, together with the weight of crossarms, insulators and the pole itself is a vertical load which the pole carries as a column.
The pressure of the wind on the wires, whose diameter is increased by the sleet, and upon the pole structure, is assumed as acting horizontally and at a right angle with the line, and therefore its effect is much greater than the effect of the vertical forces.
When poles are closely spaced there is undoubtedly some sideguying effect due to lateral restraint from the wires. That is, when one pole is subjected to a severe gust of wind, the neighboring poles will be brought into action, to a limited extent, by the wires spreading out some of the load to adjacent poles.
Calculation
This spreadsheet calculates following parameters of pole:
Wind Load on Conductor/Span
Total Bending Movement at Ground Level due to Wind Load on All Conductor
Equivalent Safe Working Load at said Meter from TOP of The Pole corresponding to Wind Load on All Conductors
Wind Load on Pole Surface above Ground Level
Centre of Gravity of Tapering rectangular section of Pole
Bending Movement at Ground Level due to Wind Load on Pole
Equivalent Safe Working Load at said meter from Top of The Pole corresponding to Wind Load on Pole
Total Tansverse Load at said meter from Top of The Pole (Due to wind Load on Conductors + Wind Load on Pole Surface)
Total Transverse Load (Crippling Load) Capacity of Pole
Selection of Pole