Introduction to ETAP
ETAP is the most comprehensive analysis platform for the design, simulation, operation, and automation of generation, distribution, and industrial power systems. ETAP is developed under an established quality assurance program and is used worldwide as a high impact software. ETAP is completely localized in four languages with translated output reports in six languages.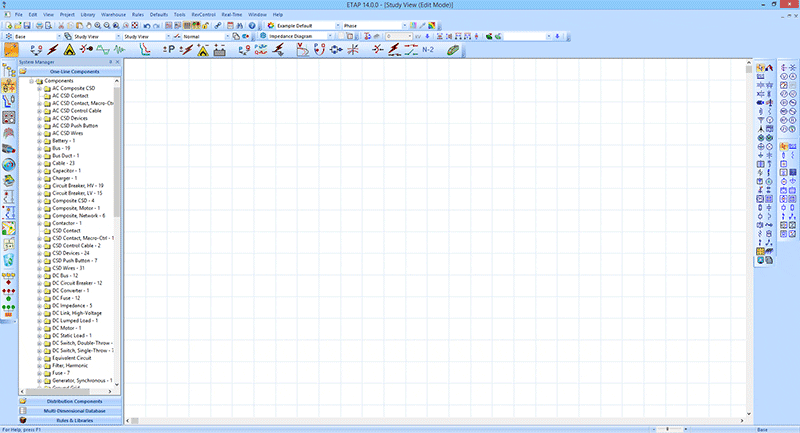 As a fully integrated enterprise solution, ETAP extends to a Real-Time Intelligent Power Management System to monitor, control, automate, simulate, and optimize the operation of power systems.
Short Circuit – ANSI / IEEE
ANSI / IEEE C37 Standards
IEEE 141 & 399 Standards
UL® 489 Standard
Integrates with protective device coordination
Automatic device evaluation for 3ph, 1ph & panel systems
Phase-shifting transformer
Load terminal short circuit calculation
Load Flow
Power flow
Demand load
Voltage drop
Power factor correction
Automatic device evaluation
Automatic temperature correction
2W & 3W transformer LTC / regulator actions
Extensive violation alerts
Multi-report result analyzer
Auto-Run load flow based on system changes
Coordination & Selectivity
AC & DC coordination
Graphically adjustable device settings
Extensive device library (verified & validated)
Embedded motor acceleration analysis
Multi-axis time current curves
Comprehensive plot options
Adjustable magnifying-glass zoom view
Time difference calculator
Multi-function / level relays
Device setting reports
Automatic detection of protection zones
Protection & coordination zone viewer
Panel ANSI & IEC
Intelligent panel design & analysis
3-phase (3W & 4W) panels
1-phase (2W & 3W) panels
1-phase (A, B, C, AB, BC, CA, & 3W) panels
ANSI & IEC Standards
NEC load factors
Load flow with graphical per phase display
Automatic device duty evaluation & alerts
Automatic updating of upstream panels
Export panel schedules to Microsoft Excel
Panel with internal & external feeders & loads