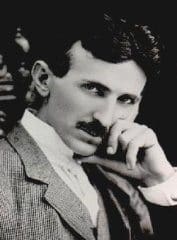 Nikola Tesla was born "at the stroke of midnight" with lightning striking during a summer storm. He was born in Croatia in the Austro-Hungarian Empire. The midwife commented, "He'll be a child of the storm," to which his mother replied, "No, of light." Tesla was baptized in the Old Slavonic Church rite.
His Baptism Certificate reports that he was born on June 28 (Julian calendar), and christened by the Serbian priest, Toma Oklobdžija. His Serb father, Reverend Milutin Tesla, was a priest in the Orthodox Metropolitanate of Karlovci which gathered to Serbs of the "Greek-rite" as they were legally referred to in Austria-Hungary at the time.
His mother, Djuka Mandic, from a prominent Serbia family of the Banija, made craft tools. He was one of five children, having one brother and three sisters. His godfather, Jovan Drenovac, was a Captain in the Krajina army. His family moved to Gospic in 1862.
Tesla studied in Karlovac, present day Croatia, then studied electrical engineering at the Austria Politechnic in Graz, Austria (1875). While there, he studied the uses of alternating current. He also developed a telephone repeater (or amplifier).
In 1881 he moved to Budapest to work for the telegraph company, American Telephone Company. For a while he stayed in Maribor, Slovenia. He was employed at his first job as an assistant engineer.
Tesla suffered a nervous breakdown during this time. In 1882 he moved to Paris, France, to work as an engineer for the Continental Edison Company. He worked designing improvements to electric equipment. In the same year, Tesla conceived of the induction motor and began developing various devices that use rotating magnetic fields (for which he received patents in 1888). Tesla visualized the rotating fields and thereby designed the induction motor.
Tesla hastened from Paris to his mother's side as she lay dying, arriving hours before her death in 1882. Her last words were to him were, "You've arrived, Nidzo, my pride." After her death, Tesla fell ill. He spent two to three weeks recuperating in Gospic and Tomingaj.
All his life, Tesla kept a home-spun embroidered travel bag from his mother.